We all know how important physical activity is for children, including balancing play. Sometimes the weather doesn't allow for a trip to the playground, though. That's where Montessori balance boards come into play.
Without even leaving your home, you can give your child all the developmental benefits of balancing activities.
What are the benefits of balancing toys, though? What is a balance board? How do balance boards align with the Montessori philosophy?
In this article, you will learn what a balance board is, what age to introduce it, and you will get some recommendations on beautiful and well-made balance boards for your Montessori home.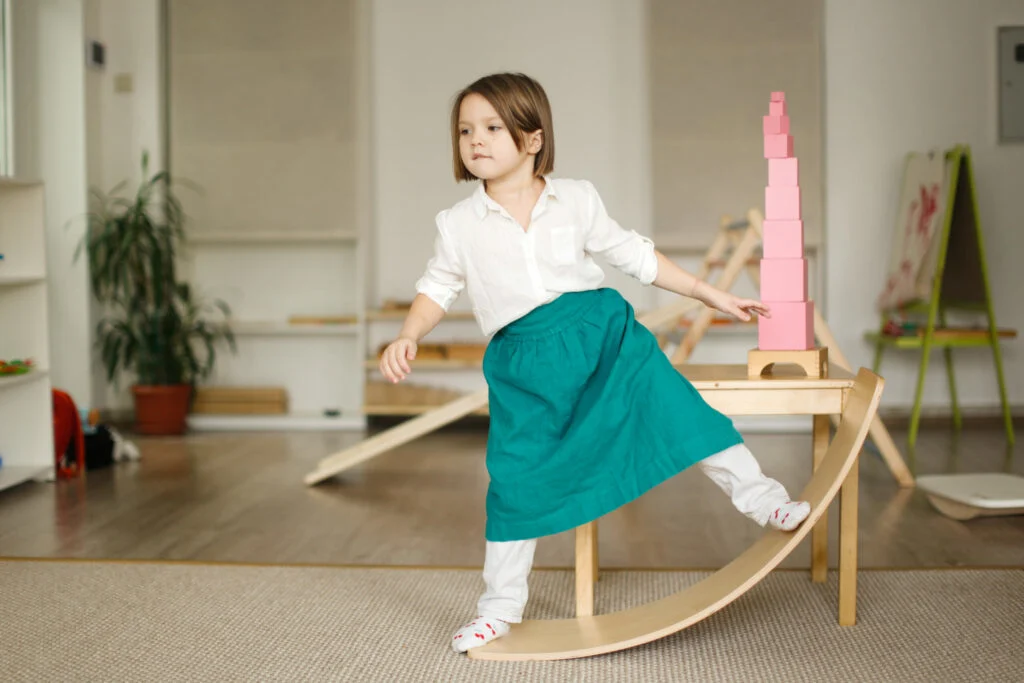 (This post contains affiliate links. Purchasing from these links costs you nothing extra, but helps with our website upkeep.)
What is a Montessori balance board
There are several types of balance boards, however, the ones most commonly used in early childhood education settings and Montessori homes are of a certain design. (pictured above)
This material is essentially a sturdy board curved in a semi-circle shape. Their sizes vary slightly, however, toddlers and preschoolers are generally able to extend their legs, while standing, from one side of the board to the other side.
Balancing toys, like Montessori balance boards, have many benefits. Some of the benefits may be obvious, such as better balance and increased strength.
The benefits of balance boards for kids extend beyond the obvious, however. It's a fact that this type of play can help beyond a child's physical development.
Balance boards are frequently used in Occupational Therapy and these boards, as well as other balancing toys, are used in early childhood school settings to help children develop both physically and academically.
The benefits of balancing toys are: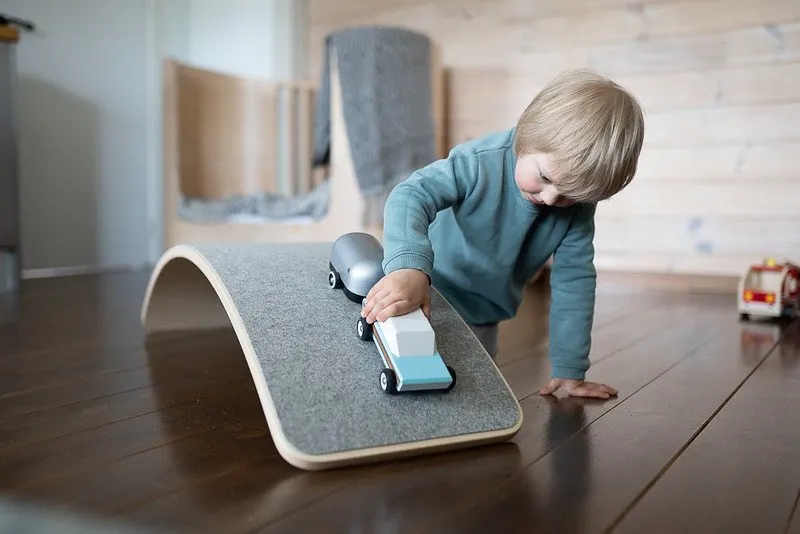 In addition to all of these benefits, balance boards can also be used for imaginative and open-ended play. Children often use them for reading nooks, puppet shows, tunnels, car tracks, and ball runs.
While balance boards are popular in Montessori homes, they are not actually Montessori toys. These boards are a Waldorf concept.
Many Montessori parents and caregivers choose to blend these two philosophies, as implementing Montessori-at-home requires a bit of flexibility when it comes to preparing a child's environment.
That is to say, a Montessori home set-up will not, and should not, look or function the same as a Montessori classroom.
Gross motor toys are a welcome addition to Montessori homeschooling set-ups.
What age is a balance board for?
Toddlers are typically able to begin using balance boards around the age of 18-months to 2-years-old and may enjoy using them for balancing and other activities beyond the age of 6.
The 6 best Montessori balance board brands
While most balance boards have the same basic design, they are not all the same. There are a variety of features, sizes, weight limits, and color options to choose from.
Piccalio's gross motor toys are second to none when it comes to beauty, simplicity, and eco-sustainability. The Mini Surfer is a great choice for eco-conscious parents looking for a traditional Montessori balance board design.
Lily & River is a popular Montessori gross motor toy shop. Their Little Surfer balance board is well-made and highly rated.
This board is lightweight and simple in its design and aesthetic.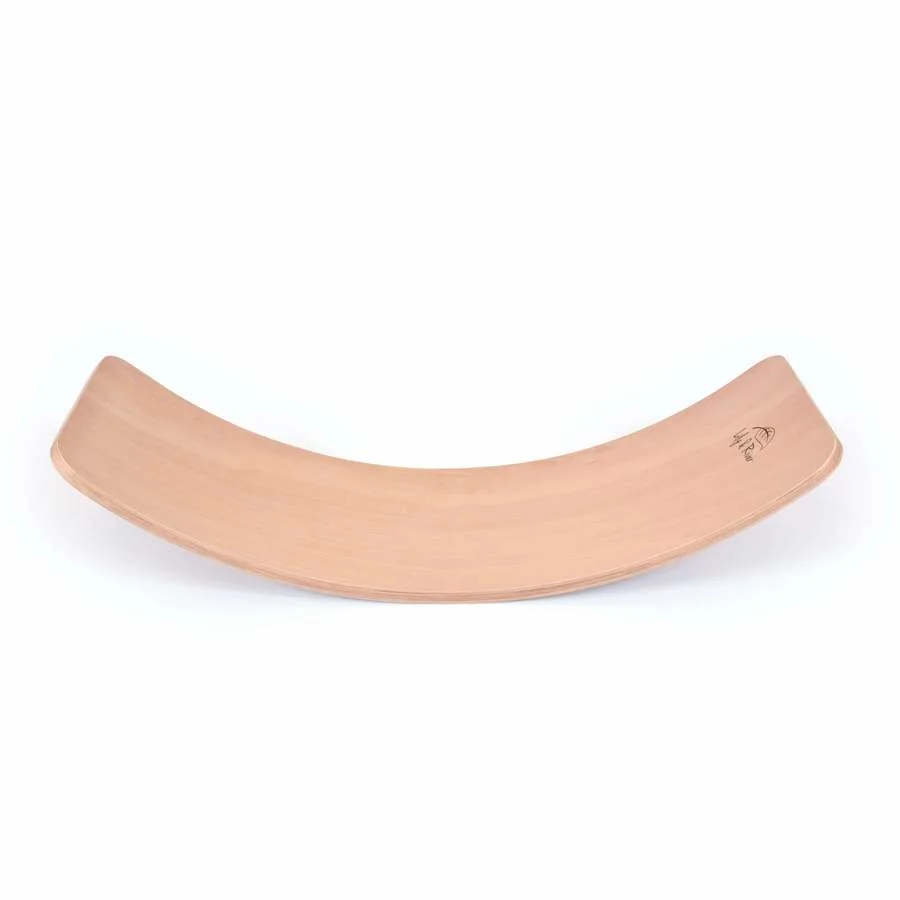 The Kimboo balance board is slightly larger than the previous listing and has a higher weight limit. This is a wonderful balance board for families with multiple children.
The dark finish sets it apart from other brands of balance boards – it's absolutely stunning.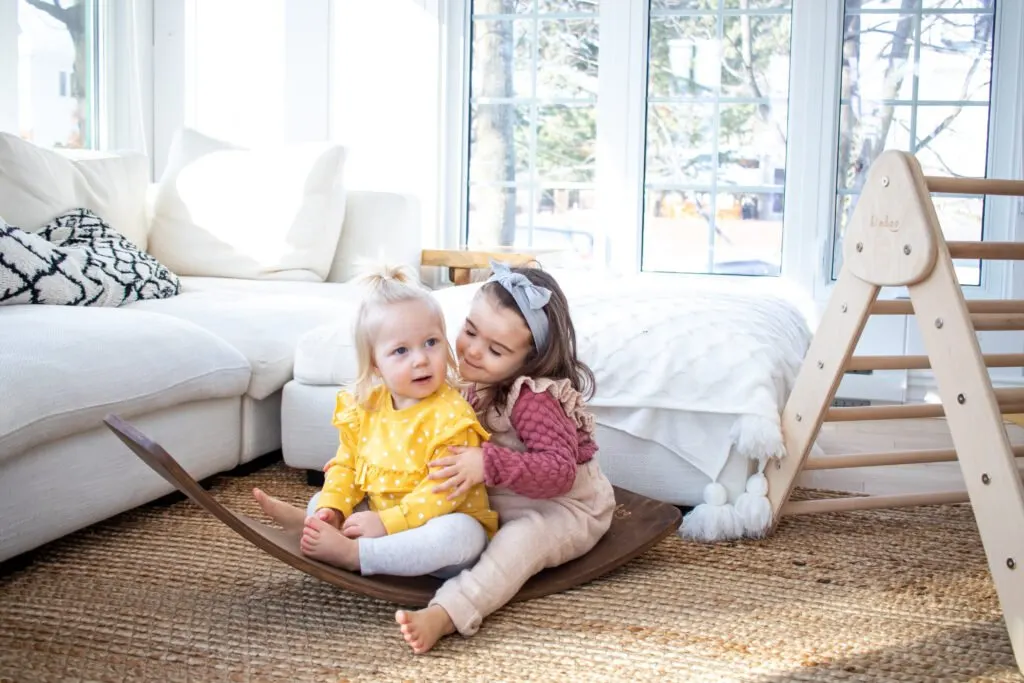 This Green Walnut balance board is perfect for playspaces with wood flooring that can be damaged by the weight of a child rocking.
There are 2 colors to chose from, green and grey, so you can pick the board that best compliments your child's play area.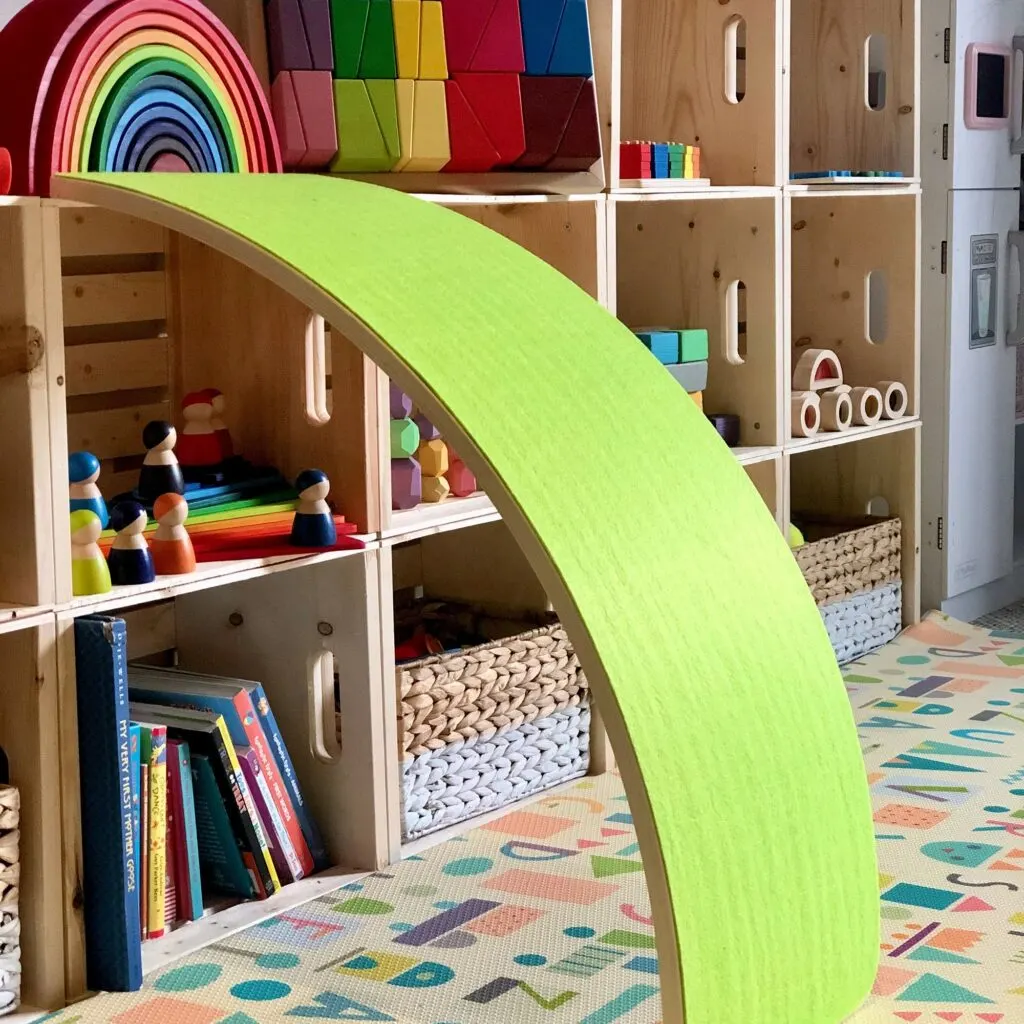 This Tree Sounds balance board is a beautiful option for playspaces with hardwood flooring or tiles. The wool felt lining also helps make this balance board a bit easier on the ears, as it's a bit thicker than the lining on other boards.
The company makes this in different sizes, so be sure to order a larger size if you have multiple children.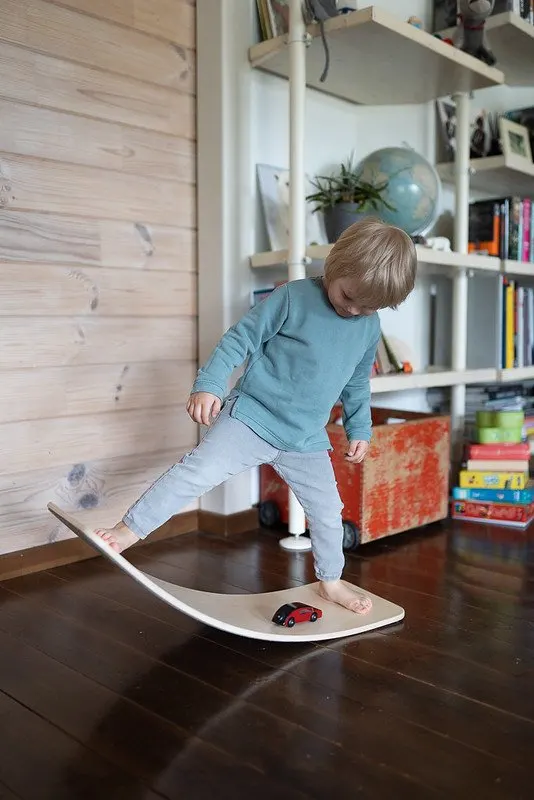 The Swaey Balance Board is one-of-a-kind and a great find for parents who want to get their child a balance board but are worried about pinched fingers.
Not only does this board have a felt coating that will protect your floors from scratches, but it's designed so that if fingers happen to slip under its edges, they won't get pinched.
Balance board safety tips
There are some general safety rules to implement when you introduce a balance board to your child. They are as follows:
adult supervision is recommended
always use it on a flat surface
never climb on it when it is turned on its side
keep fingers and toes away from the edges
use only with bare feet or sneakers – no slippery socks or dress shoes
do not exceed weight limit specified by the manufacturer
---
Balance boards are a wonderful addition to any Montessori playroom. The benefits of this toy are amazing and children have so much fun with them.
Cheers and don't forget to subscribe!