We all know how special Montessori teachers are. We trust them with our children's education during their most vital years of development.
So, it's important not to forget about them when making our holiday gift lists.
What kind of gift does a Montessori teacher appreciate, though? (Hint: Steer clear of "#1 Teacher" mugs – they probably already have about 10 of those.)
If you are looking to get your child's Montessori teacher something unique, we've got some great suggestions right here for you.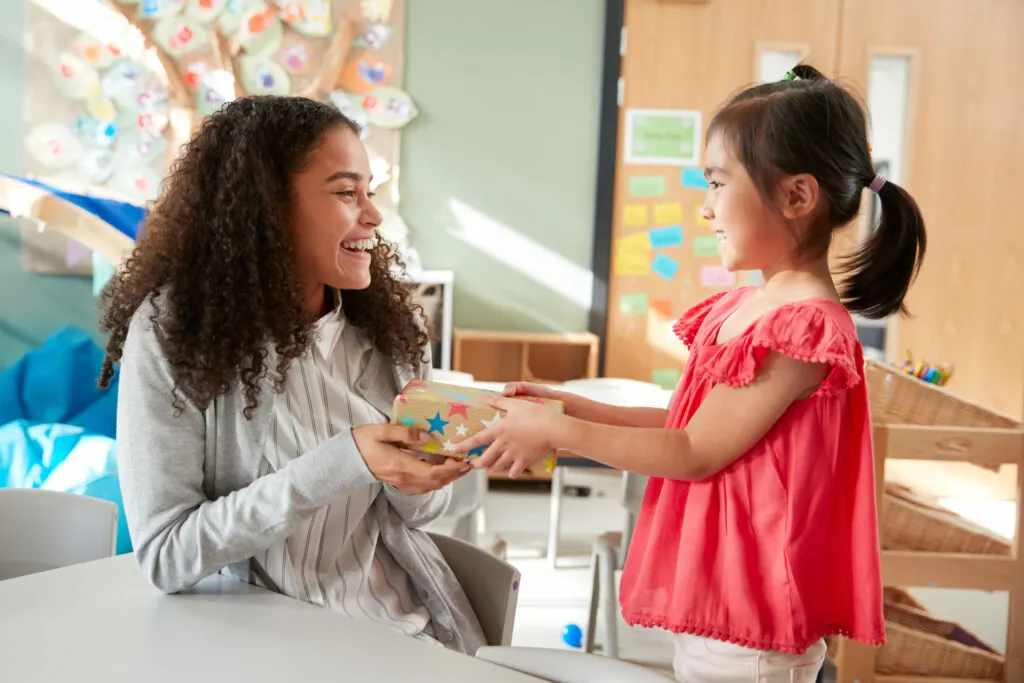 (This post contains affiliate links. Purchasing from these links costs you nothing extra, but helps with our website upkeep.)
What to get a Montessori teacher for a gift
Choosing a gift for a Montessori teacher isn't so different than choosing one for any other teacher. We want to help them feel important while maintaining respectful boundaries – the same as how they treat our children.
Teacher gift-giving etiquette dictates to keep the following things in mind when choosing a gift that will be from a child:
Consider the subject they teach (everyone appreciates having their specialty aknowledged)
Keep boundaries (nothing too personal, don't assume what type of self-care the teacher enjoys)
No homemade treats
Involve the child in choosing or making the gift to the extent of their interest or ability
Also, while we appreciate our child's Montessori teachers all-year-round, it can make them feel uncomfortable to receive gifts at random times throughout the year.
Here are some appropriate days for giving Montessori teachers gifts:
Religious holidays (their religion, of course)
Birthdays
5 ideas for gifts your child's Montessori teacher will love
Below are 5 categories of Montessori teacher gifts that are sure to make your child's guide feel special.
1. Gift cards
Gift cards, especially ones that allow the teacher to choose what to purchase, make great gifts for Montessori teachers.
Etsy, Amazon, and Montessori Services are great places to purchase gift cards for Montessori teachers. These sites have plenty of options for personal purchases, as well as classroom purchases.
Many Montessori teachers really do enjoy buying classroom items and have young children themselves. So, don't feel like you need to purchase a gift card that "helps make up" for them being around children all day.
Here are some other great gift card ideas, if you know your child's Montessori teacher might enjoy these things:
Panera Bread (a personal favorite of mine – everybody deserves a nice lunch)
2. Montessori-themed novelty items
Etsy and Amazon are full of Montessori novelty items to choose from. Etsy is now my favorite place to purchase gifts – there is so much to choose from and I love supporting small businesses.
Along with the items feature below, some Etsy favorites I've found are:
I don't know a single Montessori teacher that would not enjoy having the 2 totes featured below.
This one features the Trinomial Cube, a sensorial material. This bag is adorable and sums up a Montessori teacher's work week quite nicely.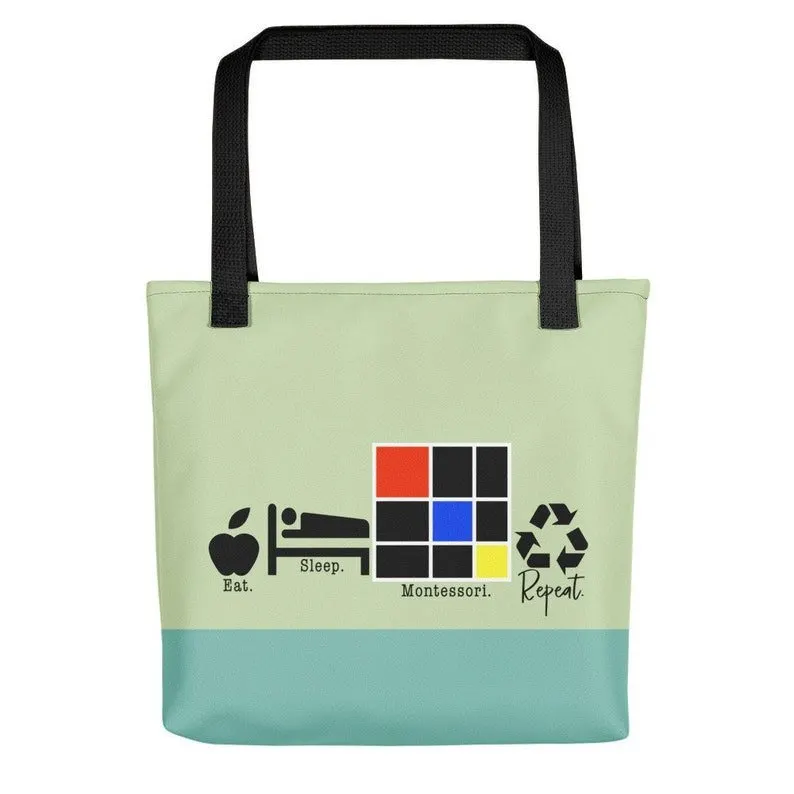 As I wrote earlier, teachers really do appreciate having their specialty acknowledged and this 3-period lesson tote accomplishes that in a really cute way.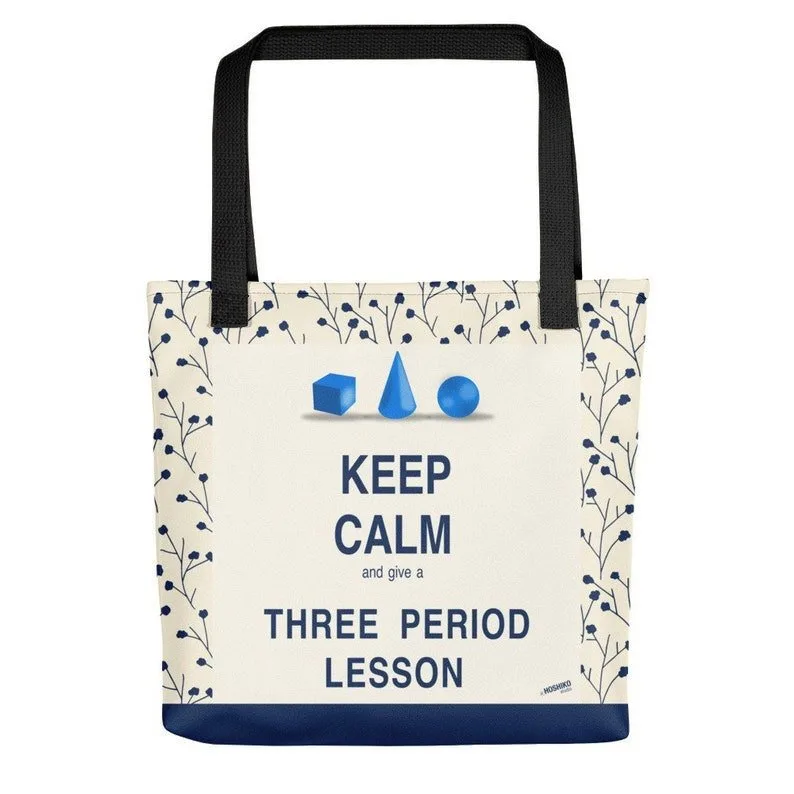 I did mention that your child's Montessori teacher probably has a lot of coffee mugs already, but coffee mugs aren't completely off-limits – as long as it gives a nod to Montessori.
Montessori teachers are often praised for their patience and passion, but this mug places skill at the top of the list, which will make a Montessori teacher feel good.
2. Handwritten notes
A Montessori teacher is often the first person in a young child's life to witness them print their very first words.
This makes a handwritten note from a student a very special gift to receive.
Caregivers often worry that teachers are bombarded with too many crafts and notes during holidays and other special occasions. The truth is, though, that Montessori guides are emotionally invested in what they do.
A handwritten note is a chance to show your child's Montessori teacher that their investment is not lost on your family, whether it's from you or your child.
Writethankyounotes.com has some great ideas on thank you notes for teachers that might give you some ideas to help get you started..
4. School donation in the teacher's honor
Montessori teachers enter the profession because they love Montessori. While this gift idea isn't technically for them, many Montessori teachers would really appreciate it.
If your child's classroom could use a donation for material repairs or to purchase new materials, writing a check to the school along with a note about how much you appreciate your child's Montessori teacher is a great gift.
(Avoid purchasing materials for the classroom on your own, as schools often require materials to meet certain specifications.)
5. Personalized items
While I discourage giving traditional self-care items as gifts (bath bombs, candles, lotion, wine etc.), there are standard items that all Montessori teachers enjoy that can feel a whole lot like self-care.
Personalized pen (Montessori teachers love a nice pen as much as nurses or doctors.)
When purchasing personalized items for your child's Montessori teacher, consider what they use on a daily basis.
If you notice they communicate via sticky notes, you could consider getting them a personalized sticky note holder. (Just an example)
---
As you can see, choosing the right Montessori teachers gift isn't all that difficult. As they've been observing and learning about your child, you've likely been observing and learning about them.
Keep it thoughtful, keep it inexpensive, and keep it Montessori.
If you are a Montessori teacher, I would love to hear about a gift you received that you cherish.
Cheers and don't forget to subscribe!