The season of giving is fast approaching and this is a very exciting time for Montessori parents and caregivers who have been waiting for a good reason to treat their children to some Montessori-inspired stocking stuffers.
Choosing your child's bigger gifts is relatively easy. It can be difficult to come up with Montessori stocking stuffer ideas, though.
There are so many child-size and Montessori-aligned options, however.
In this article, you will get tons of suggestions on Montessori-inspired stocking stuffers for babies, toddlers, and preschoolers.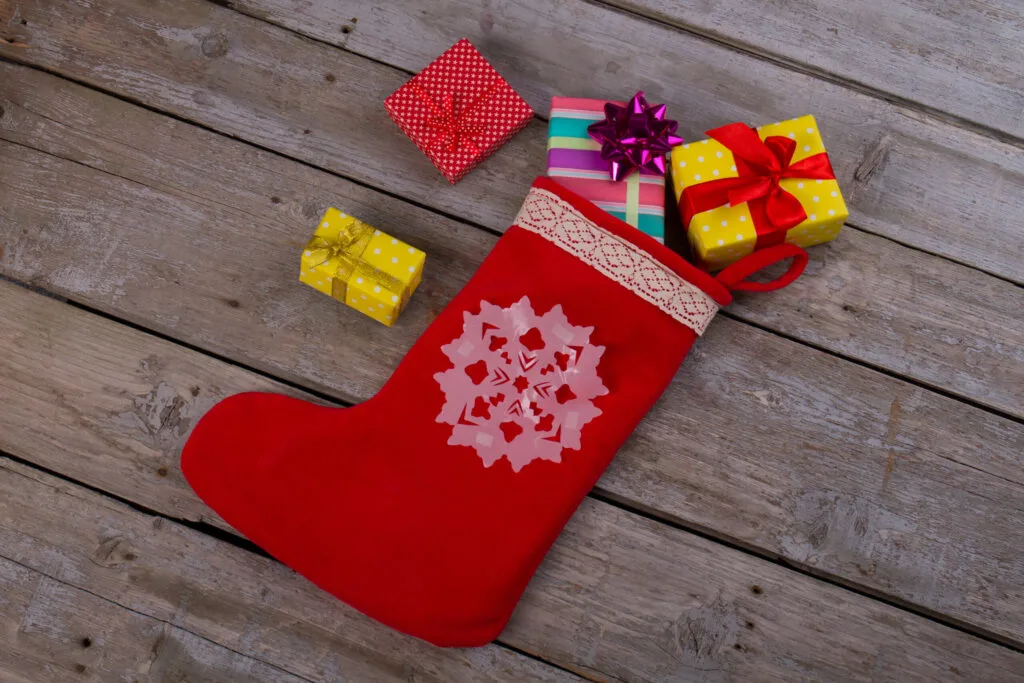 (This post contains affiliate links. Purchasing from these links costs you nothing extra, but helps with our website upkeep.)
What type of things make good stocking stuffer for Montessori kids?
Children in Montessori homes often enjoy participating in real-life activities like cooking and doing the dishes.
When it comes time to fill a Montessori child's holiday stocking, it's the perfect opportunity to give them child-size items that will help them fulfill their desire to participate in household and self-care tasks.
These small gifts may seem boring to adults, but small children really do enjoy receiving them. (Only in a Montessori home will a child find kitchen knives in their Christmas stocking!)
So, what about toys? Do Montessori children not get toys in their Christmas stockings?
Well, as you may already know, there is no such thing as a Montessori toy.
That doesn't mean that children in Montessori homes don't enjoy playing with toys, though, or that they are off-limits in Montessori homes.
Montessori supports creativity, as well as imaginative play – and there are many stocking stuffers that align very well with the Montessori philosophy.
I recommend a combination of Practical Life items, toys, art supplies, music makers, and exploration equipment for Montessori stocking stuffers.
Depending on the size of your child's stocking and the size of your budget, you may be able to find an item from each category that will work for you.
List of the best Montessori stocking stuffers
Below is a list of Montessori-aligned items that make amazing stocking stuffers.
Practical Life stocking stuffers
There aren't a whole lot of Practical Life items that will fit into a stocking, but these choices will and are absolutely awesome.
Musical
Music and movement are important for development – and kids love it. I always make sure to include an item that makes sound in each one of my children's Christmas stockings.
Science
Children are natural-born scientists and items that help them take a closer look at things, or see things in a different way, encourage their natural curiosity.
Art
Process-based art is an important part of Montessori and supplying your child with the supplies they need to engage in creative and fun art activities is a great stocking stuffer idea.
If you have an avid artist or crafter in your home, be sure to check out this list of 100 Montessori Art Supplies. There are plenty of items on the list that make great stocking stuffers.
Small toys
Finally, the toys!
Small age-appropriate toys that help children develop skills and experience a variety of sensations are perfectly Montessori-aligned and make great stocking stuffers.
I hope you and your family enjoy this holiday season and that you've found some wonderful Montessori-inspired stocking stuffers your child will enjoy throughout the year.
If you are still on the hunt for some larger Montessori-alined gifts, here are some resources you should check out:
Toys for Toddler who like to Throw
Cheers and don't forget to subscribe!