18-months-old is such an amazing time in a child's development. Choosing the perfect Montessori toys for an 18-month-old can be a challenge, though – there's just so much to choose from.
Almost every toy availible is marketed to parents as being educational, which can be both exciting and overwhelming.
In Montessori homes, however, parents often choose to forgo bright, flashy toys with educational taglines in favor of toys that promote development in the areas of their child's own interest.
In this article, you will learn about the 11 absolute best Montessori toys for an 18-month-old.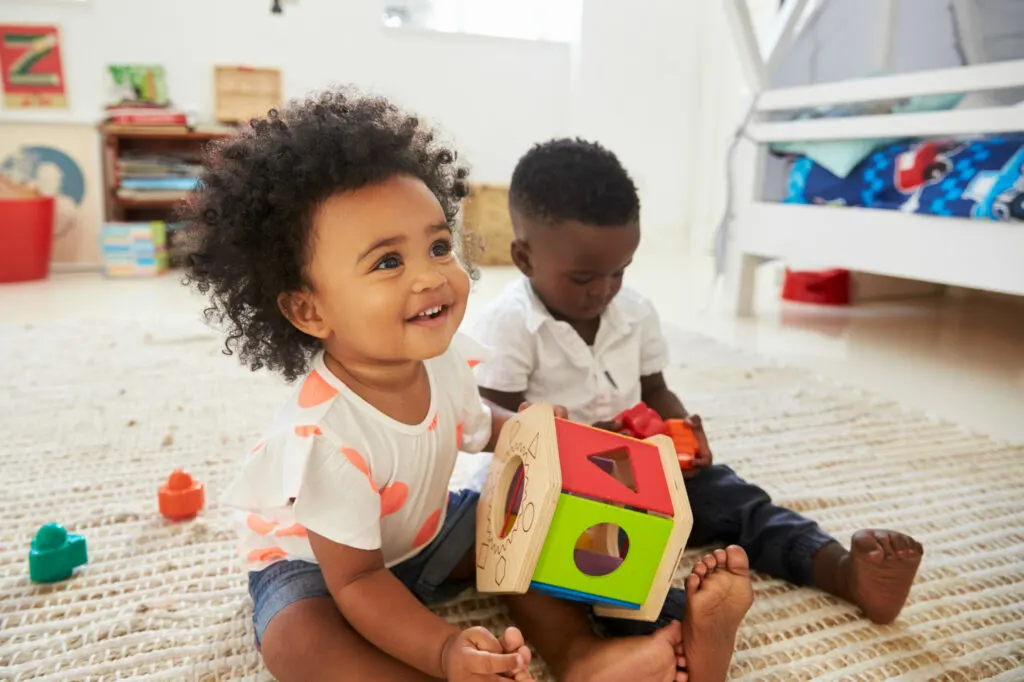 (This post contains affiliate links. Purchasing from these links costs you nothing extra, but helps with our website upkeep.)
What is the best Montessori toy for 18-months old?
At 18-months-old, toddlers are beginning to develop language skills and perfect their fine motor and gross motor skills – this is a busy time of development for little ones.
Providing toys appropriate for this stage of development is very important to caregivers in Montessori homes.
Since there is technically no such thing as a Montessori toy, we've picked the most developmentally appropriate and Montessori-aligned items made for 18-month-old toddlers.
The best toy for your young toddler is the one that will help them work toward their own goals, beit fine motor achievement, climbing, schematic play, or imaginative play.
The 11 best Montessori toys for an 18-month-old
Rainbow rockers and other rocker-climber combinations make great additions to Montessori playspaces.
18-months-old, or even younger, is a great time to introduce rocker-climbers into your home.
Children will pull to stand, climb, rock, and play in a multitude of creative ways with this Montessori-aligned gross motor toy.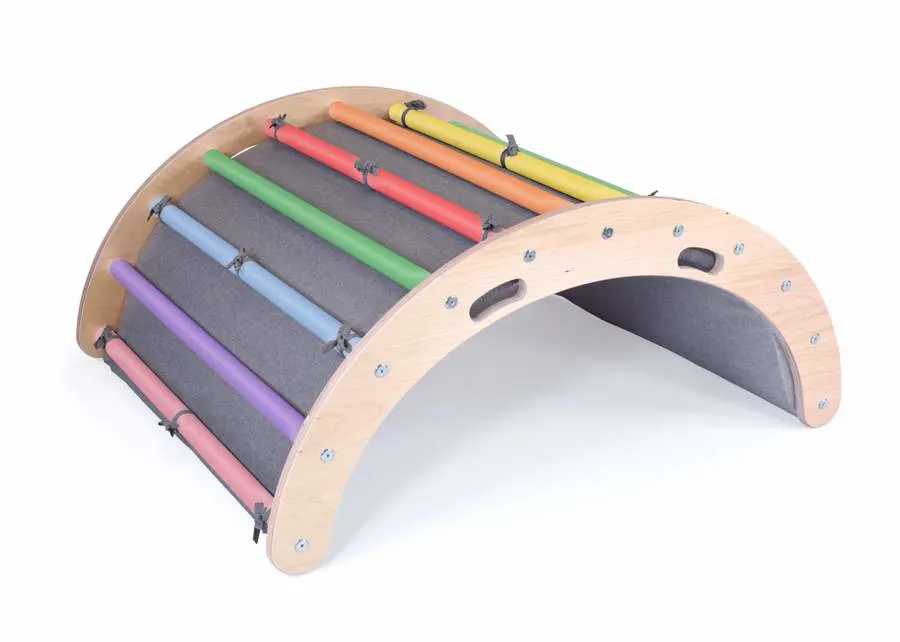 While most of the Montessori 18-month-old toys on this list have a heavy gross motor focus, this one has a fine motor focus.
Children, around the age of 18-months, have developed the ability to grasp small objects and are now interested in the challenge of stringing beads.
Pikler Triangles are all the rage and there is a good reason for this.
They provide an indoor opportunity for the gross motor activity of climbing, which can help to keep 18-month-olds off of high furniture by satisfying their need to climb.
This Melissa and Doug jumbo stacking train is a fan-favorite in my home – played with on a daily basis for years.
At 18-months-old, a toddler can play with the pieces in a variety of ways, as well as pull it around, which, of course, young children enjoy.
While traditional busy boards are not Montessori-aligned, young toddlers really do enjoy them.
This one is neutral-toned and not quite as "busy" as some of the other brands. It's also small enough to take on outings, which is great if you're looking to avoid screen-time for your 18-month-old.
Foam play couches make great Montessori toys for 18-months-olds. Monboxy has one of the lovelier foam play couch options.
It's highly rated and competitively priced. It's also available in Europe, which our European audience should be happy to hear.
18-months old is the perfect age to start a child on a balance bike. Velo is my personal favorite brand, as they come much smaller than some of the other popular balance bikes.
They are also a bit shorter in length and lighter weight than the other top brands, which makes them perfect for very young toddlers.
18-month-olds are notorious for playing in ways that make absolutely no sense to adults. One popular activity for young toddlers is transporting items from one place to another.
When a toddler does this, it is likely a play schema – transporting – and can be supported by giving the toddler a push wagon in which they can pack their toys and travel around the house.
Balance boards are great for helping 18-month-olds develop gross motor coordination and they provide opportunities for imaginative play, as well.
There will always be a debate in the Montessori community on the use of play kitchens. As a trained Montessori professional, I advocate for the use of a play kitchen in the home however.
This play kitchen provides 18-month-olds the opportunity to emulate and recreate, through imaginative play, some of the kitchen activities they take part in throughout the day in a Montessori home.
This nifty music player is advertised for ages 3 and up, however toddlers as young as 18 months can use it with ease.
If you are not familiar with Toniebox, it is a soft-covered speaker that toddlers and preschoolers can use on their own.
This is a big hit in my house. The kids choose which character they want to use and place it on the top of the box. The Tonies are interactive and a lot of fun.
You can even load your own music and audiobooks onto the Creative Tonies.
Because the Tonies are figurines of characters from television and movies, parents who limit their toddler's screen time may worry that their child won't enjoy the Tonies because they aren't familiar with them.
We did not experience any confusion in our home at all, however. My children have never seen many of the Tonies characters on TV, but they have grown to adore their songs and stories via the Toniebox.
There you have it – 11 of the best Montessori toys for an 18-month old. Whether you are shopping for a birthday, holiday, or you just have it in your heart to gift the toddler in your life with something special, this is a great list to choose from.
Cheers and don't forget to subscribe!