While 3-year-olds in Montessori homes often enjoy joining their caregivers in everyday household activities, they also enjoy imaginative and open-ended play toys.
While there is technically no such thing as a Montessori toy, there are plenty of options when it comes to toys that complement the Montessori lifestyle.
From gross motor to fine motor and everything in-between, here is a list of the 12 best Montessori-aligned toys for 3-year-olds.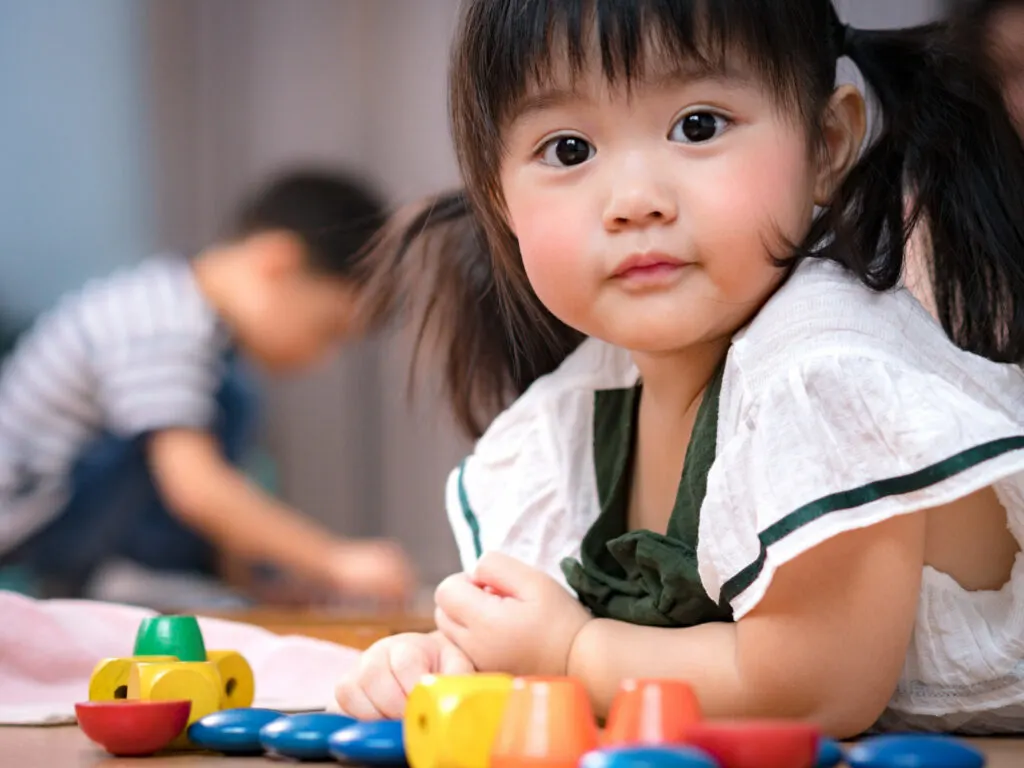 (This post contains affiliate links. Purchasing from these links costs you nothing extra, but helps with our website upkeep.)
The 12 best Montessori toys for 3-year-olds
The Melissa and Doug Doorbell House is one of my favorites. At first glance, it might look a little "busier" than you'd expect for a Montessori toy, however, it's really fantastic.
Each door has its own key, which is attached to the top of the house. The child must match the key to the lock and unlock the door to get to the dolls, which is an amazing fine motor activity.
My first child was gifted this on her 3rd birthday and I was amazed at how much concentration this toy brought out of her.
Magna-Tiles make amazing toys for 3-year-olds and they are wonderfully Montessori-aligned.
In fact, many Montessori primary schools actually have these in the classrooms.
Through open-ended and imaginative play, young children use these to build structures.
This helps develop fine motor skills in preparation for the pencil grip, problem-solving skills, and spatial reasoning.
3-year-olds are beginning to "come into their own" when it comes to open-ended play.
Having a wooden stacking rainbow on their toy shelf allows for ample loose part play opportunities.
Tonieboxes have been popular in Germany for some time and the rest of the world is starting to catch on.
With a Toniebox, 3-year-olds can be in total control of their audiobooks and music.
The one featured below is ours and all of my children get a lot of enjoyment from it.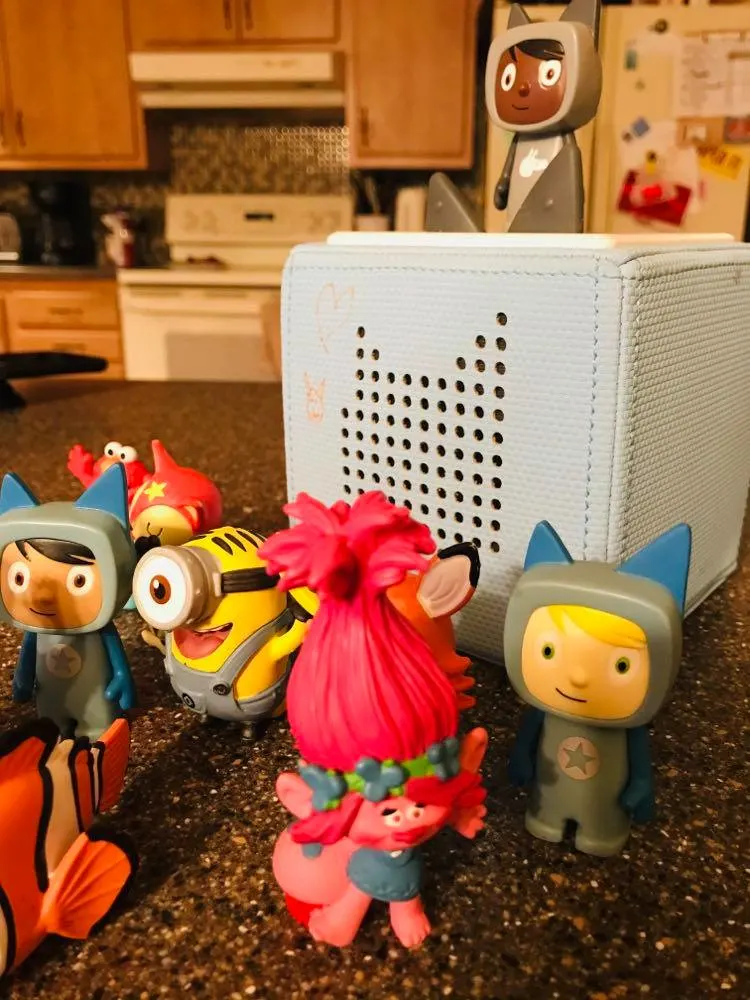 Play scarves can be used in so many ways. Many 3-year-olds are beginning to become interested in tying things together, which may be a play schema, and silk scarves are perfect for this.
They can also be used for dress-up and other imaginative play activities.
Marble runs are so much fun for kids to build and Hape's marble run allows children as young as 3-years-old to join in the construction.
The Ikea Duktig kitchen is likely the most popular play kitchen in Montessori homes.
It can be left alone for imaginative play or modified for functionality.
Many Montessori caregivers use it for a bit of both, by utilizing the cabinets to give their 3-year-old access to dishes and silverware and keeping the stovetop and sink as they are for creative play.
Wooden stacking stones help develop spatial reasoning and problem-solving for 3-year-olds.
This set of stacking stones is colorful and a lot of fun for kids.
Lightboxes can be used in so many creative ways. Translucent Lego sets and Magna-Tiles pair well with this purchase.
This is an awesome purchase that any 3-year-old would love.
Climbing Triangles, like this Piccalio Pikler Triangle, are extremely popular gross motor items in Montessori homes.
3-year-olds can climb, of course, or use the climber in a variety of ways for pretend play.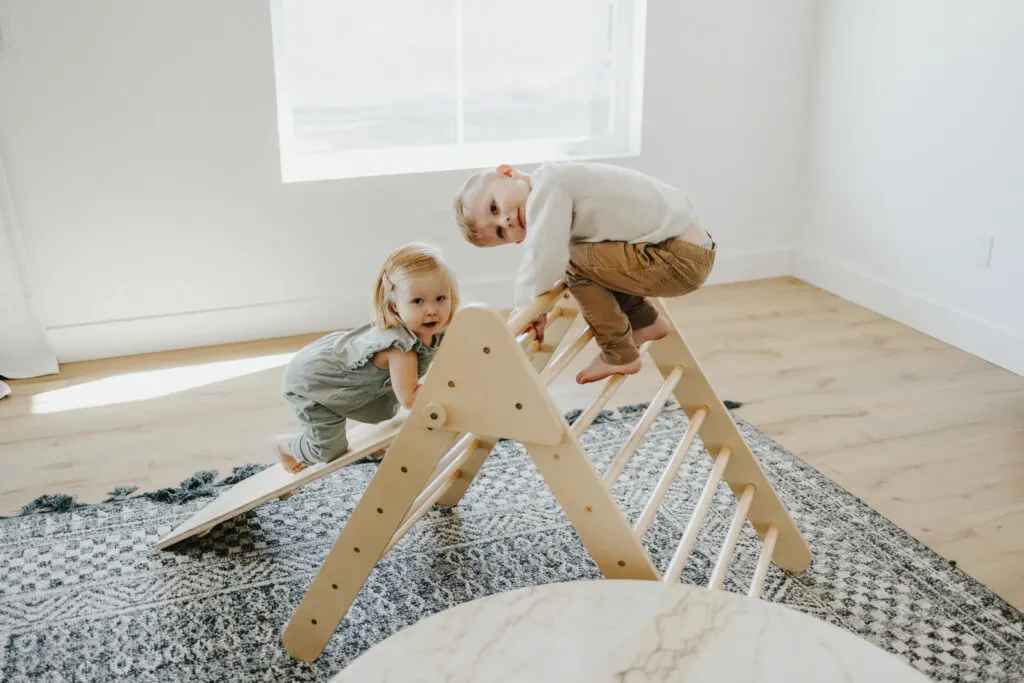 This tool kit is a dream for many 3-year-olds.
They can build and repair, all while getting STEM benefits and fine motor skills.
This Action-Stackers set is another great Montessori-aligned STEM toy that is perfect for a 3-year-old.
With this set, children can use their imaginations to build and create, all while building fine motor skills.
There it is – 12 of the best Montessori toys for 3-year-olds.
These make great gifts for birthdays and holidays.
There's no need to wait for a special occasion, though!
If you are looking for a guide to toy organization, check out:
The Montessori Guide to Toy Rotation and Organization
Cheers and don't forget to subscribe!