When a child reaches the age of 6-months-old, they have gained a variety of new skills, often including sitting unassisted, grasping for objects, and crawling or scooting.
At this age, parents and caregivers in begin to look for Montessori toys for 6-month-olds, but are often stumped as to what to buy.
Luckily, there are resources available, such as the guide below.
In this article, you will get 12 great ideas for Montessori toys for a 6-month-old.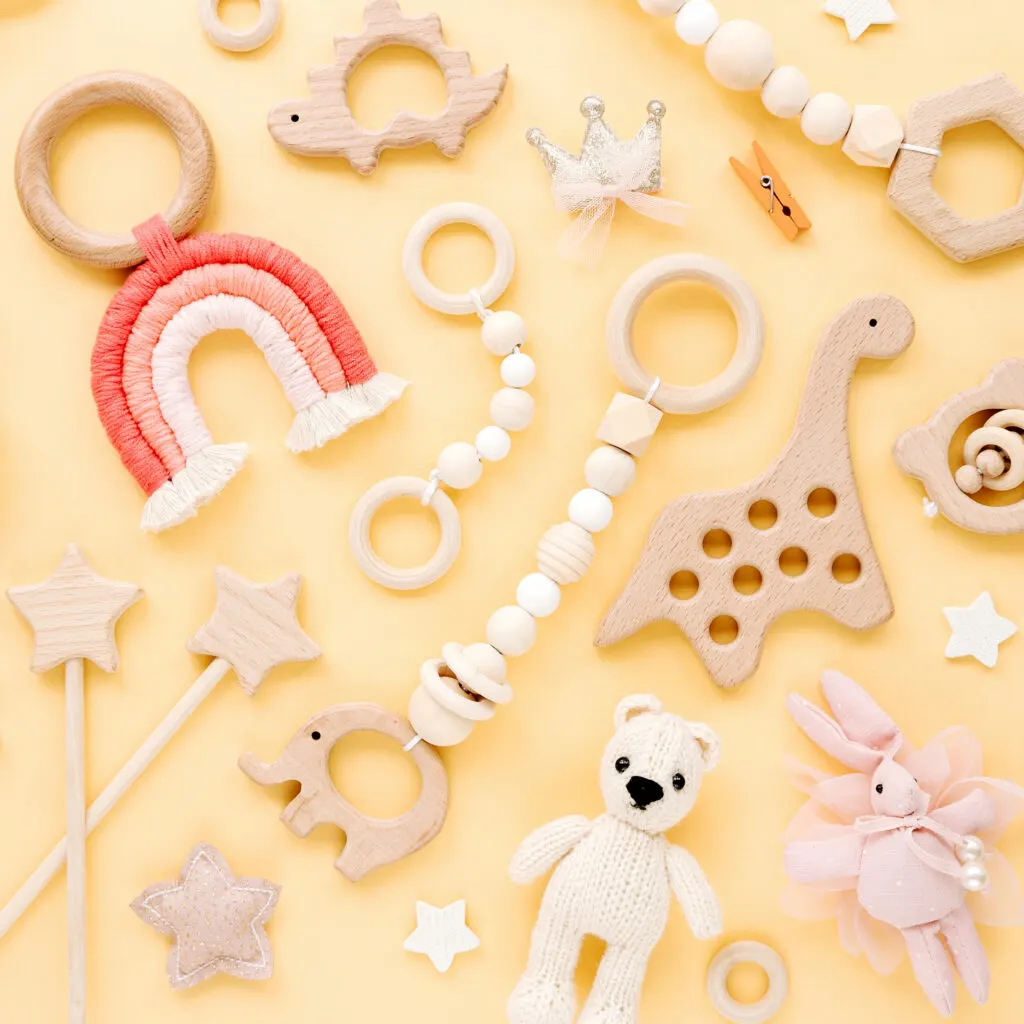 (This post contains affiliate links. Purchasing from these links costs you nothing extra, but helps with our website upkeep.)
The 12 best Montessori toys for a 6-month-old
Research shows that infants are more visually drawn to high-contrast items than multi-colored or pastel-colored toys.
6-month-olds are also interested in using their new grasping ability, as well as exploring different textures and sounds.
This is why Montessori caregivers choose toys, like this Mouse Loves Pig toy for their 6-month-olds.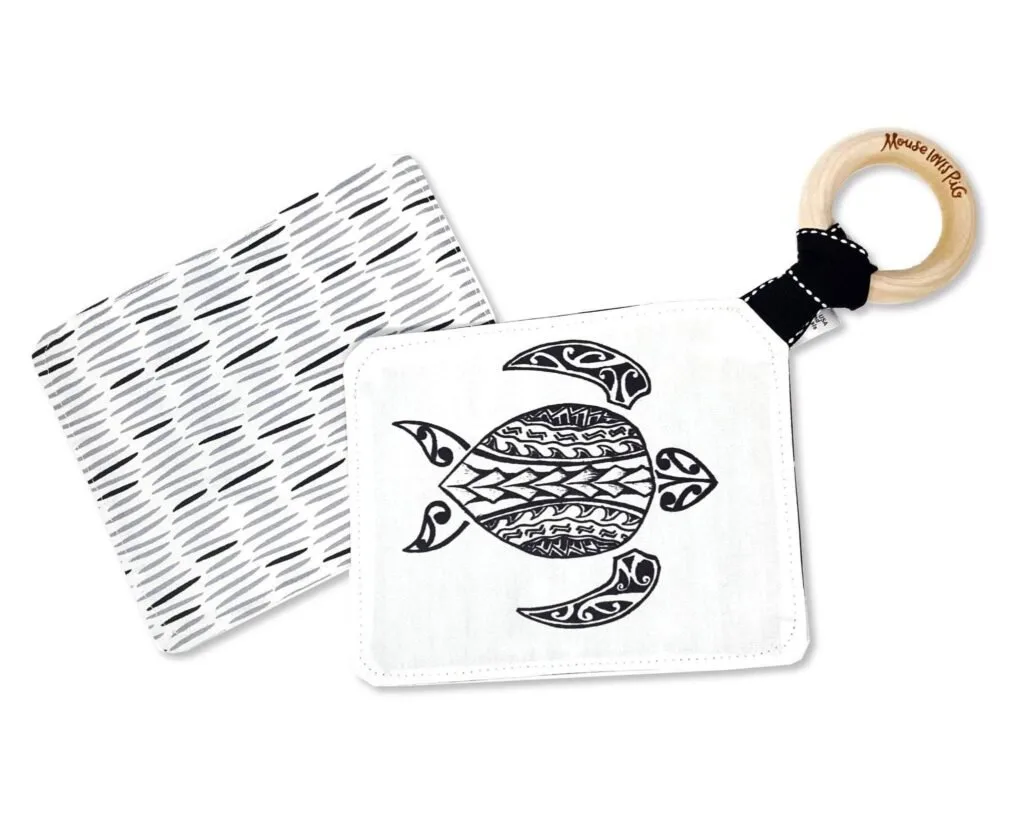 Brightly colored, you may not expect this to qualify as a Montessori toy, however this is a perfectly Montessori-aligned item, as it encourages sensory exploration, fine motor engagement, as well as relief from teething discomfort.
This is a bit different from other figure-eight teething toys, as it can be manipulated and it rattles, which 6-month-olds find really entertaining.
Stacking toys are wonderful items for a Montessori 6-month-old. The stacking toy featured below is made of non-toxic silicone and it makes a cute squeaking sound, which encourages the exploration of couse-and-effect in babies.
Droolees seriously makes some of the best and most earth-friendly baby items on the market. These teether toys are easy for 6-month-olds to grasp and they have fun textures, which are great for sensory exploration.
What's neat about these is that they can be frozen to help with teething pain when those first little chompers start to come in.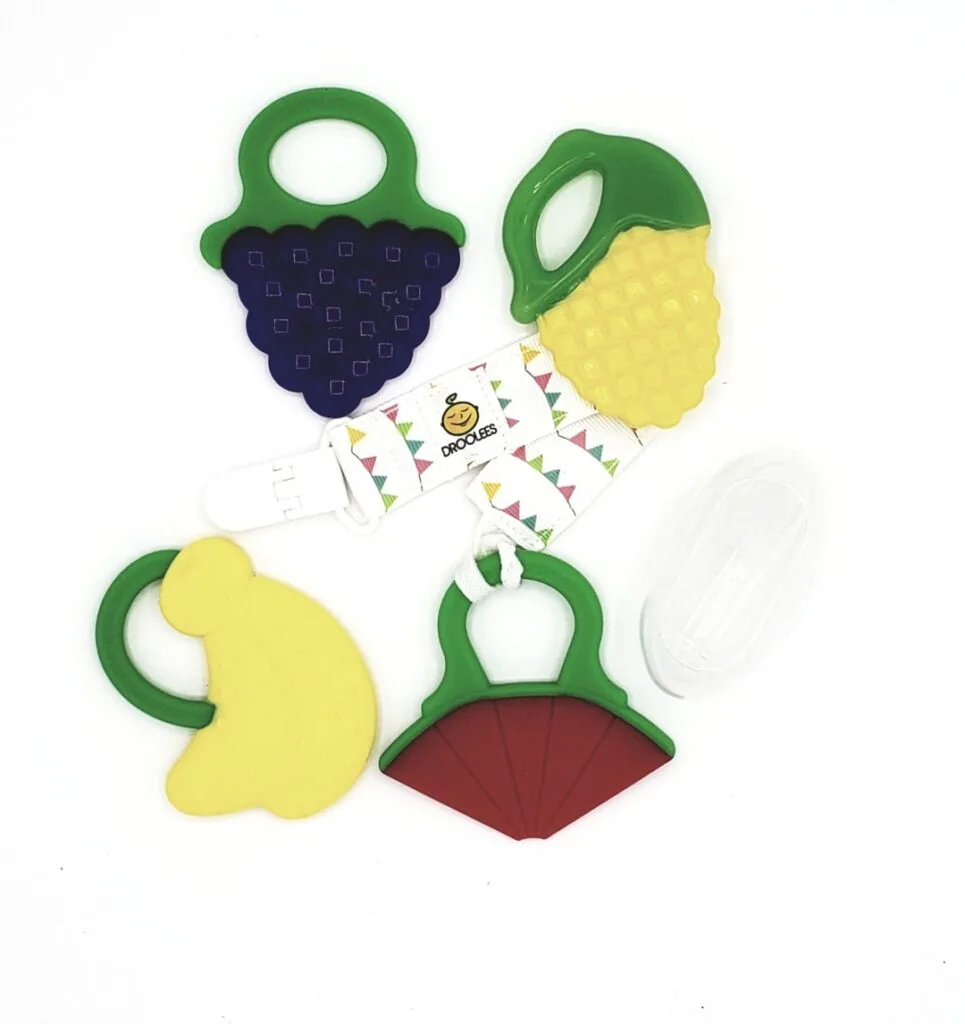 The Artful Skwish is a ball, rattle, and grasping toy all in one. 6-month-olds enjoy squeezing it and watching it bounce back into its original shape.
It's non-toxic, as well, so you do not have to worry about nasty chemicals getting into your baby's system.
What I also like about this toy is that it's neutral in color and is appealing when displayed on a toy shelf – babies go right to it.
It's never too early to introduce a child to the concept of making music, and I love this as a baby's first instrument.
You are probably familiar with the Hohner company, as they manufacture the harmonicas many of us have in our homes. Their items are all the highest of quality.
This is a great Montessori toy for a 6-month-old, as it encourages auditory development and it's easy to grasp.
This wooden whale shaker is probably exactly what people imagine when they think about Montessori toys for 6-month-olds.
It's simple in its design, neutral in color, made of natural material, age-appropriate as far as ease of grasp, and it encourages sensory exploration.
Though 6-month-olds don't recognize their reflection in a mirror as being their own yet, they still enjoy playing in front of mirrors.
Giving your child a floor mirror provides opportunities for interactions between the baby and caregiver and helps them begin to develop important social-emotional skills.
Many Montessori parents choose to include this mirror in their baby's "yes space".
The Montessori spinning drum is an item that you will find in many Montessori infant programs. The drum features slats of different colors and has one slat that is a mirror, as well.
6-month-old babies are absolutely fascinated by this Montessori toy.
Here is a video for those curious if babies find spinning drums entertaining. I love to see that this toy can be enjoyed over many months. (Shopping link is below the video.)
This wooden dowel and ring toy provides a real challenge for 6-month-olds and their hand-eye coordination at this age typically allows for success after multiple tries, which is great for a baby's self-confidence.
The wooden rings encourage fine motor development and the activity itself helps the development of spatial reasoning, as well as problem-solving skills.
Babies as young as 6-months-old begin to exhibit signs of being in certain play schemas. One such play schema is enveloping – babies will find it satisfying to put items in containers and pull them back out, then repeat the activity.
This Eric Carle Tissue Box toy is perfect for helping babies explore through schema play.
Last, but not least, is the foam corner climber. Many 6-month-olds are beginning to crawl or scoot along on their bellies.
Babies at this age are not ready for balance boards, rockers, or climbing triangles yet. However, they still enjoy a challenge, which is why you will catch them b-lining for the stairs at every opportunity.
By providing them with a safe place to climb and practice their gross motor skills, you will be helping their development and helping to satisfy their need for a gross motor challenge.
These really are some of the best Montessori-aligned toys for a 6-month-old. Whether you are shopping for a birthday or holiday, these are all great choices.
There's no need to wait for a special occasion to give the special 6-month-old in your life one of these toys, though.
Cheers and don't forget to subscribe!