You may have heard the term "yes space" in the Montessori and RIE circles but are unsure of what it means or how exactly to go about creating a yes space in real life. You will get the answers to your questions, as well as photos to use as reference in this article.
What is a Yes Space?
Quite simply, it is a safe environment for your child to play with the freedom to explore and move around.
It should be a safe room or section of your house that you feel comfortable leaving them in with limited supervision.
Please note, this does not mean you should leave your baby alone in this space for an extended period of time, such as when showering.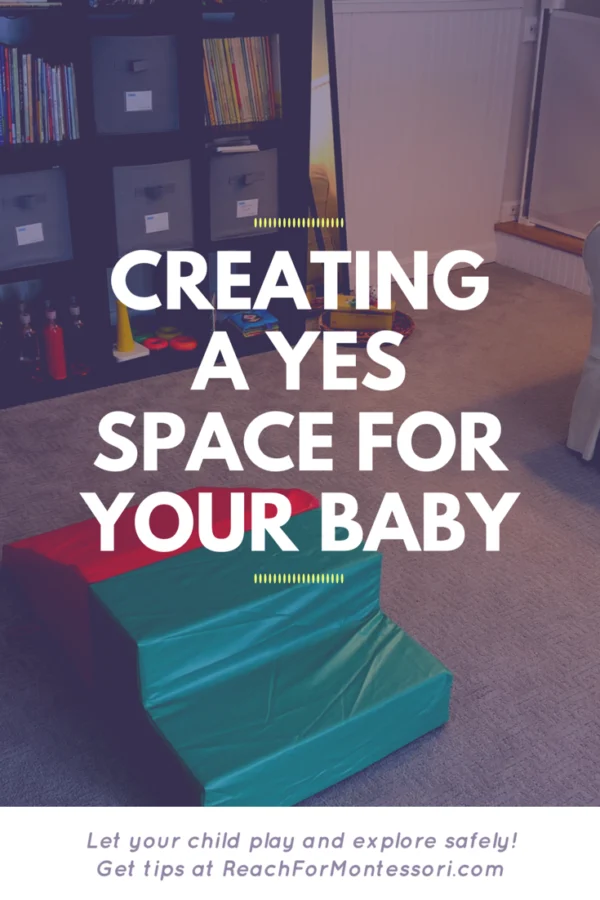 Why Should You Have a Yes Space?
Well, let's talk about the alternative. You haven't baby-proofed anything, you have tons of breakable valuables on the ground, lots of wires hanging.
So you set your crawling baby down and are unable to take your eyes off of them for a second, or you do, they get hurt, and you end up feeling like a terrible parent (we've all been there).
You find yourself saying "no" and stopping them from doing or touching stuff constantly, preventing them from any real playing or learning.
The other option is placing your child in a chair/jumper/swing/playpen for most of the day. But is this a good option?
Physical Independence is the first plane of development according to Maria Montessori's theory of development.
Things that contain your child can hinder their physical development. As such, they are not Montessori-aligned.
That said, there are times when they are needed, so don't feel guilty when you need to place your child in one. Just be aware of the time they spend in them and that they get enough free range play.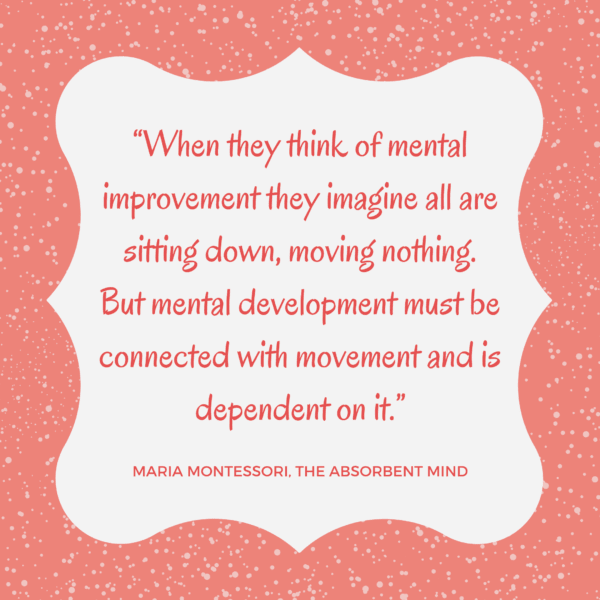 By giving your child the freedom to move around, you're fostering their physical development.
A baby who is on the floor with interesting things on their level will want to figure out a way to move toward those things, whether they're at the beginning stages of crawling or trying to walk.
Creating a yes space allows them the freedom to move, touch, and explore and gives them autonomy.
Which in turn will encourage independent play. When this happens, your life will become so much easier, trust me!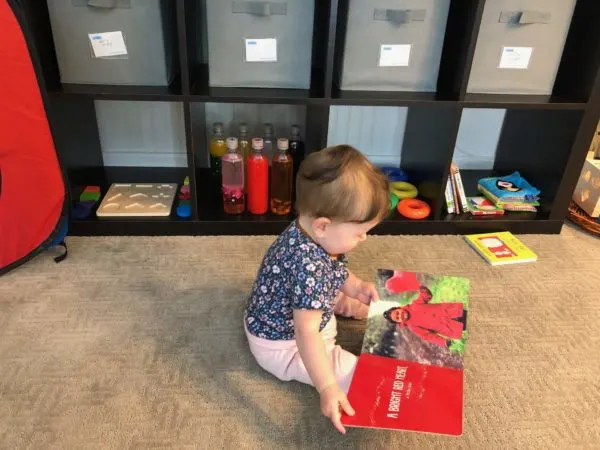 How to Make a Yes Space
First, choose the best place in your home for creating a Yes Space!
This space should be easy enough to baby-proof, large enough for the baby to move around without feeling contained, and not isolated from the rest of the family.
Think about whether you'd want to spend most of your time there.
Luckily, we had an extra room that was mostly unused and happened to be right off the kitchen, with open doorways, so it was the perfect room to make into the baby's safe play room.
But don't get discouraged if you don't have an unused room!
You can transform any space with some creativity: I've seen people be successful in creating a yes space in their formal dining rooms.
The very first step I suggest is to do a deep clean of the space.
They will find dirt anywhere, so dust baseboards, vacuum corners, windowsills, everything. Plus, it's so much easier to start off with a clean slate.
Next, we will focus on safety. Please note, that there are certain safety things you should implement in the entire house, regardless of whether every room is a designated yes space or not (i.e., plug covers and stair gates).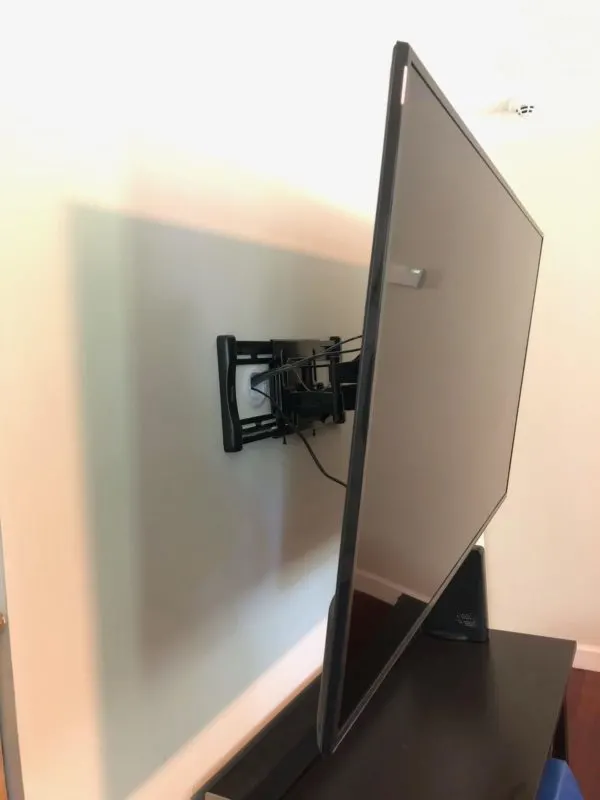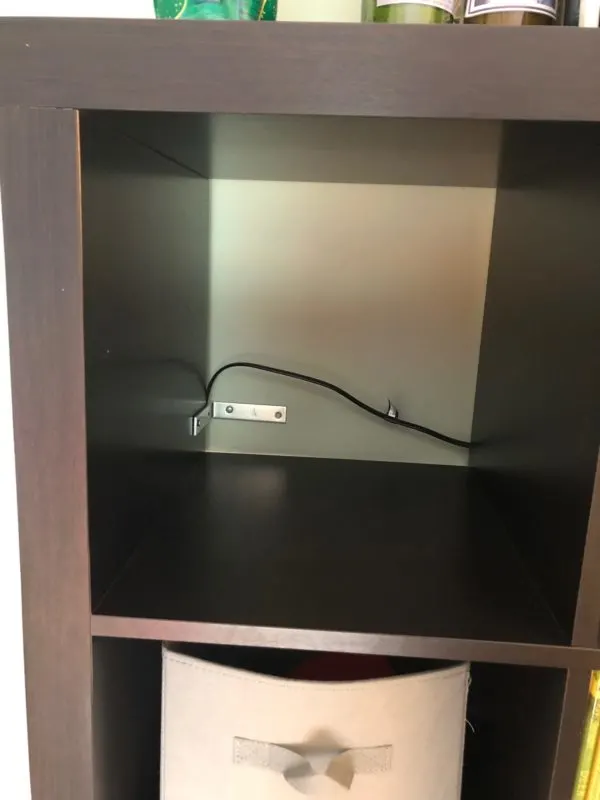 Furniture Safety
Next, make sure to tether all furniture that can be tipped over. We have a large Ikea shelf that is just begging to be climbed on, so my husband used L-corner braces to mount it right to the wall.
You can also use furniture anchor straps easily found at hardware stores or Amazon.
If you have a TV in this space, consider mounting it on the wall, out of reach of the baby (the plus to this is no dirty fingerprints!).
If that's not possible, use anchor straps. I personally had a friend whose son pulled a large TV down on themselves and he was very badly hurt.
So, make sure every TV in your house is out of reach or anchored.
Also, if you've chosen a space that has cabinets or drawers that your child can access, install some kind of safety latch or locks, to prevent fingers getting pinched.
Cover all plugs
Do this in your entire house before you think you'll need to because the moment they discover plugs always happens quicker than you think!
There are several different options to choose from; traditional socket plugs, self-closing outlet covers, and cover boxes.
Cover boxes may be a good idea if you have things plugged in and directly in the child's view and can't strategically hide them.
Hide cords behind things or use tape or cord covers.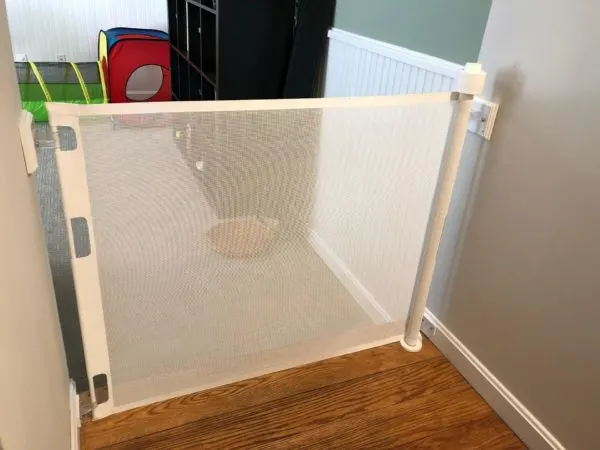 Gates
There are so many different kinds of baby gates on the market now, so it's easy to find one that works best for your family.
We chose retractable gates because we wanted something that wouldn't take up any space when open, especially because these doorways were high-traffic areas.
Keep in mind, that too many baby gates can be restrictive and can contradict the purpose of a yes space.
Try to think of it this way: are you putting this gate up for the baby's safety or solely for your convenience?
My final safety tip: get down on the ground and see what your baby sees, is there anything you may have missed?
Now that you've made the area clean and safe, the next step is making it inviting and enjoyable for your child(ren).
This isn't a punishment place, you want them to WANT to spend their time in this area.
This means cutting out the clutter and figuring out the best age-appropriate toys to put out.
I highly suggest a toy rotation and minimizing the toys available, which I will discuss more in a later post.
I also recommend reading Sue's tips on how to organize a Montessori-inspired playroom – I'm in love with this space!
It is important that this space be constantly evolving to fit your child's needs and growth. You may need to move things around or place things higher as they grow.
For example, I always leave some books down for my daughter, but currently, she is cutting three teeth at once and chewing on everything, including board books.
She's destroyed and ripped off pieces in no time, so sadly they had to go up higher.
When I'm sitting with her I take them down for her. I also make sure teething toys are easy to access and in almost every room in the house.
One of the most important rules of the Montessori Method is always follow your child!
If you have older children, you can still make this space functional and welcoming to them. Ideally, this is a space that everyone wants to spend time in!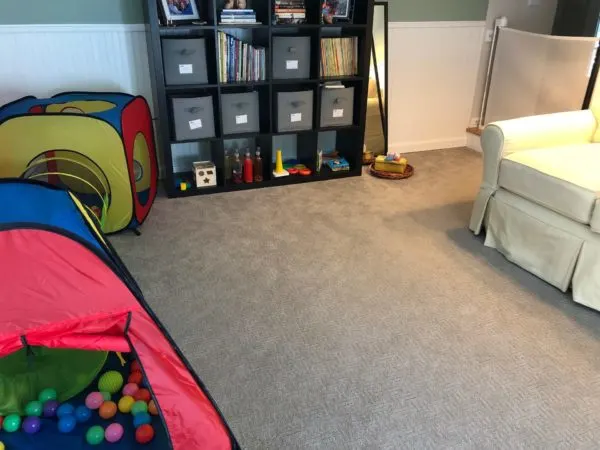 I hope these tips help you in creating a yes space that is perfect and functional for you and your family! I'd love to see pictures of your yes spaces!
Remember, this space doesn't have to be "Pinterest perfect" to work. It may seem like a lot of work, but it is so worth it.
You can sit back, feeling comfortable that your child is safe, and happy and that you're encouraging their independence, and cognitive and physical development!
I hope you enjoyed the read! Don't forget to subscribe!
Sale
UTEX 3 in 1 Pop Up Play Tent with…
BUILT TO LAST, Made of highly colorful and high grade 190T…
SUPER VALUE, The adventure play tent and tunnel set includes one…
The play tent and ball pit set features mesh 'windows' provide…
GYBBER&MUMU Preschool Colorful Wooden…
PERFECT EDUCATIONAL TOOL FOR YOUR TODDLERS- Our wooden puzzle is…
PREMIUM BUILD- Unlike other wooden colorful puzzle that break…
NO SAFETY HAZARDS- The board is 7.88 x 7.88 x 0.5 inches, nice…
Sale
Foamnasium Gymnasium Playset,…
MADE TO LAST. Soft, high-quality covers are durable and easy to…
FUNCTION AND FUN. Non-skid fabric on select bottom pieces ensures…
EASY TO MOVE. Handles make pieces easy to move for both parent…
Outlet Plug Covers (32 Pack) Clear Child…
The best outlet plugs to keep children away from electric…
Our outlet covers are ultra clear to blend in to your home while…
These outlet plugs are simple to install – simply insert the…
No products found.