Are you trying to pick out the best Montessori crib mobile for your new baby or for a gift for someone you love who's expecting?
If so, I've got some great options on the list below – all are Montessori-aligned, beautiful, and would make great additions to your Montessori nursery.
In this article, you'll find out if Montessori mobiles are worth the price and at what age you should introduce them.
You'll also learn about the 8 best Montessori crib mobile options.
If you are crafty and looking to save some money, you should check out Melissa's post about how to make your own baby mobile.
It's a great activity to do with your toddler when you're getting ready for your new baby.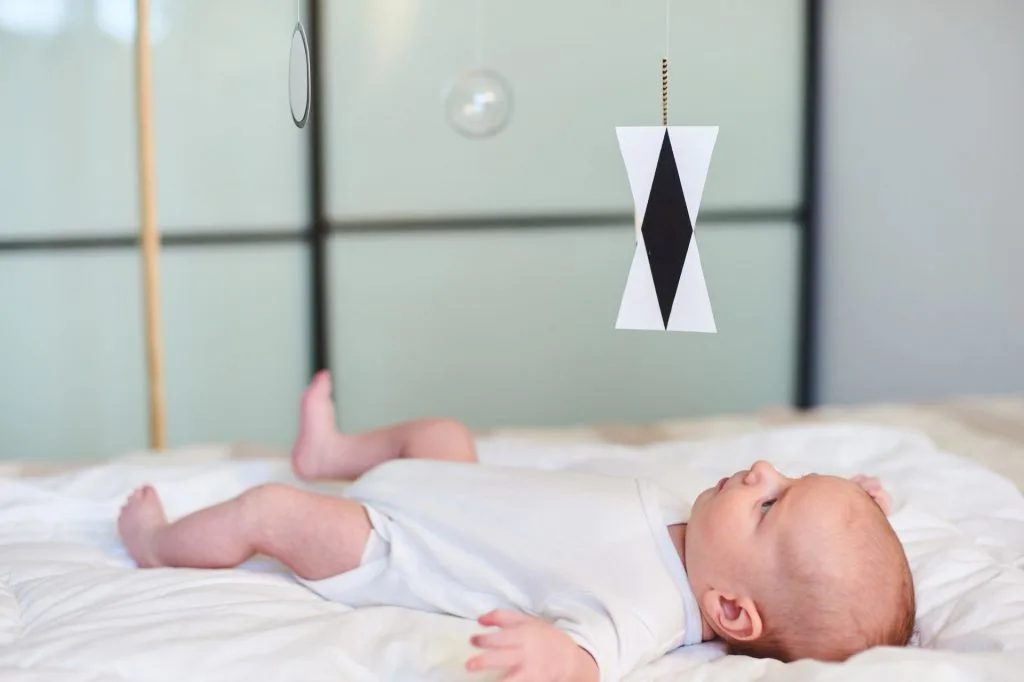 (This post contains affiliate links. Purchasing from these links costs you nothing extra, but helps with our website upkeep.)
What are Montessori baby mobiles?
Montessori crib mobiles are simply mobiles that hang above a baby's crib that are designed to capture their attention and encourage the development of visual tracking skills and eyesight.
Of course, non-Montessori parents implement mobiles in their baby's cribs, as well.
So, what makes a Montessori crib mobile so "Montessori"?
Montessori mobiles, unlike other crib mobiles, are simple, high contrast (but not bright and flashy), and pleasing to the eye.
In a proper Montessori environment, a specific set of crib 4 mobiles is presented in a special order.
Here are those mobiles, in the proper order:
Munari Mobile (0-2 months)
Octahedron Mobile (1-3 months)
Gobbi Mobile (2-4 months)
Dancers Mobile (3+ months)
Each mobile is presented at the age when the baby will get the most developmental benefit from it.
Are Montessori mobiles worth it?
Plenty of people who subscribe to the Montessori ethos choose to utilize a crib instead of a floor bed.
For these parents, Montessori mobiles are certainly worth the price. They help to entertain the baby during periods of unoccupied play and aid in its development, as well.
Many expecting parents purchase cribs for their babies, but end up not using them for the first several months, or ever, though.
In these cases, parents typically use the mobiles for their baby's play gym, which is a lovely idea.
So if you purchase a Montessori mobile for your baby's crib, it will not be wasted money whether you end up using the crib or not.
At what age do you use Montessori mobiles?
Mobiles can be introduced to your Montessori baby as soon as you bring them (the mobiles or the babies, whichever gets home first).
Newborns, though, can't see but several inches from their faces at first.
It isn't till they are several weeks old that they will be able to see their crib mobiles from their mattresses or topponcinos.
It will be a couple more months still until they can distinguish colors and attempt to grab things.
This is why Montessori mobiles are introduced in a certain order.
8 great Montessori crib mobile options
Included in this list are traditional Montessori crib mobiles and Montessori-aligned crib mobiles.
Not everyone is interested in switching out their child's mobiles every so often and that's ok.
Also, some people may be here simply looking for high-contrast, simple mobiles, which I do give options for.
The Munari mobile is one of the most popular among Montessori parents and caregivers.
The high-contrast items on the mobile capture a baby's eye, as well as their attention.
If you are planning on introducing the 4 proper Montessori mobiles in order, this will be the first one you hang, between birth and 2 months.
This mobile is bright and beautiful, and the geometric shape captures your baby's attention and prompts them to focus with both of their eyes.
The Octahedron Mobile is the 3rd you'll be introducing if you choose to use the full series of Montessori mobiles.
This is introduced between the ages of 1 and 3 months.
The Gobbi crib mobile is another Montessori mainstay for parents who implement Montessori for their babies.
For those implementing the proper Montessori mobiles, this will be the 3rd one to hang, between the ages of 2 and 4 months.
If you are looking for a crib mobile that is high-contrast, but colorful, the Dancers Mobile is a great choice.
If you are going to introduce the 4 proper Montessori mobiles, this will be the very last one you hang, between the ages of 3 and 6 months.
This Montessori-aligned crib mobile option isn't as high contrast as the others on the list, however, it is so beautiful and gentle-looking.
If you have a themed nursery or you just really like owls (they're pretty popular right now), this owl mobile is a wonderful Montessori-aligned option.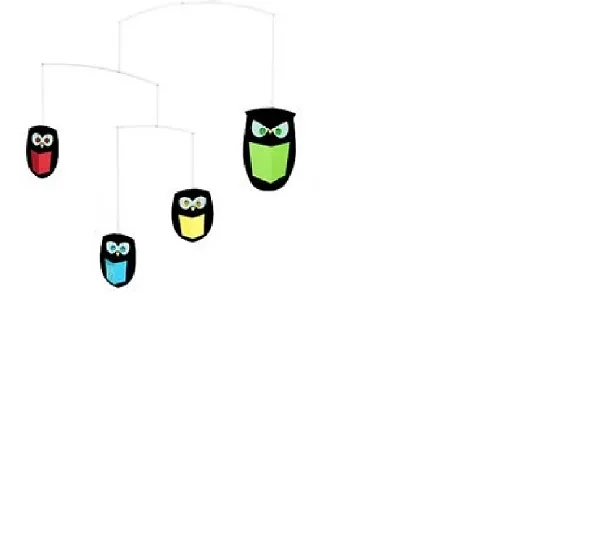 This baby crib mobile is soft, beautiful, and high-contrast, which I love.
If you want to bring a touch of nature and wildlife into your baby's nursery, this high-contrast 3-swallow mobile is a wonderful option.
If you want to be able to change out your baby's Montessori crib mobile to help keep them interested and engaged, purchasing a set of mobiles is a great idea.
Of course, if you want to follow the Montessori introduction of all 4 mobiles, this set is essential.
---
Enjoy preparing your new baby's play and sleep spaces!
Cheers and don't forget to subscribe!