Are you in search of some toys that start with M? If you are, you've come to the right place – I've got 13 educational and fun letter M toy options right here for you.
Whether you're looking for toys that start with M to send with your child to school for show-and-tell or you're trying to come up with sound game objects to help your little one better understand the sound the letter M makes, this article is for you.
The letter M toys on this list are Montessori-aligned, for the most part, and all have educational value.
So, after the show-and-tell is over or after your child has mastered the letter M sound, they'll have a quality toy to play with.
Let's get right to the list.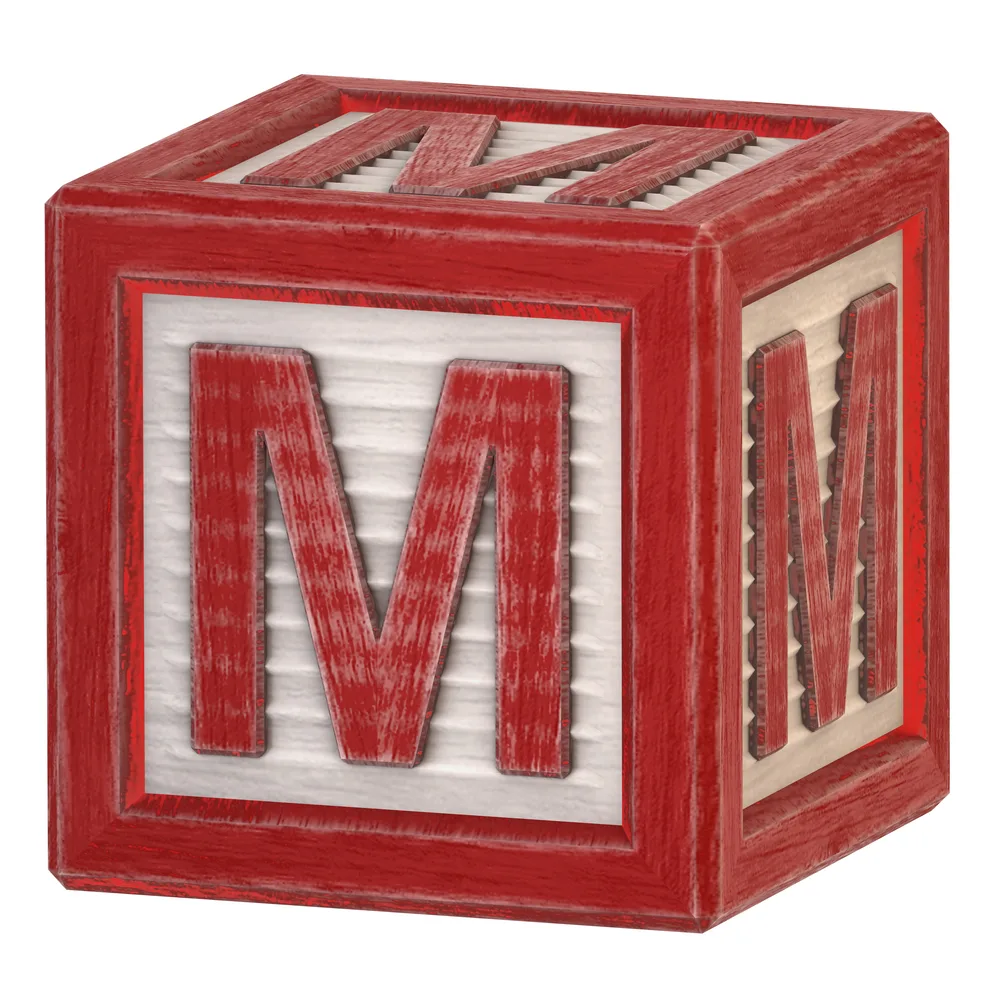 (This post contains affiliate links. Purchasing from these links costs you nothing extra, but helps with our website upkeep.)
13 fun & educational toys that start with M
Schleich makes the best animal figurines – the detail in them is amazing and they even make realistic footprints in kinetic sand and play-doh.
If you're looking for a toy that starts with M and your child is an animal lover, this Schleich moose is a great option.
If you've got a child that loves to explore the outdoors or their nature table, they're going to benefit from a magnifying glass.
These 2 magnifying glasses come in one package and are shatterproof, which makes them great letter M toys for kids.
If you're looking for toys that start with M that will get lots of use, check out my list of great wooden marble runs.
If you're not interested in a wooden marble run, I personally recommend this National Geographic Marble Run.
The marbles glow in the dark, which is really fun.
The marble run itself is very sturdy (we've had ours for over 4 years) and it can be configured easily with a second set.
If your child is interested in tornados, hurricanes, and other weather patterns, this meteorology kit is the perfect letter M toy.
If your child is learning about geography and could use a good map puzzle, this world map is great.
It comes with quiz cards, too, which adds an extra educational element.
Maracas are great for incorporating into your planned or spontaneous music and movement activities.
These are one of the smaller letter M toys on my list, which makes them great to take to school for show and tell.
We love our Gravity Maze. If you've got an elementary-age child that likes a good challenge and enjoys marble runs, this is the perfect letter M toy.
This mailbox toy is a great letter M toy for a toddler or a preschooler.
Young children will get the chance to practice their pincer grasp while they engage in pretend play.
My kids love building with Magna-Tiles. These are sturdy magnetic tiles that come together to build whatever your child can imagine.
This letter M toy helps kids develop creativity, hand-eye coordination, fine motor skills, and more.
Imaginative play has so many great benefits for a child's development.
If your child is the type to enjoy play kitchens and pretend washing machines, this play market is right up their alley.
Practical Life Activities are so fun and beneficial for children.
If you're looking for an item for kids that starts with the letter M that can be used for activities of daily life, the mop that comes in this Melissa and Doug set is a great choice.
I love this money-learning toy. Kids can practice their handwriting skills while learning math skills and how money works.
This letter M toy is tons of fun and helps children build their analytical minds.
They will learn problem-solving skills through the 26 different building exercises in this kit.
These 13 toys that start with M are so much fun and have educational value, as well.
Is your favorite letter M toy on this list?
Cheers and don't forget to subscribe!