If you've ever had the opportunity to see inside a Montessori classroom, you may have noticed a small table or a large tray covered in items from nature – a nature table.
What is it, though? What purpose does it serve?
Today, you'll learn what a Montessori nature table is, what its purpose is, and how you can set one up in your home or classroom.
You'll also get some fun nature table lesson ideas for each season, as well as some ideas for nature table themes.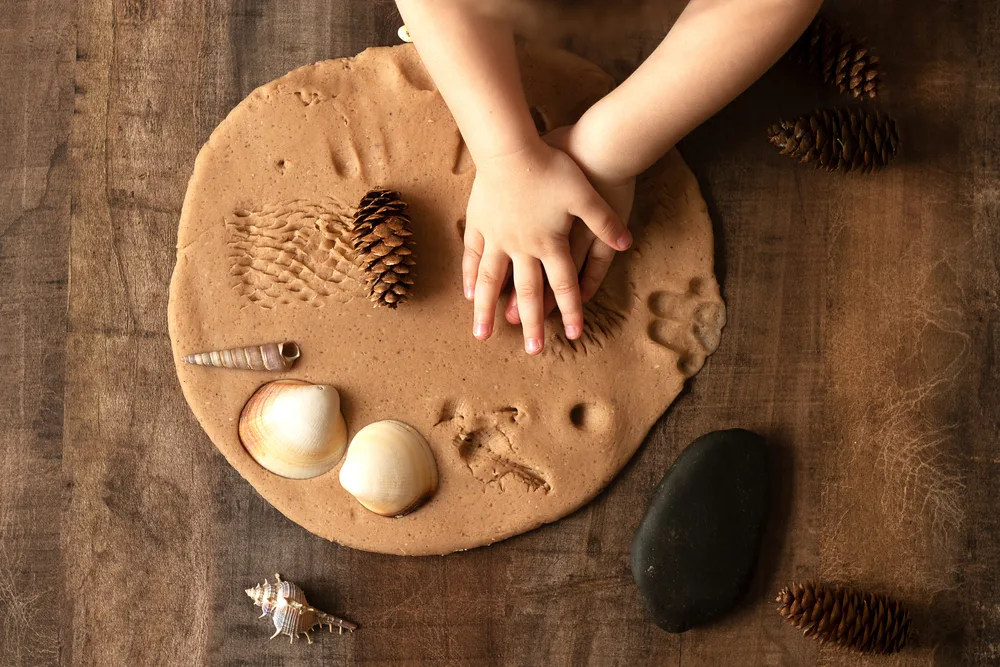 (This post contains affiliate links. Purchasing from these links costs you nothing extra, but helps with our website upkeep.)
What is a nature table?
The nature table is an important part of Montessori classrooms. It's making its way into mainstream classrooms, as well, as experts agree on the importance of teaching children about nature.
It's an easily accessed area where children can explore items from nature within the classroom.
Generally speaking, nature tables are wooden, sturdy, and low to the ground for safe and easy access.
Trays can be used instead of tables, as well.
Some Montessori guides forgo trays and tables altogether and create a nature display along the top of a low shelf.
Children being able to explore the materials easily is the most important aspect when you're choosing whether to set up a table vs a tray, ect.
The purpose of the nature table in Montessori is to give children a place to explore nature sensorially.
The nature table gives children a concrete representation of items found in nature that are often passed by during walks or only seen in pictures.
This encourages a child's love of nature, their understanding of interconnectedness, and their desire for exploration and inquiry.
How do you set up a Montessori nature table?
If you are interested in setting up your own nature table, you will start with, as we discussed above, the method of display.
Here are some options that I recommend.
Nature tables
Child-size tables, as well as sensory bins, make great nature tables. Here are a couple of options that work well.
Trays
If you plan on using trays or baskets for your classroom or home-based nature exploration, these are good choices.
In addition to the options below, you can check out my tray & basket guide to help you find the right one.
The try directly below is very nice for displaying nature items in different categories.
This is a nice choice because it has compartments, as well as some bowls and tools children can use for exploring.
Shelves
Montessori-style shelving units, like the one below, are popular for nature displays.
Some people place trayed nature items on top of a shelf, as well as some loose items and the tools needed for exploration.
Exploration tools
In addition to the method of display, you will also need tools to help the child(ren) explore.
Obviously, the tools you will need depend on what items you are setting out for exploration.
Here, though, are some common nature exploration tools.
Natural items
Now that you know the basics of how to set up a nature table, let's go over some items from nature you might use.
This is nowhere near a comprehensive list, of course. These ideas should get you started, though, and prompt you to come up with some of your own.
pine cones
feathers
cicada "skins"
stones
shells
flower petals
leaves
pine needles
twigs
spices
gords
coral
snake skins
animal bones
empty birds nests
Books
Many teachers choose to display books on or near the nature table that coincide with the items on the table, the season, or the theme of the table.
Montessori-aligned nature table lesson ideas
Figuring out what to include on your nature table isn't as challenging as it might seem at first.
Here are some ideas to get you started.
Winter
If you are setting up your nature table in the winter, you can include evergreen sprigs and holly berries.
You can have the child make tracks with animal figurines in clay or sand, like tracks they might see from animals walking through the snow.
A book about hibernation would go along with a winter-themed nature table quite well.
Spring
Spring is a fun time to set up a nature table. Flower petals, dandelions in their various stages, and blades of grass are a lot of fun for children to explore.
A book about pollination is great to accompany a spring-themed nature table.
Summer
Summer is a wonderful time for a beach and ocean-life nature table. You can set out sea shells, sea glass, coral, or anything else you find at the beach.
A book about marine life and preserving our oceans is perfect for this season's nature table.
Fall
Fall is my favorite season for our nature table. Pine cones, leaves in various stages of decomposition, pine needles, and spices associated with fall are perfect for nature tables during this season.
A book about why leaves change colors is great to accompany a fall-themed nature table.
---
There's no need to stick to a season-themed nature table. These are all just ideas to get you started.
You can choose items for your table based on what your child is interested in, the unit or discovery you are focused on, or even the letter sound they are learning.
The limit is your imagination – your nature table could focus on different types of stones, leaves, shells, ect.
The options are almost limitless.
If you find your child is excluding the nature table in their rotation of activities, it could be that you need to exchange the items with others or change the theme altogether.
Remember, it's best to always follow the child in their learning endeavors.
It's also important to remember that lessons at the nature table are fine, but plenty of independent exploration should be allowed, as well.
---
If you have a nature table in your home or classroom, what items do your children enjoy?
Cheers and don't forget to subscribe!