Montessori trays are baskets are an integral part of the Method. They are used in Montessori homes and classrooms all over the world to neatly display materials and toys.
In this article, we'll go over what a Montessori tray is, why Montessori uses trays and baskets, and how big your Montessori trays should be.
You'll also learn the benefits of using trays and baskets to display toys and activities and get some suggestions about where to find affordable and high quality options.
Let's get right to it.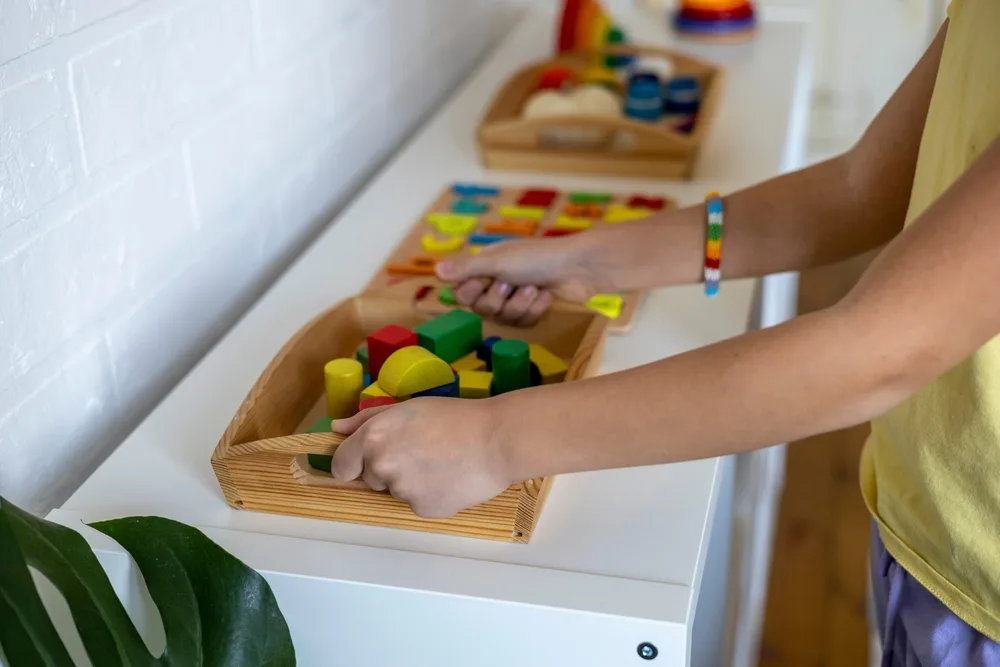 (This post contains affiliate links. Purchasing from these links costs you nothing extra, but helps with our website upkeep.)
What are Montessori trays?
Montessori trays are simply wooden trays that are used to display Montessori toys or materials.
In Montessori schools, the teachers arrange learning activities on trays, and children are then taught to carry the trays to a mat on the floor or to a table to perform the exercise.
In Montessori homes, trays are used for activities and baskets are generally used for toys.
Are trays and baskets necessary?
In Montessori schools, trays are an integral part of each classroom's prepared environment. They are kept in neat order upon open shelves.
Materials are placed on each tray in the order of left to right, for reading and writing preparation. This is also the order of use.
Trays are prefered over baskets in the Montessori primary environment and baskets over trays are preferred for toddler and infant classrooms.
Trays and baskets also allow children to easily see all the activity choices that are availible.
Here are some of the benefits to using trays and baskets for both toys and activities:
How big are Montessori trays?
Montessori trays do not have to be a certain size.
Some Montessori teachers prefer a uniform appearance to the classroom's shelves, but this is not the standard approach.
Montessori trays should not be so wide that children must stretch out their arms to carry them.
The weight of the trays should be considered, as well, as they can be too heavy with the materials on top.
When you are shopping for trays and baskets for your Montessori activities, simple keep in mind that they are for your child to use.
A beautiful workspace is, of course, desirable to everyone, the child included, but ultimately the trays and baskets need to be both safe and functional.
This may even mean that some of your trays should be plastic.
The 6 best places to buy trays & baskets for your Montessori home or classroom
Ikea
Ikea is a great place to shop for Montessori items, including trays. Options, like the one below, are plentiful and offered at a decent price.
You can find them both in the kitchen and bath section of the store.
They are not advertised as being for Montessori activities, so you just have to keep an eye out as you walk around the store.
For Small Hands is a division of Montessori Services that has affordable trays.
They are plastic, but that's fine – not everything in Montessori needs to be wooden.
The size of the trays is suitable for most Montessori activities.
Amazing Child Montessori is my favorite shop on Amazon for Montessori trays.
They have a few options of trays, some with sections and others without.
These trays cost a little more than some of the others you'll find on Amazon, but they are not as flimsy.
Several of our Montessori baskets are from the NaturalCozy shop on Amazon.
The baskets are durable, but soft enough to be used for treasure baskets for babies.
For a set of 5 baskets, the price is very reasonable, as well.
Sale
NaturalCozy 5-Piece Round Small Basket…
NO MORE FLOPPY, WEIRDLY SHAPED BASKETS: "My baskets came flat…
5 BASKETS FOR 5X THE ORGANIZING POWER: Life is messy…but your…
MADE FROM SAFE, NATURAL COTTON: Nom, nom, nom! When you're…
Thrift Stores
Thrift stores are low-priced treasure troves for caregivers searching for Montessori Trays and baskets.
Thrift stores usually put all the baskets on shelves in a single isle.
People give away baskets all the time – Montessori parents and teachers see the value in them and snatch them up, though!
With a sharp eye and some luck, you can find some afforable Montessori-aligned toys at thrift stores, as well.
Target
Target and other big box stores generally have a decent selection of trays and baskets that can be used for Montessori toys and activities.
If you look in the kitchen section, you'll find some trays that are great for Montessori activities.
In the bedding and living sections, there are usually some really nice baskets that are perfect for toy storage and display.
---
In conclusion, there are plenty of places to find trays for your Montessori home or classroom, and you don't have to spend a lot of money.
When you get into the habit of using trays and baskets for your child's activities, you will enjoy finding a good deal on a nice basket.
I get teased in my home because of my excitement over a nice basket.
Cheers and don't forget to subscribe!