Are you interested in learning about how Montessori teaches writing to children? If so, you have come to the right place.
Handwriting is introduced to children in such a gentle and unique way in Montessori schools, as opposed to traditional schools.
Whether you are implementing Montessori homeschooling or adding Montessori learning activities to your traditional classroom, you might be wondering about how writing is taught.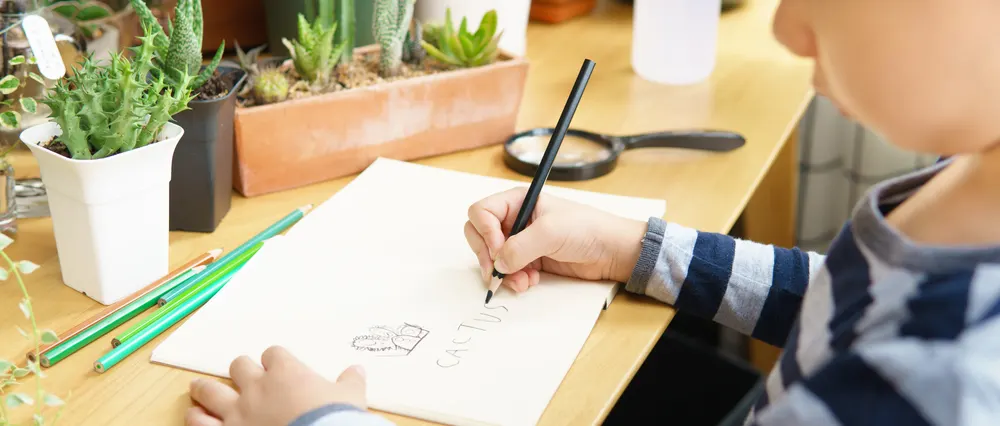 (This post contains affiliate links. Purchasing from these links costs you nothing extra, but helps with our website upkeep.)
What age does Montessori teach writing?
Preparation for future handwriting starts the moment a child enters the Montessori learning environment at around the age of 2.5 or 3 years old.
This happens in informal ways through Practical Life Activities and Sensorial Activities, as well as other areas of Montessori.
Children strengthen their fine motor skills by holding water pitchers during pouring activities and holding utensils during spooning activities.
These are just 2 examples. If you examine any Montessori activity, you'll discover several elements to them that help to develop a child's pincer grasp.
As far as when children work with writing materials and do formal writing activities, this can happen any time between the ages of 3.5 and 6 years old.
It all depends on when children are developmentally ready for writing and when they have worked their way through the sequence of pre-writing activities.
In Montessori, children work at their own pace and there is no pressure for them to read or write before they are ready.
Montessori guides do a great amount of classroom observation and are adept at introducing activities and materials only when a child shows readiness.
How do you introduce writing in Montessori?
In Montessori, writing is introduced through a sequence of activities that begins with the introduction of letter symbols, which comes after a child learns letter sounds.
While letters are being introduced, children continue to engage in activities that help strengthen their pencil grip.
Children then work with letter symbols, placing them in order to form words. (This is a writing activity, however, it contributes to a child's future reading.)
When a child is ready, they then get to work with materials that involve actual writing.
What are the Montessori materials for writing?
Unlike speaking, writing doesn't come naturally to children; for the most part, at least.
When a child's hand and hand-eye coordination is developed enough to hold a pencil, there are activities that should be done to help them perfect their pencil grip.
As I've stated a few times already, Montessori prepares a child for writing from the moment they enter the school.
When a child is ready to hold a pencil, there are a variety of materials that are used to help a child gain even more hand strength, properly hold a pencil, and sit with their bodies aligned in a healthy position.
These Montessori writing materials are listed below – the ones that have children use a pincer grasp with either a pencil-like object or an actual pencil.
If you want a more comprehensive list of language arts materials, click here.
There, you find some of the pre-writing materials and activities, like the Sandpaper Letters and the Small Moveable Alphabet.
The Metal Insets are the first Montessori material that is introduced in the primary setting that has children using a real pencil.
Through this material, children gain strength and learn how to make controlled marks on paper.
The Geometric Cabinet is a Sensorial material that helps to develop a child's visual discrimination.
With this material, children also learn to draw shapes in preparation for writing by tracing the insets with their fingers.
Botany Cabinet
The Montessori Botany Cabinet is another Sensorial material that directly prepares a child for handwriting by having them trace the leaf shapes with a small wooden stick or stylus.
Greenboards
Greenboards are a set of green chalkboards that allow young children to practice writing letters and numbers.
In addition to these Montessori materials that help children develop the ability to write, writing activities are also done on paper.
Montessori schools don't use traditional school workbooks, but they do allow kids to practice their handwriting on paper.
---
Montessori teaches writing in such a fun and unique way – reading, as well.
Cheers and don't forget to subscribe!