If you're looking for a stellar list of the absolute best Montessori toys for 2-year-olds, welcome to my page.
I consider myself a bit of a Montessori toy expert, considering I'm trained and certified as a Montessori primary classroom teacher and a mother of 3 lovely children – children who have enjoyed quite a number of toys throughout the years.
The 2nd and 3rd years of life, in my opinion, are the most fun for selecting toys.
I enjoyed picking out Montessori-aligned toys for my kids so much when they were 2.
I'm so happy to be able to put together a list of 2-year-old toys for my readers.
Whether you're looking for a Christmas gift or a gift for another special occasion or you're looking for a Montessori-aligned toy to support your toddler's development, you'll find some great options on this list.
So, let's get right to it.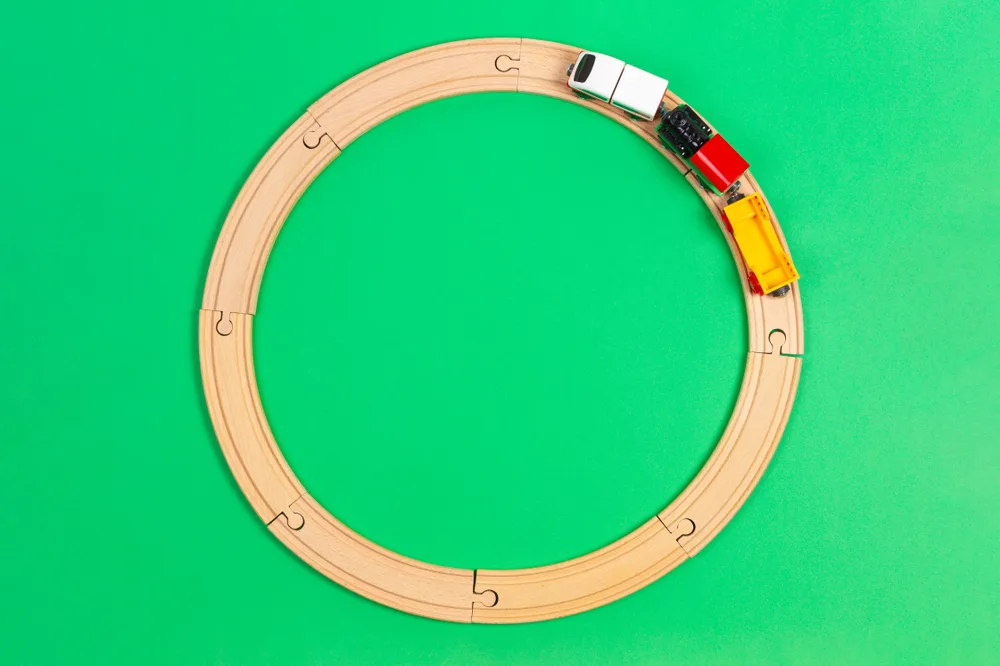 (This post contains affiliate links. Purchasing from these links costs you nothing extra, but helps with our website upkeep.)
You will notice that there are a lot of gross motor toys on this list. This is because 2-year-olds have an innate need to use the large muscles of their bodies.
They need to climb, run, jump, and move all around while they play.
So, this list reflects the developmental needs of a 2-year-old very well.
The 11 best Montessori toys for 2-year-olds
A balance bike is a great Montessori-aligned toy for 2-year-olds, and Velo is a great brand.
All of my children received balance bikes as gifts around the age of 2 and they've gotten so much use.
Though my children can all now ride pedal bikes, my 5 and 6-year-olds still choose to zoom around on their balance bikes.
2-year-olds often have an intense need to climb, which is why climbing toys are great gift options.
Pikler triangles are one of the more popular climbing toys in Montessori households.
These are really fun because kids use them for climbing (my kids sometimes choose to sit on their Pikler instead of a chair), as well as fort-making and other activities.
Workbenches make great toys for 2-year-olds, and this one has a neutral tone and fits into the aesthetic of many Montessori playrooms.
This workbench encourages toddlers to fiddle around and build things, which is important for fine motor development and creativity.
Construction play is so important for 2-year-olds.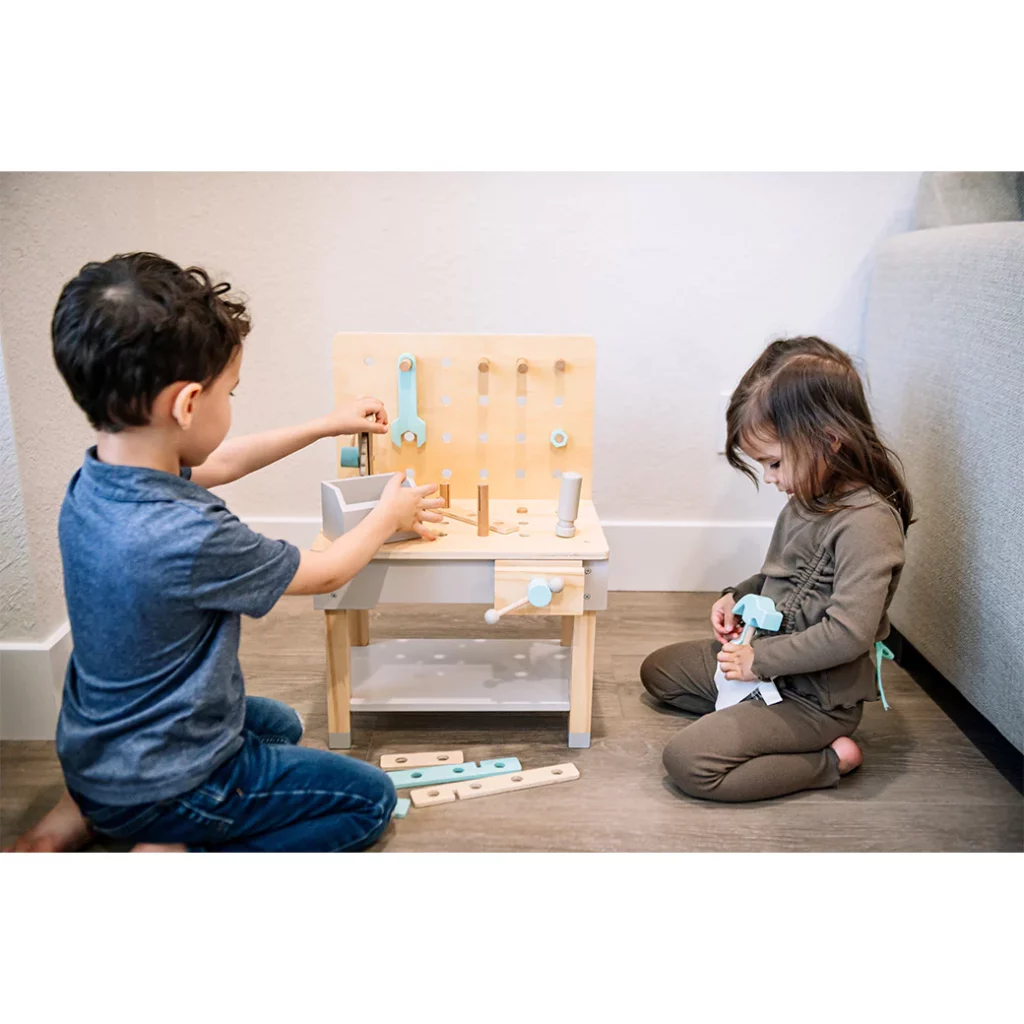 Again, 2-year-olds have a lot of physical energy to get out, and their gross motor needs don't take a break for cold or stormy days.
That's why getting an indoor climbing gym is a great idea for little kids.
The one featured below is large and sturdy enough for years of use.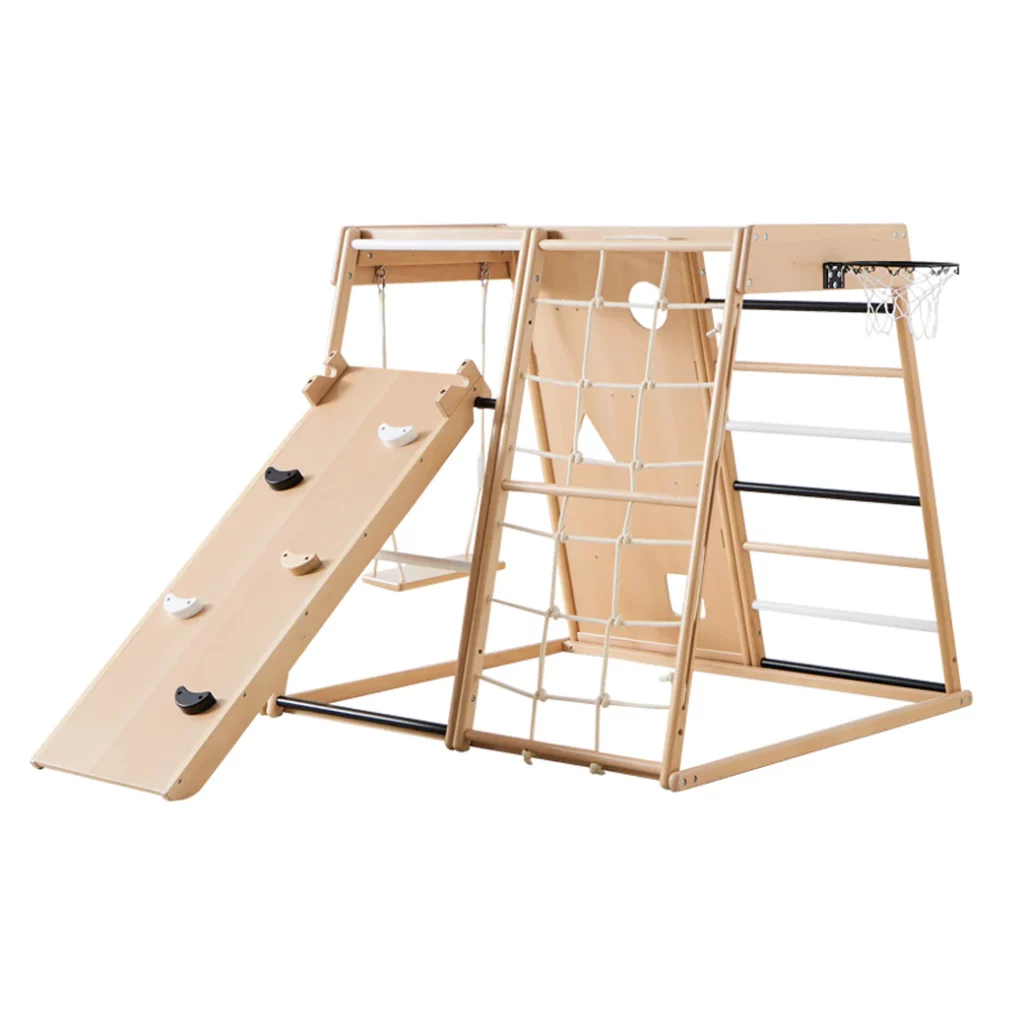 Kitchen towers, also called learning towers or toddler towers, are perfect for 2-year-olds.
They help facilitate a child's need to climb, help them participate in Practical Life activities, like cooking, and help them feel more included in the family unit.
If you're interested in more things to help your toddler participate in kitchen activities, I've got a list of kids' cooking utensils and cookbooks you should check out.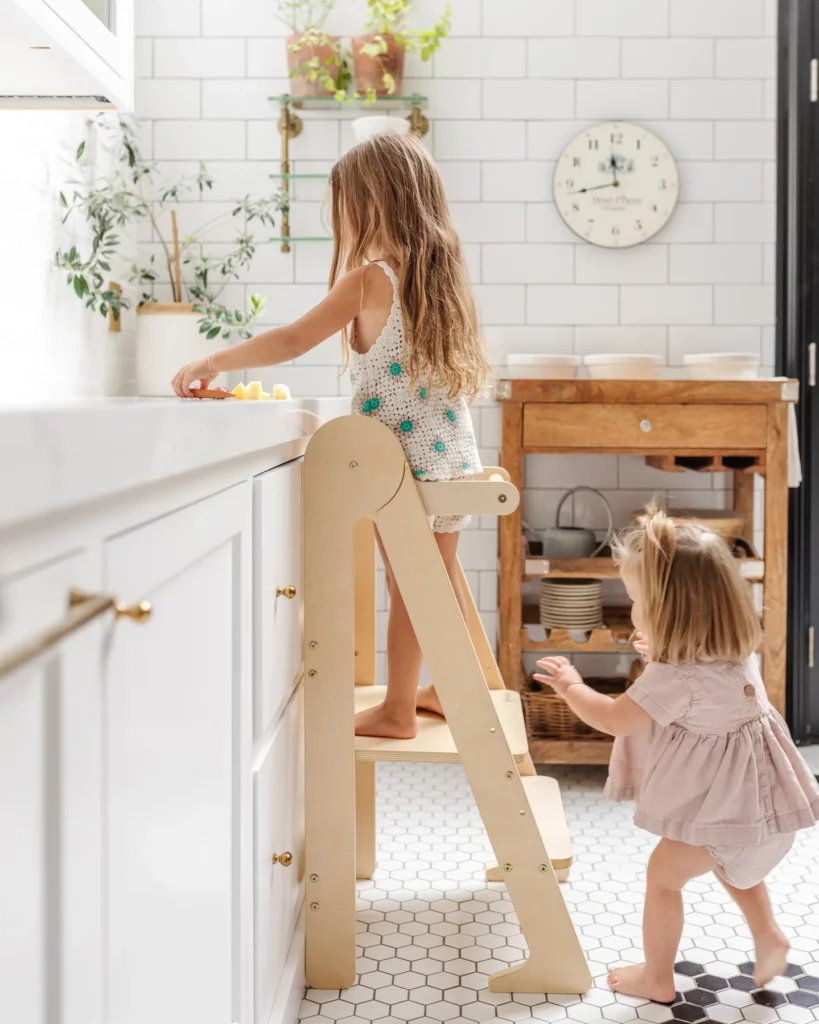 Around the age of 2, most kids enjoy listening to music and dancing.
This is also a great age to introduce short audiobooks.
A Toniebox is a screen-free music and audiobook player that puts kids as young as 2 in charge of their music.
All your toddler has to do is place the magnetic figurine on the box and the corresponding story or song collection will play.
Toddlers can control the track and volume by hitting the box or squeezing the box's "ears".
This is a Montessori-aligned toy for 2-year-olds that will get plenty of use for years.
We got a Toniebox for my 3-year-old a few years ago and it still gets used daily, even by my 9-year-old.
Haba has some great Montessori-aligned toys for 2-year-olds, and this partially wooden marble run is one of my favorites.
This is a great trajectory schema toy – a toy that helps satisfy the play needs of toddlers that are in that specific schema of play.
Also, this particular toy is well-made and your little one will get a lot of use out of it.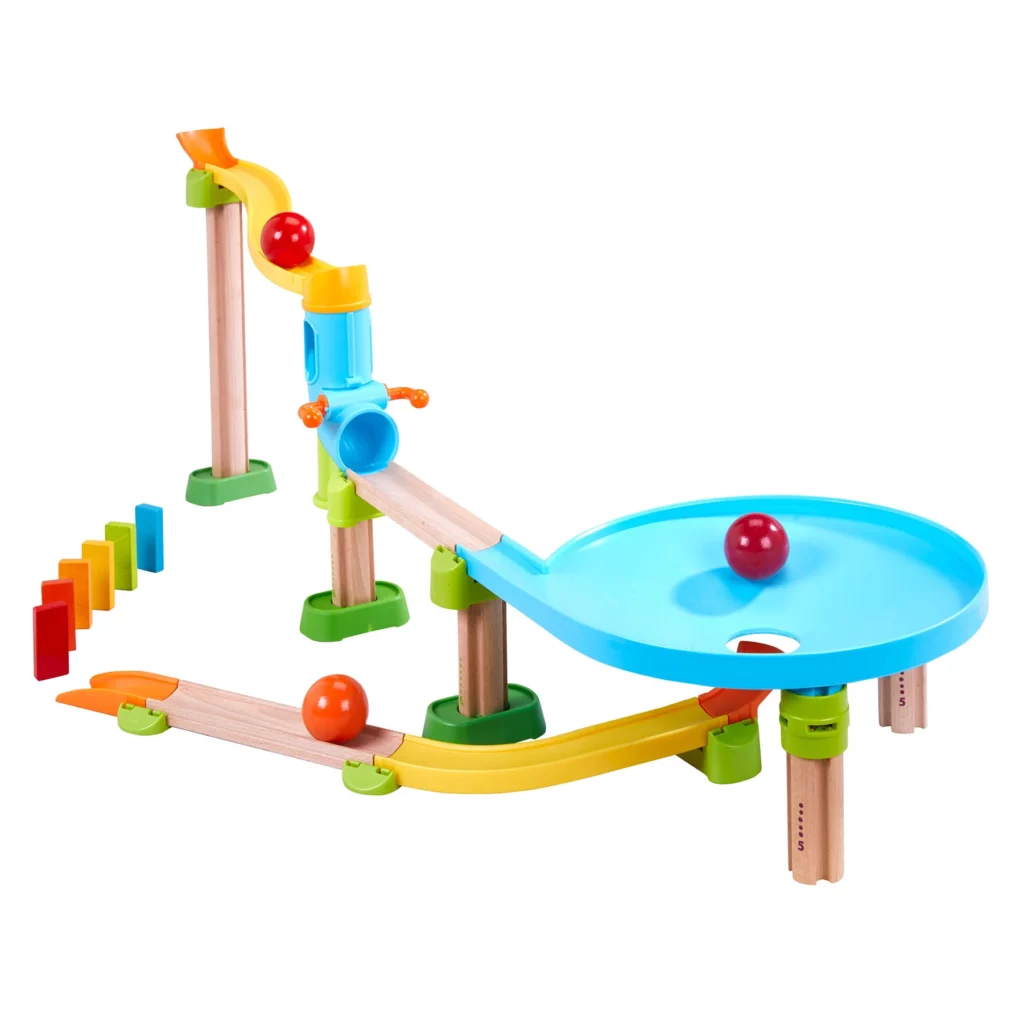 A mud kitchen makes a great toy for a 2-year-old and it's wonderfully Montessori-aligned.
What's a mud kitchen?
It's essentially a play kitchen that's kept outside. Children use them to collect dirt, grass, stones, and sticks and make imaginary kitchen creations.
The mud kitchen below is made to last years outdoors. Your toddler will get plenty of imaginative play with this toy.
We love our train set. Just before the age of 2, each of my children started to take a strong interest in theirs.
A handful of years later, they all play with it – the exact same set.
In the Montessori community, train tables are often criticized for being limiting. It's said that allowing children to build the train tracks on the floor is more open-ended.
When given the choice to play with a train set on the floor or a train table, though, I've noticed that my children, as well as others, choose the train table.
I suspect that this is because toddlers' and preschoolers' innate gross motor needs are better met by playing with trains at a table where they can stand and move around.
The train table below is a wonderful Montessori-aligned toy for 2-year-olds that satisfies their need to build, as well as their need to move around.
Some would say that sensory bins are not Montessori-aligned. I disagree.
There are plenty of Montessori-aligned activities that sensory bins can facilitate.
Also, Montessori or not, sensory bins are a lot of fun for 2-year-olds and can be helpful for toddlers with sensory issues.
We are a family of music lovers and I didn't want to wait till they were 5 or 6 to let them play real instruments.
The instrument set below has plenty of real instruments with which 2-year-olds can experiment and make music.
This is a great toy for helping toddlers develop auditory acuity.
I hope you found a Montessori toy for your 2-year-old on this list!
Cheers and don't forget to subscribe!