If you're looking for some great ideas for construction play toys, you've come to the right place.
In this post, I'm going to go over a little bit about what construction play toys are and then give you 12 great recommendations.
In addition to "constructive play" toys, I added some of the more traditional construction toys people might be looking for – with the constructive play twist, of course.
If you want some construction play ideas for your kids, I've written some great ones for you, as well in the linked post.
If you want to read about the 6 stages of play or play schemas (super interesting read!), Melissa Kennedy has those articles for you to read, as well.
Let's get right to the construction play toys!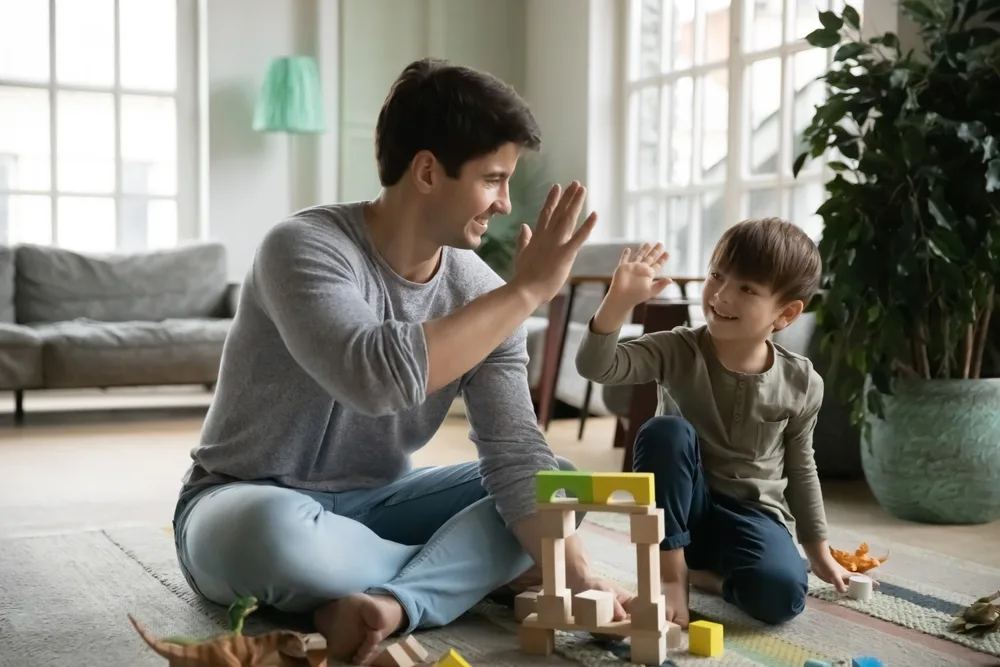 (This post contains affiliate links. Purchasing from these links costs you nothing extra, but helps with our website upkeep.)
What is a construction toy?
When many think of construction play toys, their minds go right to dump trucks, bulldozers, and front-end loaders.
While these are construction toys that encourage children to pretend to be working at a construction site, they aren't the only toys that fit into the "construction toy" category.
In fact, these toys are, on their own, used for construction at all.
A construction toy is simply a toy that is used for building.
This can be anything from dirt and sand to building blocks.
Construction toys like excavators and dump trucks can be integrated into many construction play ideas.
For example, a child might use a toy dump truck to bring a load of blocks across the room to where she's building her castle.
The construction toy in this scenario is the set of blocks, though.
The toy vehicles, though, are great transporting schema toys that can enhance construction play.
What toys can you build with?
Children can be incredibly creative.
If you're wondering what toys you can build with, the answer is "literally anything".
I've seen my children take swimming flippers and Magna-Tiles and build a castle.
Anything that can be leaned or stacked can be used as a construction play toy.
Of course, toys like blocks and toys that interlock are the go-tos in households where construction play is enjoyed.
If you're children are playing outside, you'll see them loose items from nature as building toys.
12 top construction play toys for toddlers & preschoolers
Melissa & Doug is a trusted toy brand in the Montessori community. Their toys are generally fairly well-made, mostly wooden, and designed with a child's development in mind.
This set of loose-parts construction items challenges children to build something using their imaginations.
This is perfect for older preschool-age children.
Sale
Melissa & Doug Wooden Construction…
CONSTRUCTION BUILDING SET: The Melissa & Doug Wooden Construction…
BIG PLANS:This set of 48 sturdy pieces includes building plans…
PLAY AND LEARN: Promotes counting, sorting, and fine motor…
Magnetic tiles like Magna-Tiles and similar brands are some of the most captivating construction play toys for toddlers and preschoolers.
My children have been using the same set of Magna-Tiles (the set featured below) for about 6 years and they are still in the same condition as when I purchased them, save a few scratches.
MAGNA-TILES Classic 100-Piece Magnetic…
What's Included: 100 translucent geometric shapes in 6…
What Makes It Unique: You're looking at the original and most…
Developmental: Certified STEAM toy, per Dr. Gummer's Good Play…
If you're looking for a traditional construction play toy, one that encourages a child to engage in imaginative play, this toddler tool set is perfect.
With this set, children can build trinkets, pretend to be a handy-person, or just fiddle with the tools and busy board items on the box.
If you want to get your kids started with construction play toys early, there's no better purchase than a set of plain wooden blocks.
These can be enjoyed by babies as young as 6 months old and used well into the elementary-age years.
My children are currently 5, 6, & 9 and they all enjoy playing with this set (below) of plain wooden blocks.
Sale
Melissa & Doug Standard Unit Solid-Wood…
BUILDING BLOCKS FOR CHILDREN: The Melissa & Doug Standard Unit…
MULTIPLE DEVELOPMENTAL BENEFITS: Our blocks for imaginative play…
PACKAGED FOR EASY STORAGE: Sixty natural-finish, smooth-sanded…
LEGOS and Duplos are fantastic construction play toys. The plastic pieces interlock so kids can build sturdy structures.
The set featured below is a construction-specific set, however, you can add on another set of plain Duplos to multiply the building opportunities.
LEGOs are great, too, but they are better suited for children older than 5 or 6 because they require a lot more fine motor strength and dexterity.
Duplos are perfect for toddlers and preschoolers, and even my almost 7-year-old prefers them over LEGOs sometimes.
Sale
LEGO DUPLO Town Truck & Tracked…
Features a push-along truck with a tip function, a push-along toy…
Includes 2 contemporary worker figures so preschoolers ages 2+…
Construction site toy set with vehicles and workers assists 2+…
Wooden train tracks have been a big hit in my home with all of my 3 children.
They are an excellent investment and kids can build so many different track configurations with a large set.
The set below is compatible with most major brands of wooden tracks.
Sale
If you don't mind doing a little sweeping after your kids play, I highly recommend Kinetic Sand.
Children can build using only the sand, or they can work other building toys in with their play.
This is also great for loading in toy dump trucks and scooping up by toy excavators.
Kinetic Sand, 2.5lbs Blue Play Sand,…
ENDLESS CREATVITY: Kids can squish and mix colors from this…
LOADS OF SENSORY FUN: Kinetic Sand for kids develops creative and…
MADE WITH NATURAL SAND: Kinetic Sand is safe for pretend play,…
Stacking stones are great toys for building. They can be used on their own for a variety of activities or combined with a set of regular wooden blocks.
If you get a set like the one below, you'll also find that your child engages in color-matching activities with them.
Sale
BESTAMTOY 36 PCS Wooden Sorting Stacking…
NOVEL STACKING TOY: Unlike the traditional building blocks, every…
SKILL DEVELOPING: The stone blocks have many flat cut surfaces so…
PERFECT FAMILY GAME: When kids enjoy it on their own, it is a…
One of our favorite constructive play toys is our set of Brain Flakes.
My kids make swords, flowers, cars, and whole towns out of these neat little things.
They've even connected a whole set of them in one long chain across the house just for fun.
These are great for fine motor building and independent play since they are easy to put together and separate, even for toddlers.
VIAHART Brain Flakes 500 Piece…
Includes over 500 interconnecting discs and a durable plastic jar…
Child safe ; BPA, lead, heavy metal, and phthalate free ;…
Develops spatial intelligence and thinking ; A great solo or…
I love this workbench/building set as a construction play toy.
With this toy, kids get to use real-looking construction tools on a real-looking workbench to make real toys that they can play with.
Sale
WORKPRO Wooden Workbench Kit Kids Tool…
70-Piece Pretend Wooden Workbench Kit: (1) 37 wooden nuts & bolts…
Learn from playing: 70 pieces of wooden tools provide more…
Premium Quality: Our wooden toy tools for kids are made of…
When you think of construction play toys, you might not think of cooking and baking.
Lots of these kitchen activities count as construction play, though.
Think about it – you add ingredients, mix them together, bake them, and you've "built" a cake.
Baking and cooking utensils are great construction play toys.
Tovla Jr. Kids Real Cooking and Baking…
THE ULTIMATE COOKING SET FOR KIDS – This kids baking set includes…
THE PERFECT GIFT FOR ASPIRING YOUNG CHEFS – Empower Your Little…
BUILD YOUR CHILD'S CONFIDENCE with a Recipe Book – Our set…
My favorite thing in the world to watch is my children playing outside, using dirt, water, sticks, and rocks to build things.
Sometimes they make structures with these items, but very often, they use them in their mud kitchen to make things like pies, cakes, and "dinners".
A mud kitchen is the ultimate outdoor construction play toy.
Costzon Wooden Kids Play Kitchen,…
Realistic Play Kitchen Set: This mud kitchen for kids emulates…
Premium Material & Stable Structure: This play kitchen set is…
Ample Storage Space: Designed with top open shelf, spacious…
---
There you have it – the 12 best construction play toys for toddlers and preschoolers.
Is your child's favorite building toy on this list?
If not, tell us about it in the comments.
Cheers and don't forget to subscribe!