Busy books, also called quiet books, are popular choices for parents when choosing items for quiet time, restaurants, and travel – and believe it or not, there are some great Montessori options out there.
I've gone through and selected some great, Montessori-aligned busy books for you to choose from.
In this post, you'll get a list of awesome Montessori busy books and you'll learn a bit about their benefits and when you should introduce them.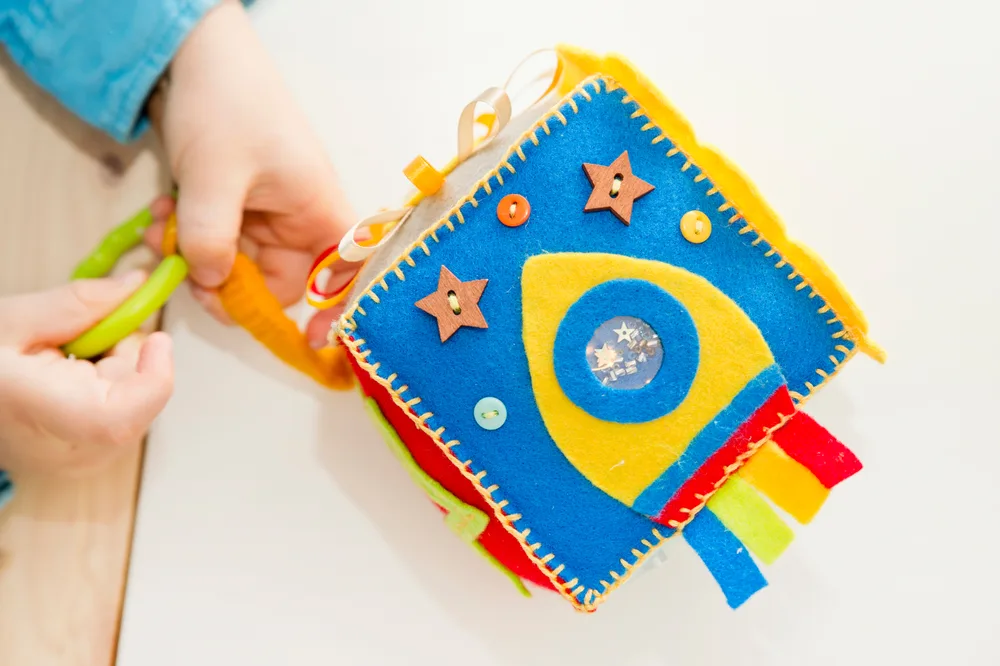 (This post contains affiliate links. Purchasing from these links costs you nothing extra, but helps with our website upkeep.)
What is a busy book?
A busy book (quiet book) is similar to a busy board, but it's small and portable.
Busy books contain several pages of fine motor and sensory activities.
Often, these books will have themes and many soft pieces that can be manipulated for storytelling or to achieve a specific goal, like manipulating the hands of a clock to read a certain time.
Also, busy books are generally soft to the touch, making them quiet and safe.
What is the benefit of Montessori busy books?
While busy books aren't absolutely necessary for helping to keep a young child developing optimally, many of them have educational and Montessori-aligned themes.
Busy books are great for helping to introduce the joy of reading to your child and, of course, great for keeping toddlers and preschoolers busy (and quiet) while caregivers get important tasks accomplished.
The busy books on this list all have educational, sensory, and fine motor benefits.
These benefits are common with most busy books, however, many of these books tend to be a little too busy – so many things on each page that toddlers simply can't focus on the book for long.
While it can be easily argued that no busy books are Montessori-aligned, I've selected the most Montessori busy books I could find.
What age is a busy book for?
Busy books are popular for keeping toddlers and preschoolers busy, but there's no need to wait till your child is 2 or 3 to introduce them.
When you read to your infant or do activities with the busy book, you can let them manipulate the parts and touch the different fabrics along with you- they'll love it.
Busy books are generally safe for infants under supervision. Always follow the safety guidelines put out by the manufacturer.
9 Montessori-aligned busy books for toddlers & preschoolers
From buttons to snaps to buckles, this is a fun and fine-motor-filled busy book that's perfect for toddlers and preschoolers that love to fidget and try to figure out how things work.
Sale
deMoca Busy Book for Toddlers 1-3,…
✔️ FOR PLANNED OR UNPLANNED RIDES, TRIPS, OR VISITS – A…
✔️ DEVELOP REAL-LIFE SKILLS – Fun textures to explore in…
✔️ SAFE MATERIALS WITH NO LOSING PARTS – Our busy book for…
Montessori Kids Quiet Book
I love, love, love this busy book! The felt pieces attach to the soft pages so that kids can complete the pictures (or just use their imaginations!).
MOVEBO- Quiet Book for Kids -…
MOVEBO Felt Book Quiet Book- MY SMALL ROOM : FUN; how you wake up…
BECAUSE YOUR BABY DESERVES THE BEST: Our durable felt fabric…
THE PERFECT GIFT: Packed in a gift box, More than anything, we…
This is a fun and educational busy book that has plenty of activities for kids to enjoy.
There's even a bead counting activity, as well as some fun sorting activities inside.
Quiet Book Busy Book for Toddlers…
TRAVEL TOY: This quiet book is the ideal travel toy for toddlers….
MONTESSORI BOOK: 10 pages of Montessori learning activities….
FUN, DURABLE AND SAFE: The Ultimate Quiet Book is hand crafted to…
This is one of the cutest and highest quality busy books on my list – I absolutely love it.
The activities in this quiet book are educational and encourage creativity.
LoveLnE Play with Quiet Book, Montessori…
HOURS OF ENTERTAINMENT for your little ones. Toddlers and kids…
PLENTY OF VARIETY with 7 bright, engaging different activities to…
ENCOURAGE THE DEVELOPMENT of fine motor skills with real-world…
DIY Felt Quiet Book
This Montessori-aligned busy book focuses on letting young children practice real-life skills.
Kids can practice zipping, buttoning, and a lot more.
Montessori Busy Book for Toddlers Kids…
Interesting Velcro Quiet Book:Fun themes learning activities…
Interactive Preschool Learning Activities: This handmade…
Great Travel Toys Choice: The portable and lightweight design…
If you're planning a road trip with your little one(s), this is a must-have, in my humble opinion.
The activities are all travel-themed and help kids understand the process of traveling.
Curious Columbus Quiet Book. Away We Go…
THEIR ADVENTURE STARTS HERE. 'Away We Go' busy book for kids…
OH THE PLACES THEY'LL GO: Where will their imaginations take…
TAKE IT ON EVERY ADVENTURE: With 10 interactive pages full of…
If you've got more than one child or you're running a small childcare business, this is a great set of quiet books.
All the activities are stick-on, so it's easy for kids to get the hang of how to complete them.
Each book has its own theme so kids can make their choice based on their interests.
Tfanghao 4 Pcs Quiet Book, Montessori…
✔️ Toddler Learning Toys – There are 4 Pack busy books on…
✔️ Upgraded Busy Book – The upgraded sticky back coins size…
✔️ Fun Educational Game – Our 4 pack preschool activity…
The Tavva Montessori Quiet Book has plenty of snaps, zippers, buckles, and snaps with which kids can practice their Practical Life Skills.
The pieces are all tethered to the pages, which makes it great for taking out of the house.
My Quiet Book – Montessori Toys for 1-3…
📗 No Parts To Get Lost – All pieces are tethered to the…
📘 Montessori Books for Toddlers – These Montessori busy book…
📙 Plane Toys for Toddlers – Includes carry handles and fully…
I hesitated to put this busy book on this list because I know I'll hear about it not being at all Montessori-aligned.
This is actually a great quiet book for ages 5 and up, though.
As you can see from the image below, the activities are plentiful and could be distracting to a toddler – a 5, 6, or even 7-year-old might really enjoy this option, however.
Sale
Levier Quiet Book,Busy Board, Montessori…
【Perfect Motor Skills Toy for Toddlers】This colourful…
【21 in 1 Montessori Toy】It's time to choose a educational toy…
【Easy-carry Travel Toy】The colorful busy board toy is…
There you have it – 9 awesome Montessori-aligned (as much as possible) busy books!
Is your favorite book on this list? If not, let me know about your favorite quiet book/busy book in the comments!
Cheers and don't forget to subscribe!