If you are looking for a fun and beautiful set of Montessori balancing stones for your toddler or preschooler, you have come to the right place.
Here, I've listed 5 awesome wooden balancing stone sets that your child will enjoy.
I also included some information on the benefits of these unique little toys.
Let's get right to it.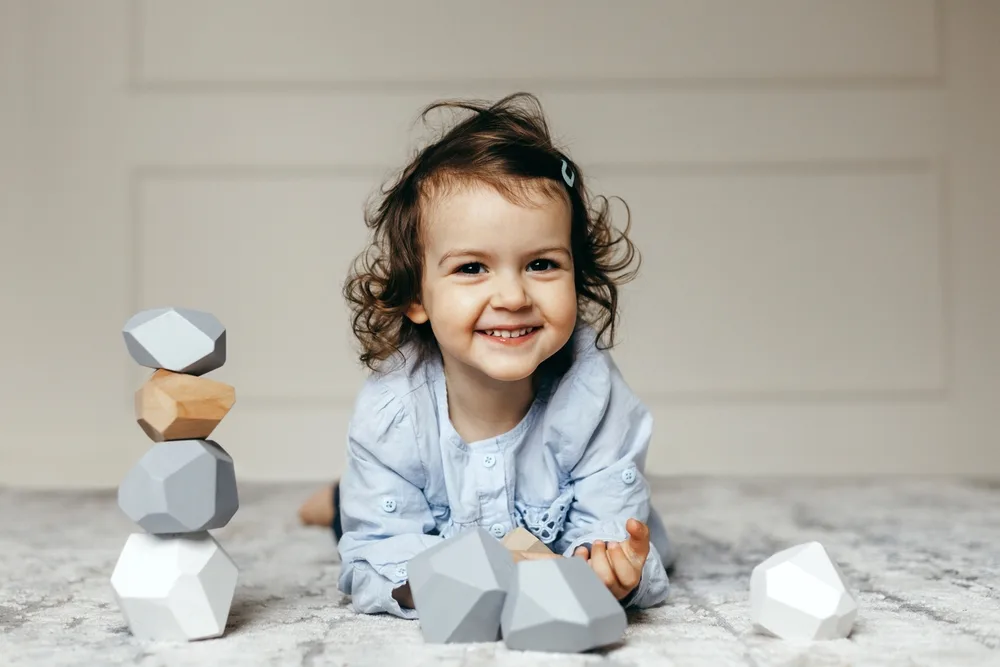 (This post contains affiliate links. Purchasing from these links costs you nothing extra, but helps with our website upkeep.)
What are the benefits of balancing stones for kids?
Stacking and balancing toys come with so many benefits for young children.
They are great toys for children in the positioning schema, as they allow kids to experiment with the reaction of each stone in various positions.
Along with schematic play benefits, there are many others, as well. Here are several.
Fine motor development
When children grasp the balancing stone to stack them, they build fine motor strength – strength in their hands and fingers.
This helps them prepare for numerous life activities, including holding a pencil.
Hand-eye coordination
Hand-eye coordination is what it sounds like – coordination of hand movement and eye-sight.
This is important to develop as it improves a child's accuracy in their movements.
When a child places one balancing stone on top of another, their sight and hand movements get practice working closely together.
Math skills
Plenty of math skills are involved when a child plays with balancing stones.
From the visual discrimination involved in stacking and balancing to counting the stones in a stack, balancing stones help exercise a child's math muscles.
Literacy skills
One way balancing stones help to build a child's vocabulary and literacy skills is when a parent or caregiver is involved in the play.
Conversations are had and the child can be exposed to words that don't come up in everyday conversation.
Young children often play on their own, though, but there's plenty of literacy building going on in independent play, as well.
Through internal dialogue and imagination, children develop the important literacy skills involved in storytelling.
As they balance the stones, they imagine a tower being built for a queen, for example.
There are many other benefits, as well, depending on the situation, of course.
The bottom line is that these are good toys to have around.
And no, balancing stones are not Montessori toys. This is simply because there is no such thing.
In Montessori homes, though, balancing stones and a variety of other open-ended toys are a welcome supplement to traditional Montessori activities.
5 great sets of Montessori balancing stones for toddlers & preschoolers
This is my favorite set of wooden balancing stones. These stones are large and easy to grasp, beautifully painted, and, best of all, they're eco-friendly.
One of the benefits of choosing wooden toys for your child is that they are better for the earth than plastic toys.
Pine is one of the more sustainable woods, too.
So, if you're an eco-conscious parent, this is a great choice.
This balancing stone set is simply beautiful. The colors are vibrant and the design of the wooden stones is very basic, which opens the door for children to use more of their own imaginations.
These are great for color matching, balancing, and stacking, and they can be combined with other block sets for some awesome imaginative building.
This is a 24-piece set of balancing stones that is great for even young toddlers to use.
The edges are rounded and the wooden stones are slightly larger than with the other sets on this list, which makes them easier for toddlers to grasp.
This set comes with peg dolls, as well, which is really nice. If you have a set of wooden peg dolls, you know that they get used for a wide variety of activities.
This is an awesome balancing stone set. The color is soft and beautiful and the wooden stones come in a variety of different shapes.
There are long, ovular stones that challenge children to get creative in their building activities.
There are 34 pieces in this set, which is a great amount, too.
I love this set of cedar balancing stones so much. It's so basic and there are only 6 stones in the set, but each set is unique and they are handmade with soft cedar.
These have a beautiful aesthetic and they're perfect for playing with on their own or as part of loose parts play.
There you have it – 5 sets of Montessori balancing stones that are great for a child's development.
Cheers and don't forget to subscribe!