If you are looking for some fun, Montessori-aligned doctor kits for your toddler or preschooler, you are in the right place.
I've put together a list of some of the best, most Montessori-aligned doctor kits for you.
These kits are realistic and, in many cases, some of the items really work.
So, let's get right to it.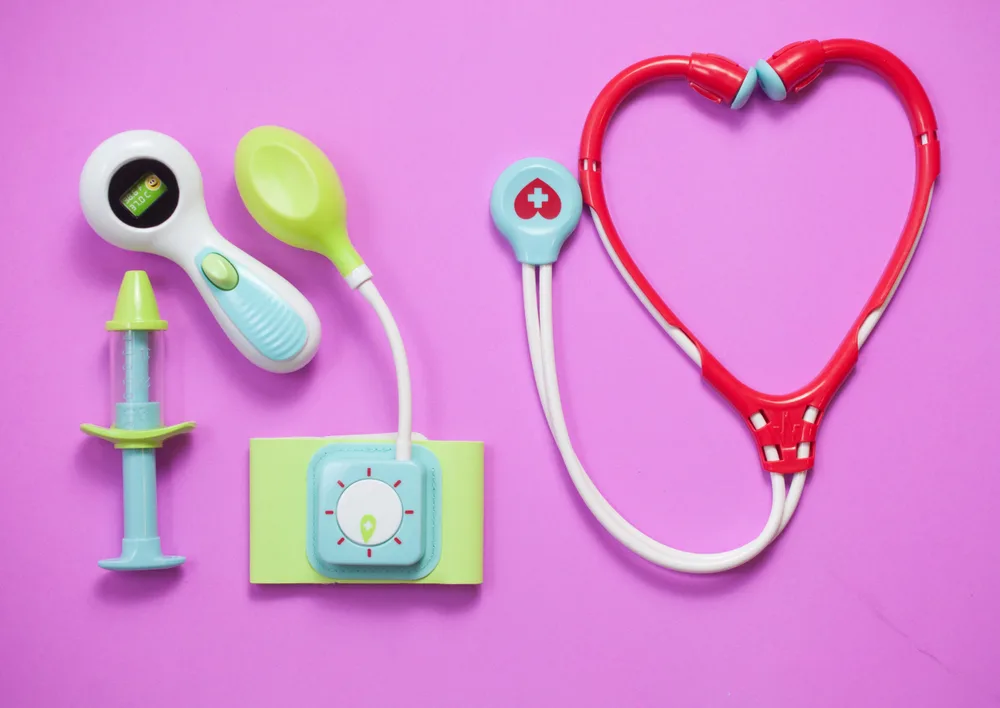 (This post contains affiliate links. Purchasing from these links costs you nothing extra, but helps with our website upkeep.)
The benefits of doctor kits for kids
Not only are these a lot of fun for kids, but there are many benefits to getting your child a pretend doctor's kit.
Let's go over a few of them before we get to the list.
Help kids with doctor appointments
Trips to the doctor can be very frightening for young children and all the explaining in the world doesn't seem to help reassure them.
Getting your child a doctor's kit can help them get used to the instruments that they'll encounter during doctor's visits.
These kits are also great for helping children process emergency medical situations after they occur.
A couple of years ago, my 2-year-old had an emergency surgery and hospitalization and he received a small doctor's kit at the hospital from the Child Life staff. He used it (and still does) to make sense of all the procedures he went through.
It helped him feel a sense of ownership over a situation he had no control over.
Some of these kits include items used in dental offices, as well, which can be helpful for encouraging your child to take care of their teeth.
Encourages a child's imagination
Children make sense of the world around them through play, which is why it's important to encourage imaginative play.
A doctor's kit is a great way to encourage your child to reenact medical scenarios they've seen and come up with some scenarios of their own.
Encourages empathy
Doctors, nurses, nurse aides, and other medical care staff are typically caring and empathetic individuals.
Pretending to care for others is a great exercise in acting out empathy.
---
Of course, there are other benefits, like fine motor development and sensory development, but the main benefits are imagination and empathy.
While you'll not find doctor kits in a typical Montessori classroom outside of a guest presentation, this type of imaginative play is encouraged in Montessori.
Here, I've listed 5 Montessori-aligned doctor kits.
I've avoided kits with gratuitous amounts of plastic, distracting colors, and loud sounds.
The kits on my list are as realistic as you'll find.
5 fun Montessori-aligned doctor kits
Melissa and Doug Doctor Activity Center & First Aid Kit
This is certainly the most extravagant item on my list, but it's great so I had to include it.
It reminds me a bit of the faux medical station at our local children's museum. The kids go right to it every time we visit.
This activity center/first aid kit set includes a small wellness station where one child can sit and be cared for while another child does the examination.
The station is decked out with everything you see at the doctor's office, including an eye chart, sink, and pretend scale.
It even comes with a pretend phone for taking appointments and a credit card and card reader.
The first aid kit has all the play items your child needs for pretending to patch up an injury.
While this doctor's kit isn't particularly realistic, it's perfect for imaginative play.
This is great because it's safe for young children to use and it's portable, as well.
This is a great option if you aren't looking for a working stethoscope and you like sustainable toys.
This is one of the Montessori-aligned doctor kits that comes with a real working stethoscope, which is cool.
A couple of the instruments have working lights and the thermometer has a real temperature display, too, which is nice.
Many kits, including this one, come with glasses, which is unnecessary, but you can remove those or just toss them.
This is a really nice kids' doctor's kit because it comes with such a wide variety of items. There's even some dental gear in here, too.
There are play x-rays, scrubs, pretend vials – the works.
This is a great kit for families with more than one child. One child can handle the physical exam, while the other handles the blood work.
This is a really nice realistic doctor's kit for children.
It doesn't come with as many pieces as the others on the list, but fewer pieces can often encourage a child's imagination more than a busy kit with tons of pieces.
The focus of this kit is on the stethoscope, which really works.
The kit, though, comes with a bag for the stethoscope, a nametag and lanyard, a doctor's coat, and a surgical cap.
There they are – 5 awesome Montessori-aligned doctor kits that are perfect for toddlers and preschoolers.
I hope you found something your child will enjoy.
If you are looking for real medical items, you can find them online or in person at uniform stores or medical supply stores.
You're going to pay more for items that really work, of course. You can select the "bottom of the line" items and create your own doctor's kit, though.
Whatever you decide to do, your children are really going to enjoy their kit.
Cheers and don't forget to subscribe!