Are considering putting up a Montessori pull-up bar for your baby? If so, you're in the right place.
I've put together a list of pull-up bar brands that are popular with Montessori parents.
I've also included some information on why parents and caregivers install pull-up bars for their babies and young toddlers.
These neat and easy-to-install gross motor items are a lot of fun and come with some great benefits.
So, let's get right to it.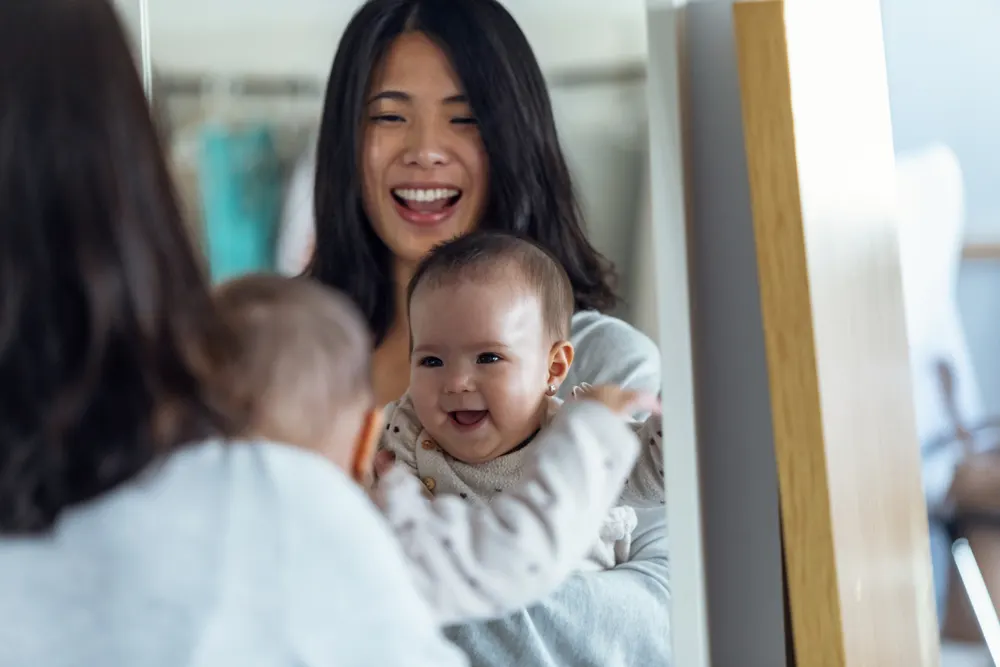 (This post contains affiliate links. Purchasing from these links costs you nothing extra, but helps with our website upkeep.)
How can I help my child learn to pull up?
Babies typically pull themselves to a standing position between the ages of 9 and 12 months.
In most cases, this milestone is met without parents and caregivers doing anything beyond the ordinary.
Babies and toddlers become both curious and able to inspect what's on low tables and shelves – and usually, there's little you can do to stop them.
Sometimes, though, doctors and developmental therapists recommend items like pull-up bars to help encourage this skill.
Installing a pull-up bar can also help your child safely satisfy their need to pull to stand.
Generally, a mirror is installed behind the pull-up bar. This incentivizes your child pulling themselves up.
In Montessori homes, pull-up bars are commonly implemented. Montessori parents tend to anticipate their child's developmental needs and prepare the environment accordingly.
Other gross motor toys should be considered, as well, in order to help your little one develop the strength and coordination to pull themselves to a standing position.
What age is the Montessori pull-up bar for?
You can introduce your baby or toddler to a pull-up bar as young as 6 months.
The age at wherein they grow out of using it really just depends on the child's abilities.
Often, when toddlers can walk on their own proficiently, they lose interest in using pull-up bars.
How high should a Montessori pull-up bar be?
The height of the pull-up bar depends on your little one's height and current abilities.
You don't want to install it so high for your baby to reach, but you do want to provide them with a little bit of a challenge and to be able to use the bar to stand.
Many people opt to mount their pull-up bars at about 18″ off the floor, with a couple of inches of space between the bar and the wall.
The top 3 Montessori pull-up bar options
Jonti-craft produces some really great Montessori items and this pull-up bar is no exception.
The bar and mirror measure 27.5″ x 48″. This is the largest pull-up bar on the list and it comes with a mirror and is fully assembled, which is nice.
Sale
Jonti-Craft 0619JC Infant Coordination…
DEVELOPS BALANCE & COORDINATION – Allows children to discover…
CLASSROOM, DAYCARE, & HOME USE – Our coordination mirror helps to…
WALL MOUNTING – The acrylic mirror and wooden balance rail…
Infant Wooden Pull-up Bar
This is a simple, solid-wood pull-up bar that's finished with all-natural beeswax.
Long Montessori Baby Pull Up Bar |…
This is a pull-to-stand learning toy that help babies discover…
Each piece of furniture is unique, handmade from poplar wood,…
We deliver a single wooden piece, pre-assembled, along with…
This is an inexpensive and sturdy option if you want a pull-up bar for a small space.
The standard size for this brand is 16″, however, you can order a larger size.
The design is simple and the wooden brackets are aesthetically pleasing.
Long Montessori Baby Pull Up Bar |…
This is a pull-to-stand learning toy that help babies discover…
Each piece of furniture is unique, handmade from poplar wood,…
We deliver a single wooden piece, pre-assembled, along with…
Montessori pull-up bar safety tips
The main safety considerations with Montessori pull-up bars are:
Is the mirror secure?
The mirror being securely fastened to the wall is the most important safety consideration with pull-up bars.
Your little one will likely lean on, pull on, and slap at the mirror. If it's not 100% secure, it could fall and injure your baby.
Is the bar secure?
It's important to make sure the wooden bar is fastened securely to the wall, as well.
If the bar were to pull out of the wall, both ends at once, it could cause injuries to your little one.
It would likely scare them to the point where they would not be eager to use the bar again.
Is there padding on the floor?
Depending on the age and ability of your baby or toddler, you may want to consider placing a soft, but secure, rug on the floor around the pull-up bar.
A foam mat is another popular option.
This, of course, is not always needed. You should base your decision on your child and their specific needs.
DIY Montessori pull-up bar
If you want to save some money and you feel comfortable with your woodworking skills, it's totally possible to make your own pull-up bar.
Home improvement stores generally have a selection of dowels and handrails you can sand and stain with a natural finish.
If your plan is to place a mirror behind the pull-up bar, be sure to cut the dowel/rail to measure several inches more than the mirror.
The hardware you'll be using is the same as you'd be using to install a handrail.
In total, you shouldn't need to spend more than $30.
---
I hope this was helpful information for you and that your little one enjoys their Montessori play space and their pull-up bar.
You're doing a great service to them by preparing their environment and considering their development with the purchases you make.
Cheers and don't forget to subscribe!