Are you ready to get started with Montessori homeschooling, but you are wondering how to go about setting up a Montessori homeschool room for your child?
If so, you're in the right place.
Setting up the main learning room where your child will work with their materials doesn't have to be the challenge you might be expecting.
There are a few general recommendations to follow and a handful of key items to purchase.
I get into it all right here, so let's get right to it.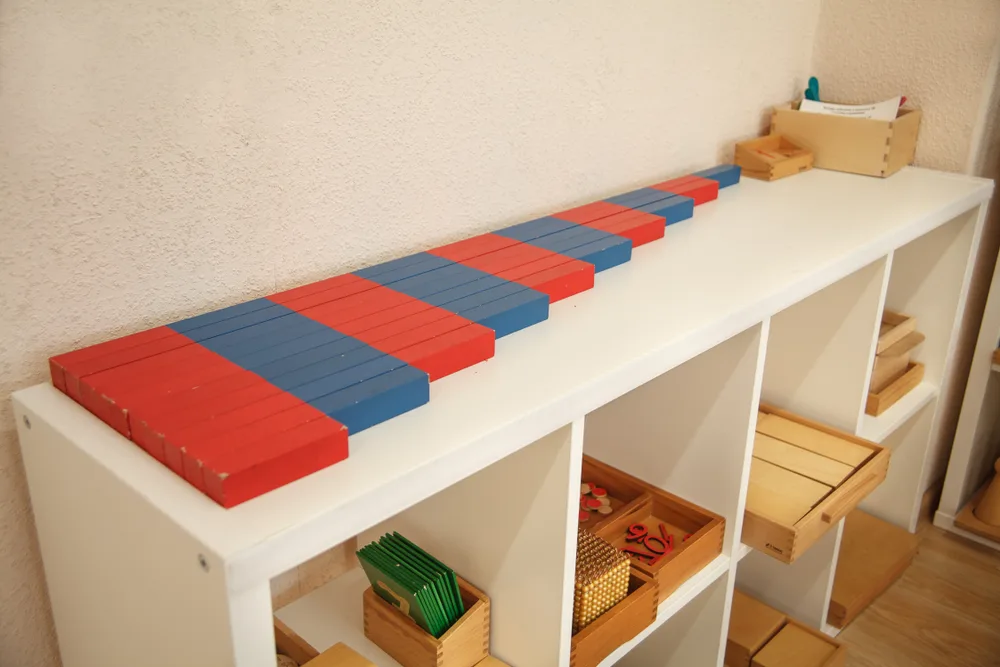 (This post contains affiliate links. Purchasing from these links costs you nothing extra, but helps with our website upkeep.)
Can I homeschool with Montessori?
Yes, it's totally possible to Montessori homeschool.
It's not going to resemble exactly what a Montessori classroom looks like, or how it operates, but your child can get many of the same benefits as from a Montessori school.
There are some great Montessori homeschooling curricula you can choose from and, below, I go over how to set up a Montessori learning space that's suited to your own child.
How do I set up a Montessori classroom at home?
When preparing your child's Montessori homeschool environment, there's a lot to consider and a lot of work to be done.
Here are the main considerations for setting up a Montessori home classroom for your child.
Choose the area
We have our homeschooling room set up on the sun porch, where the playroom used to be (it's a hybrid space at this point) – it's bright, it opens up to the outside play space, and it's close to the kitchen for easy access to the sink.
We're fortunate to have this extra area, however, we've made it work in the past with much less space, turning our dining room into a homeschooling room.
When choosing the area of your own home to set up the classroom in, you'll need to keep a few things in mind.
Is it accessible from the most commonly used areas in the home? (kitchen, bathroom, ect.)
Is it well-lit and inviting?
Will your child enjoy spending their work time in this room?
Is it large enough to accommodate your child's need for movement and exploration?
For many parents and caregivers, the first instinct is to set up their Montessori home classroom in a finished basement, if this is an option.
This could work well if your basement opens up to a backyard, so sunlight is coming in. A restroom in this scenario would also be a plus.
Overall, though, I don't recommend basements as homeschooling rooms.
Finished basements tend to be on the damp side, not well-lit (even if they open up to a yard), and are cut off from the rest of the home.
Montessori homeschooling involves a lot of Practical Life work all over the home and the rest of the home, if possible, should be open to the homeschooling room.
Set up shelving
Shelves to display Montessori materials and activities should be selected based on the materials you plan on using.
If you choose cubed shelves, be sure they fit the trays the materials will be placed on.
If you're going to be using traditional Montessori materials, it's nice to have a couple of different shelves.
It's not practical or necessary to have separate shelves for all 5 areas of learning. 2 large shelving units and possibly a small one should be enough.
Here are a couple that I recommend.
IKEA is a great place to find items for your Montessori homeschooling classroom.
This Kallax shelf is the one we have and that most people choose for their playrooms and home classrooms.
You'll be turning it on its side, so it won't be standing up like it is in the image below.
The shelf featured below is another great option. The image below just shows the frame, however, you can order a shelf or 2 to add to it.
Small furniture
The furniture you include in your Montessori homeschool room should be based on what your child will be doing in the room and how much space you've got.
If you've got a massive amount of space, you might include a small couch or comfortable chair for reading.
For most homeschoolers, though, a small table and chairs set is all that's needed in addition to the shelves.
There's no need to spend a lot of money on any of these things unless, of course, you have a Montessori-style home daycare.
In that case, you'd need the absolute sturdiest of items to accomidate the amount of use they will get.
Everything I've suggested should last years and through multiple kids, though.
Accessible areas
The most important aspect of your Montessori homeschool room is whether or not everything is accessible to your child.
Again, ask yourself what your child will be doing in the homeschooling room and assess if they'll have what they need to accomplish their work.
If your child will have an art area, is there an accessible place for them to hang their smock and dry their art work?
Your child will likely be working with activities involving water at some point (many points). Is there a hamper near the work area for them to put their damp towels?
Will you be doing snack preparation or handwashing lessons in your Montessori homeschool room? If so, you might consider modifying a play kitchen so you can have running water to wash vegetables and hands.
These are just a few things to consider, but should provide you with a solid base so you can come up with some ideas of your own.
I suggest you set up the basic furniture in the homeschool room and set out several materials. Then, move through the room and complete some of the activities yourself, preferably at your child's eye-level.
This will give you a good idea if you've got what you need in your home classroom.
Eye-level art
Everyone deserves to spend their time surrounded by beauty.
Hanging artwork at your child's eye-level and setting out some live plants is a wonderful addition to a Montessori homeschooling space.
Be sure to leave some empty space on the wall, as well, for your child's class work.
Rugs
In Montessori classrooms, children use work mats for floor work.
If you don't plan on implimenting this at home, you'll want a neutral colored rug that's placed in an open area.
Storage
Many parents fail to factor in space for a storage cabinet in their child's home classroom. It's an important piece of furniture, though.
Having a storage cabinet in the room will allow you to easily access art supplies, extra towels, glasses, bowls, sponges, and paper, ect.
It will also make it much more convenient to switch out learning materials, set up and deconstruct trays, and so forth.
I highly recommend not forgoing the storage cabinet. You will be making a lot of extra work for yourself.
---
Above is the general setup for a Montessori homeschool room. If you're ready to move onto the next step, I've got some great tray and basket suggestions in another post.
My set-up suggestions are geared toward the 3-6 age group, the most popular age to homeschool in the Montessori fashion.
Montessori homeschool room ideas
There are so many wonderful examples of Montessori homeschool rooms out there.
Montessori parents set up some of the most thoughtful and beautifully put-together learning areas for their children.
Here are a few of my absolute favorite Montessori homeschool room ideas:
---
If you've set up a Montessori homeschool room before, what would you suggest as a must-have item?
Cheers and don't forget to subscribe!