If you are looking for some fun, unique, and educational toys that start with W, I've got you covered.
I've been working my way through a series of letter-learning songs, toys, books, and activities for each letter of the alphabet, and today I'm focusing on letter W toys.
These toys are great for helping young children learn the sound the letter W makes and for letter W-themed school show-and-tells.
The focus for my toy lists has been listing options that are educational and/or help a child's development in some way – along with starting with a certain letter, of course.
The toys on this list are great for sound games and speech activities, as well as to pair with other letter-themed language arts activities.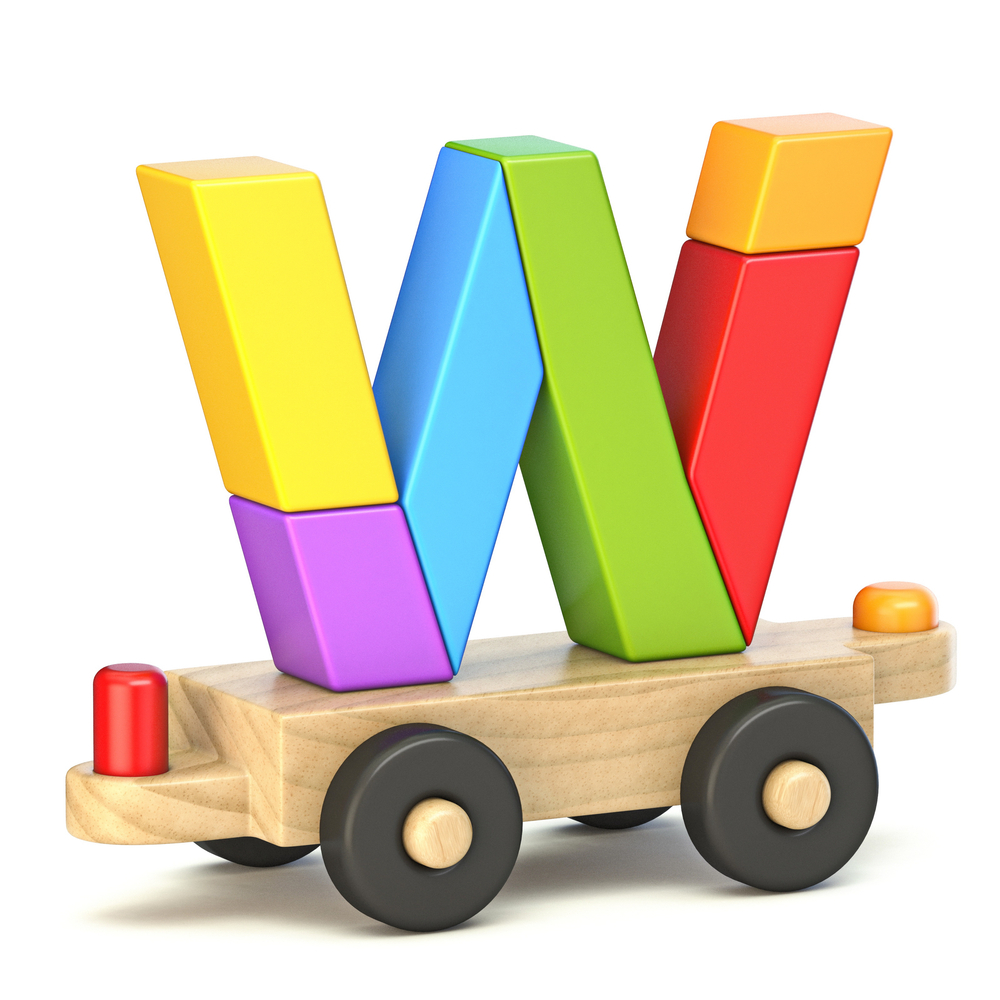 (This post contains affiliate links. Purchasing from these links costs you nothing extra, but helps with our website upkeep.)
13 toys that start with W
Sea creatures are all the rage in my house right now.
This Schleich walrus is perfect if you need a toy that starts with W and you have a marine life-loving child.
Of course, Schleich toys are always well-made and the most intricate details of each animal are given careful attention.
Open-ended toys are so great for a child's development and rainbow stackers are some of the most popular.
This stacking toy features 2 letter W words: "water" and "waves".
This is a great toy to accompany early geography lessons, like those on land and water formations.
Water tables are so much fun. Not only is this water table a great letter W toy, but it can be used for educational water activities, as well.
If you've got a child that loves participating in real-life activities around the house with you, getting them a toy washing machine is a great idea.
This option is one of the most popular and it features all the buttons, lights, and sounds of a real washing machine.
Another letter W Schleich animal is their wolf figurine. This is a great toy for Montessori sound pouches, as it's small enough to fit inside.
Weather is a fascinating subject for kids and adults alike.
This STEM weather kit lets kids create their own weather phenomena and record what they learn.
Lacing toys are great for helping young children develop fine motor skills in preparation for the pincer grasp.
If you are looking for a toy that starts with W and you're child enjoys lacing and weaving, this is perfect for them.
Weasels, in my opinion, don't get the attention they deserve. These scavenging, sneaky carnivorous predators are actually very intelligent and very interesting.
Who would have thought that worms could be used for learning about measurement and math?
These measuring worms can be used in so many educational ways, and they're just a lot of fun.
This woodpecker toy is really adorable. Playing with this is great for hand-eye coordination and visual discrimination.
This is a great restaurant toy for young children and for elementary-age kids, it's great for long car rides.
This toy workbench is the ultimate letter W toy for kids that love to tinker with things.
If your child enjoys lock and key toys and nuts and bolts toys, this is sure to be a hit.
If there's one thing kids seem to enjoy more than making noise, it would be trains.
Train whistles are great additions to your child's toy musical instrument collection.
Wagons are fun for all kids at some point. They are especially satisfying for children in the transportation schema, however.
If you are looking for a letter W toy and you've got a little one who enjoys transporting their toys and stuffies from one place to another, this wagon will be a big help to them.
Can you think of any toys that start with W that you think should be on this list?
Drop me an email or let me know in the comments.
Cheers and don't forget to subscribe!