With an overwhelming amount of Montessori toys on the market and Montessori activities for 1-year-olds you see set up on social media, it can be stressful trying to choose the "right" ones.
Parents should not feel the need to spend an exorbitant amount of money or set up elaborate, picture-perfect Montessori activities for 1-year-olds (1-2year olds)
There is no need.
Especially when you consider that Maria Montessori did not actually design any toys along with her educational materials, nor did she design her educational method for well-off families.
The key to choosing Montessori activities for 1-year-olds is to keep it simple and follow your child's development and interests.
Kids this age are learning to manipulate objects, stand, walk, and talk.
So the 10 toys and activities for 12-month-olds that we've selected below are a mix of toys and practical, homemade activities that help develop hand-eye coordination, fine and gross motor skills, and communication skills.
These are all appropriate for ages 1-2 years old.
(This post contains affiliate links. Purchasing from these links costs you nothing extra, but helps with our website upkeep.)
The 10 best Montessori activities for 1-2 year-olds
#1 Climbing Activities
First, no Montessori list is complete without mention of indoor climbing toys like the infamous Pikler triangle.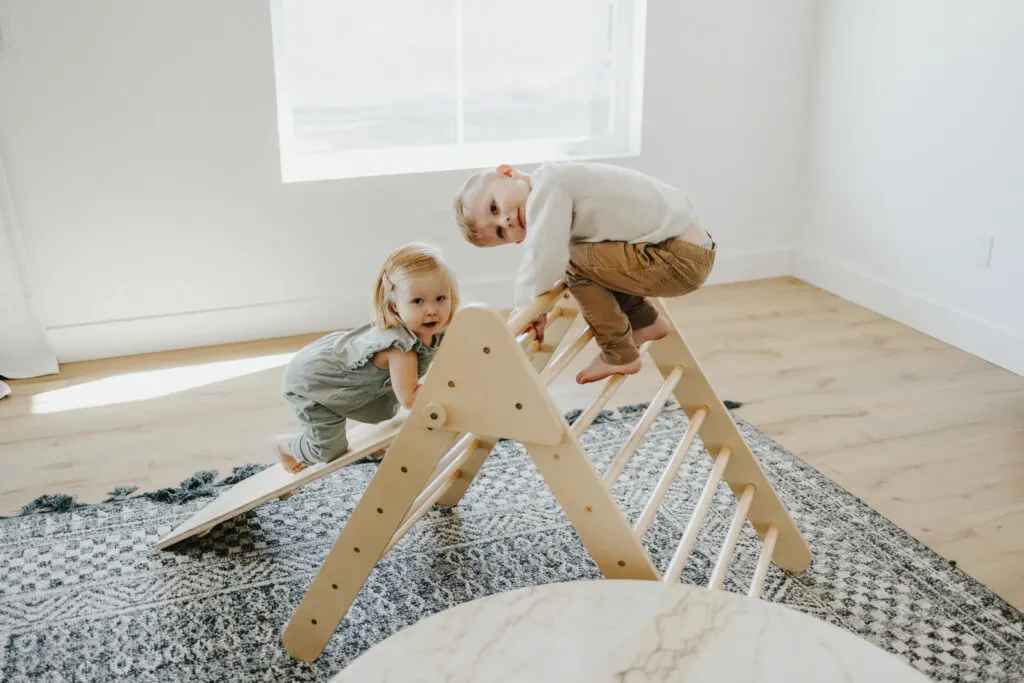 Early climbing skills help children develop gross motor skills, coordination, and improve balance.
For caregivers who would rather opt for a Pikler alternative, you can create an indoor obstacle course using couch cushions, pillows, and blankets.
There are many different styles and manufacturers to choose from, so you will want to take your time and pick out the right one. For more information about climbing triangles, click here.
#2 Household Exploration
Follow a toddler's natural inclination to explore by making your home a safe and accessible environment.
Leave Tupperware, blocks, kitchen utensils, boxes, or any other unused items in drawers and cabinets within your child's reach.
Montessori activities for 1-year-olds that are not yet walking, or are new to walking, can be set up in a "yes space"-type area.
Many parents go ahead and set up a Montessori-inspired playroom at this age, as well.
This allows toddlers to satisfy their curiosity as they safely make sense of their surroundings.
#3 Pull-Up Bar
A Montessori pull-up bar helps children learn to pull up, stand, and cruise on their own.
For added benefit, place a mirror behind the bar.
This will give little ones extra motivation and allow them to explore and later identify their facial expressions (which will help them develop emotional intelligence as they grow).
Ogears Montessori Pull Up Bar for…
Dimensions of the Mirror (L x W x H): 50*40*2 cm / 19.7*15.8*0.8…
Montessori pull up bar is a perfect and useful tool when your…
Learning to walk is easier, with it babies are more willing to…
#4 Toddler Library
Leave out well-loved board and cloth books that have already been read multiple times in a basket, shelf, or easy-to-reach area.
Toddlers will be able to independently flip the pages, which helps with fine motor skills, before learning to "read" to themselves.
They can analyze pictures, which helps with reading comprehension skills as they get older.
And work on speech development as they begin to identify vocabulary words and start "reading" the text they remember hearing countless times before.
Sale
The Babies and Doggies Book
Schindel, John (Author)
English (Publication Language)
26 Pages – 03/03/2015 (Publication Date) – Clarion Books…
#5 Puzzles
Puzzles are another excellent Montessori toy for 12-month-olds that help with hand-eye coordination, shape recognition, and problem-solving.
Developmentally appropriate puzzles for one-year-olds should have no more than a few pieces.
Wooden Montessori Animal Puzzles for…
PERFECT FIRST JIGSAW PUZZLE: Did you know that solving jigsaw…
MADE FOR LITTLE HANDS: The Montessori & Me Safari Animal Puzzles…
REAL ANIMALS FOR THE REAL WORLD: The Montessori approach…
#6 Sensory Play
Break out items with different textures, sizes, and sounds and put them in a sensory table—it's a fantastic (and easy to put together) Montessori activity for 12-month-olds.
Flowers, grass, salt, sand, rice, fruit, spices, water, and ice are just a few household items that they can manipulate by touching, hearing, smelling, and tasting (with supervision).
Montessori activities can be set up using these items and more.
Sensory play is important for many reasons, including the refinement of the child's 9 senses
Parents and caregivers often choose to set up sensory bins for their children to help contain any spills.
wingyz Kids Table for Play Study Dining…
[Product Specification]: Wingyz kids table has one table frame,…
[Application]: It can be used as a study table, a toy table, a…
[Safety Design]: The four corners of the table are rounded and…
#7 Stacking Activities
Kids can stack, unstack, knockdown, and line up these beautiful Montessori-aligned stacking toys for one-year-olds.
They help with color recognition, hand-eye coordination, spatial awareness, fine motor skills, and gross motor skills.
You don't need to purchase anything for stacking activities, though.
1-2 year-olds enjoy stacking and building with anything they can find.
#8 Household Chores
At 12 months old, a child is old enough to observe their surroundings and want to do what their caregiver or older siblings are up to.
By the time they are closer to 2, they should be able to participate in some capacity.
In Montessori, these tasks are called Practical Life works.
That can be anything from sweeping, dusting, carrying their plate to the table, washing dishes, or helping to prepare food.
While it may result in more mess, it gives children an introduction to practical real-world skills, while giving them a sense of responsibility and self-worth.
Learning towers are a great benefit to Montessori families at this age.
This piece of furniture allows toddlers to participate in cooking and cleaning to a greater extent – and with a higher degree of safety than with a chair or stool.
#9 Object Permanence Box & Coin Drop Box
An object permanence box teaches toddlers that an item can disappear and return.
This activity is captivating for toddlers between the ages of 1 and 2.
Busy edition Montessori Toys for Babies…
❤QUIET DESIGN – The Object Permanence Box with Tray contains a…
❤SUITABLE SIZE – The size of the object permanence box and the…
❤EARLY DEVELOPMENT – This ball drop toy practices precise…
Using repetition (the ball goes in the hole and out of the house, repeat), it boosts hand-eye coordination (getting the ball in the hole), plus fine and gross motor skills.
This is also a great schematic play activity. For 1-year-olds who are interested in more fine motor activities, a coin drop box is also a great option.
MORITECK Montessori Coin Box and Object…
NATURAL DEVELOPMENT- Infants always feel excited when watching…
MONTESSORI AGE-BASED TOY- perfect for 8-12 months and up old…
PERFECT GIFT- Great Montessori Toy for your baby. This classic…
There's no need to buy anything for this Montessori activity, though.
If you don't want to invest in a toy, you can put a hole in a canister and let your baby drop pom-poms in, then take the lid off so they can find them.
You can easily make your own object permanence activity for your 1-year-old with a shoe box and a small ball.
#10 Household Musical Instruments
Children can hear and appreciate music in the womb, so it's no surprise that by one year, they'll love being able to make music (or noise) on their own.
Use spoons, sticks, boxes, or pans to make homemade instruments that will allow them to compose their own lovely melodies.
Music and movement activities, as well, are great Montessori-aligned activities for 1-2 year olds.
Hapinest Montessori Wooden Musical Toy…
Set Includes: 9 Musical Instruments include 1 tambourine, 1…
Hands-On: By playing different instruments, the children can hear…
Educational: The musical instrument set stimulates children's…
There Is No "Right" Montessori Activity for 1-Year Olds
Instead, focus on Montessori-inspired activities that involve open-ended toys that kids can experiment with independently and involve your budding toddler in household activities.
Using this list of household activities and Montessori activities for 1-2-year olds, toddlers can learn invaluable life skills that lay the foundation for childhood and beyond.
Cheers and don't forget to subscribe!