Piecing together puzzles has some great benefits for the very young through the very old. Puzzles are wonderfully Montessori-aligned, as well.
In this article, you will learn about the wonderful benefits of puzzles. You will also get recommendations for Montessori-aligned puzzles for ages birth to 6-years-old.
If you are interested in Montessori toys, puzzles should not be overlooked.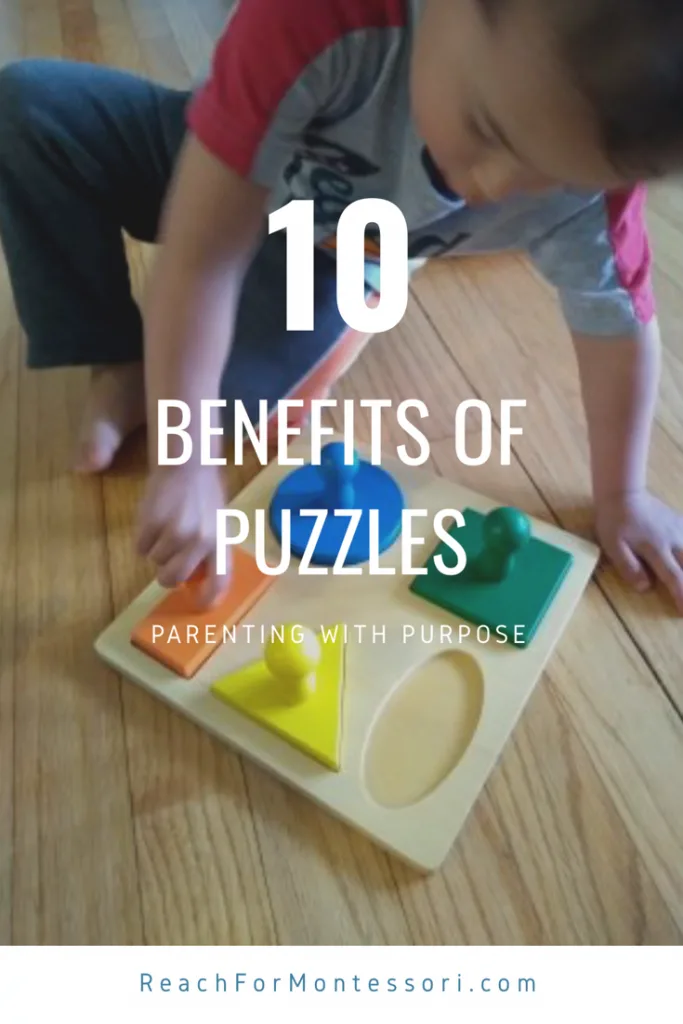 What are Montessori puzzles?
Montessori puzzles are puzzles that have the element of control of error, encourage problem-solving skills, and fine motor control.
Most puzzles have these elements, however, certain other features are desirable for those following the Montessori philosophy, such as:
easy grasping features (like a wooden knob on each piece) for little hands
Images on the puzzles are realistic
Encourage optimal tactile experience
Many traditional Montessori materials used in the classroom have puzzle-type elements to them.
What are the benefits of puzzles for Montessori children?
Here are 10 great reasons to introduce and encourage puzzles for your child. (And to do puzzles yourself!) And proof that piecing together puzzles is a Montessori-aligned activity.
It doesn't matter if it is a 2 piece puzzle or a 100 piece puzzle – the benefits are there. Also, they don't have to be wooden jigsaw puzzles, they can have vibrant colors and still be Montessori-aligned.
Fine Motor Skills– Puzzles come in all different sizes. Puzzles for young children typically have knobs for the children to grasp. As children grow, the fine motor benefit to puzzle doesn't decrease, though. The grasp used for placing puzzle pieces helps to fine-tune the small muscles used in typing and handwriting.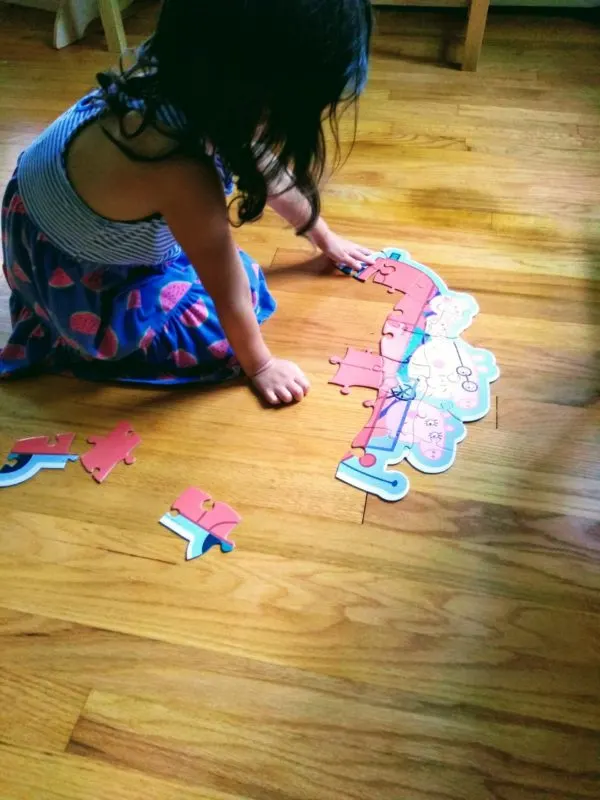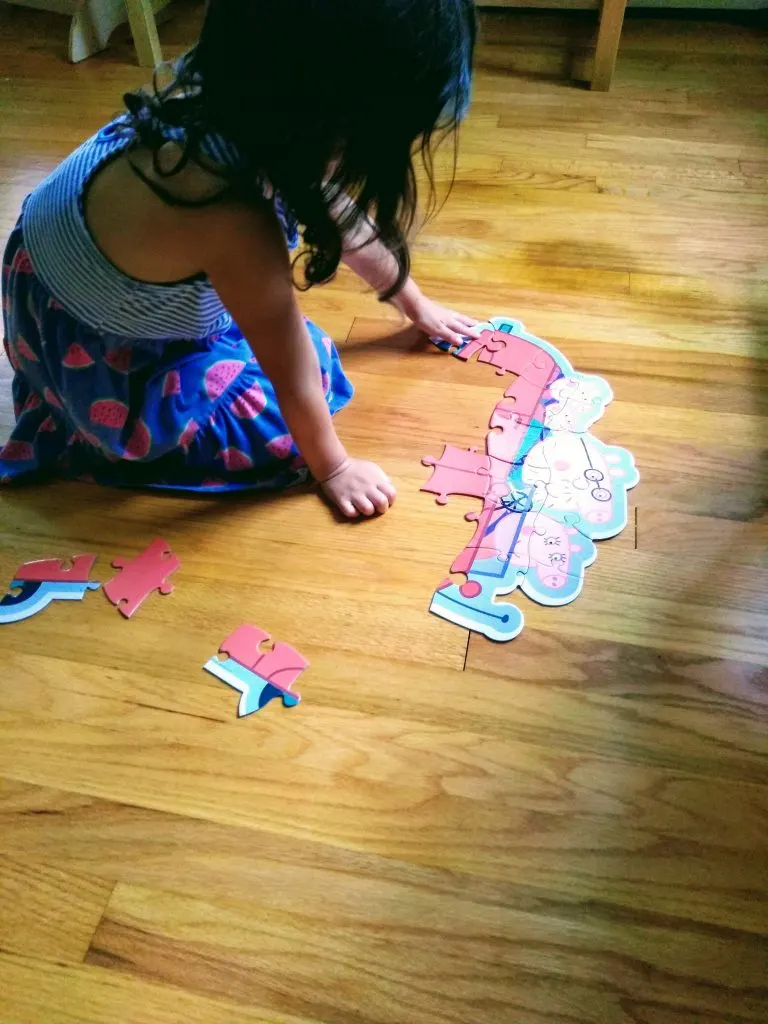 2. Hand-eye coordination- Just like any other activity that involves small pieces, puzzles help develop and maintain hand-eye coordination. They require the brain and the hands to keep in close communication.
3. Spatial Awareness- Spatial awareness is the knowledge of objects in a given space. Many future tasks and careers require spatial development, which is best gained in early childhood. Many Montessori primary activities share this aim.
There is also a correlation between poorly developed spatial awareness and poor reading scores. So, while the focus of puzzles is not at all academic, they can be a useful brain-training tool for future learning.
4. Confidence– Putting together a puzzle is a challenge, and completing a challenge has its rewards. Increased confidence is one of those rewards.
5. Problem Solving- formulation of theories and testing these hypotheses. So, you've got 2 puzzle pieces. They have matching colors and it *seems* like might fit together. This is a problem to be solved!
6. Teamwork- Puzzles, large and small, can help people of all ages with their teamwork skills. When putting together a puzzle, effective communication is needed in the division of tasks.
7. Improved Memory- In order to find the piece that fits, your child is going to have to remember which pieces do not fit. This is a great memory exercise!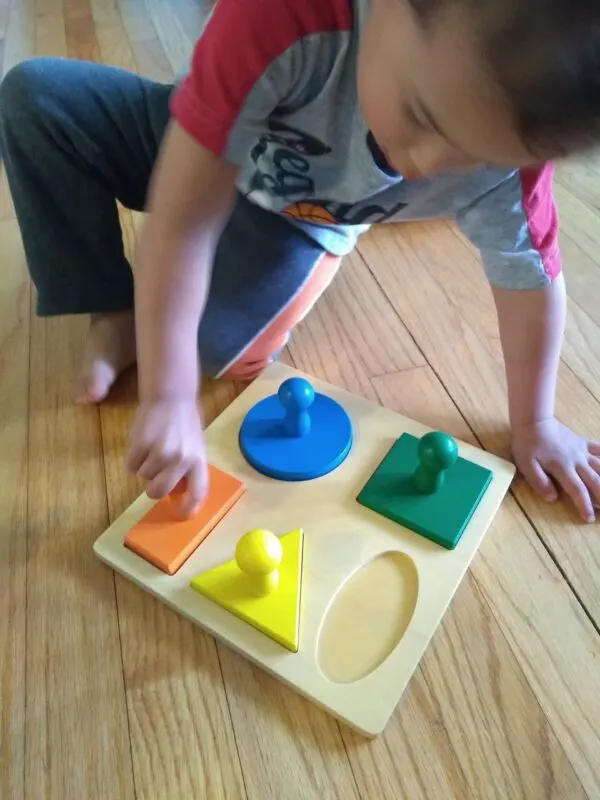 8. Attention Span– Putting together a puzzle can be pretty time-consuming. And for kids, it is going to take a whole lot longer. This focus, just like the focus it takes to perform Practical Life tasks, is so great for improving a child's attention span.
Puzzles take practice. And practice takes patience. Unlike many other activities that children practice and improve in, most puzzles require a child to sit still and concentrate. This helps to build attention span and teach patience.
9. Goal Setting– Piecing together a puzzle is more than just setting the goal to have a completed puzzle. Incremental goals are set along the way. Be it sorting, piecing the edges together, or finishing any single component of the puzzle, goal setting is a major part of doing puzzles.
10. Price- Yep…puzzles are cheap. I mean, you can spend as much as you want on a puzzle, but the truth is you can get decent puzzles rather inexpensively. Thrift stores, yard sales, dollar stores, and department stores are all places you can find inexpensive, quality puzzles.
So, now that you're familiar with how amazing puzzles are, all you need to do is sit with your child and put one together, have one out that your child is capable of putting together, and/or let your child see you putting one together!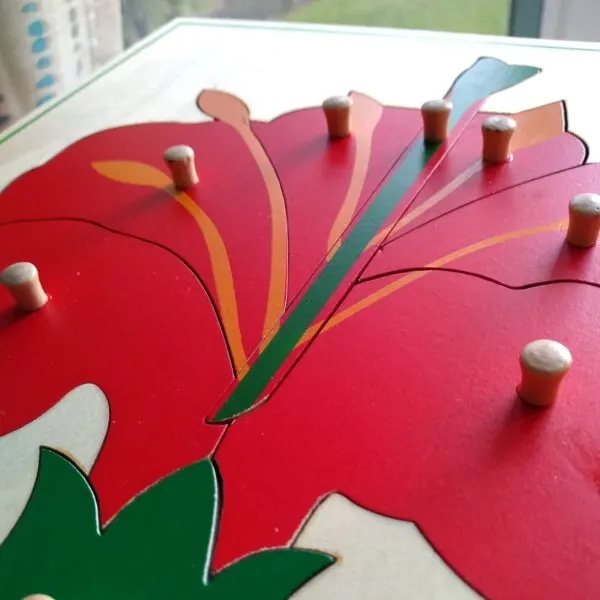 No need to push or pressure. If your child doesn't enjoy puzzles, that's perfectly fine. It's not a comment on their intelligence, nor is it an indicator of future success.
The best Montessori-aligned puzzles for infants
This is a lovely puzzle for infants as the pieces are easy to grasp and safe for babies to mouth. This puzzle features simple shapes and soft colors.
Montessori puzzles for toddlers
Montessori shape puzzles are great for introducing the concept of puzzles to toddlers. These single-shape knob puzzles are easy for toddlers to grasp and the single-shape design is developmentally appropriate for young toddlers.
Montessori prefers realistic representations of animals over cartoonish depictions. These animal puzzles are wonderfully Montessori aligned and perfect for toddlers.
Montessori puzzles for preschoolers
Click here for the 5-Layer Girl Puzzle
Elite Montessori's series of educational puzzles
I hope you enjoyed this read and this list of Montessori puzzles. Cheers and don't forget to subscribe!