In this article, you will learn all about the developmental stage of play called Parallel Play. You will learn what it is, at what age it occurs, and you will get some ideas on how to support this type of play in your child.
---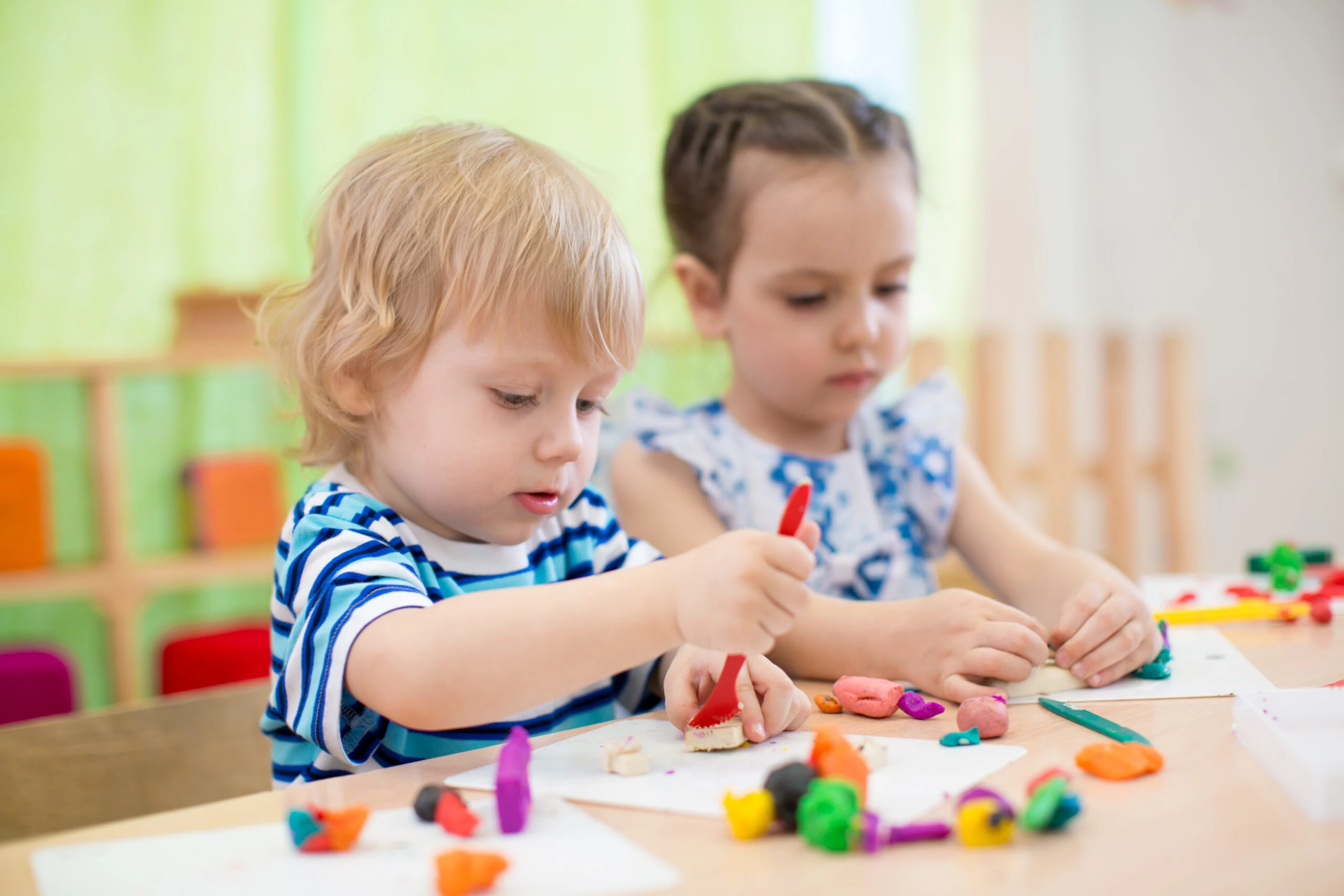 Professor N. V. Scarfe's 1962 paper titled, "Play is Education," discusses how vital play is in early childhood development, and how important it is for educators to understand children's play.
He stated that "All play is associated with intense thought activity and rapid intellectual growth. The highest form of research is essentially play."
You can read the full paper here.
We've known for decades how crucial play is in a child's social-emotional and cognitive development. But what does "understanding children's play" even mean?
Well, The Montessori-Minded Mom is here to help!
There are 6 stages of play that children progress through and having an understanding of each stage will help you support your child's development.
What is Parallel Play?
Parallel play is one of the 6 Stages of Play developed by sociologist, Dr. Mildred Parten Newhall. The other 5 stages of play are (click on links for details on each stage):
Read more about the 6 stages of play here.
During Parallel Play, children are playing alongside each other but are focused on themselves and their own activity. They have no interest in actual interactive play with the other child(ren) and they may or may not share toys or items.
This stage usually begins around two years old, but you may find that those with older siblings, or who are around older children often, will start parallel play closer to 1.5 years old.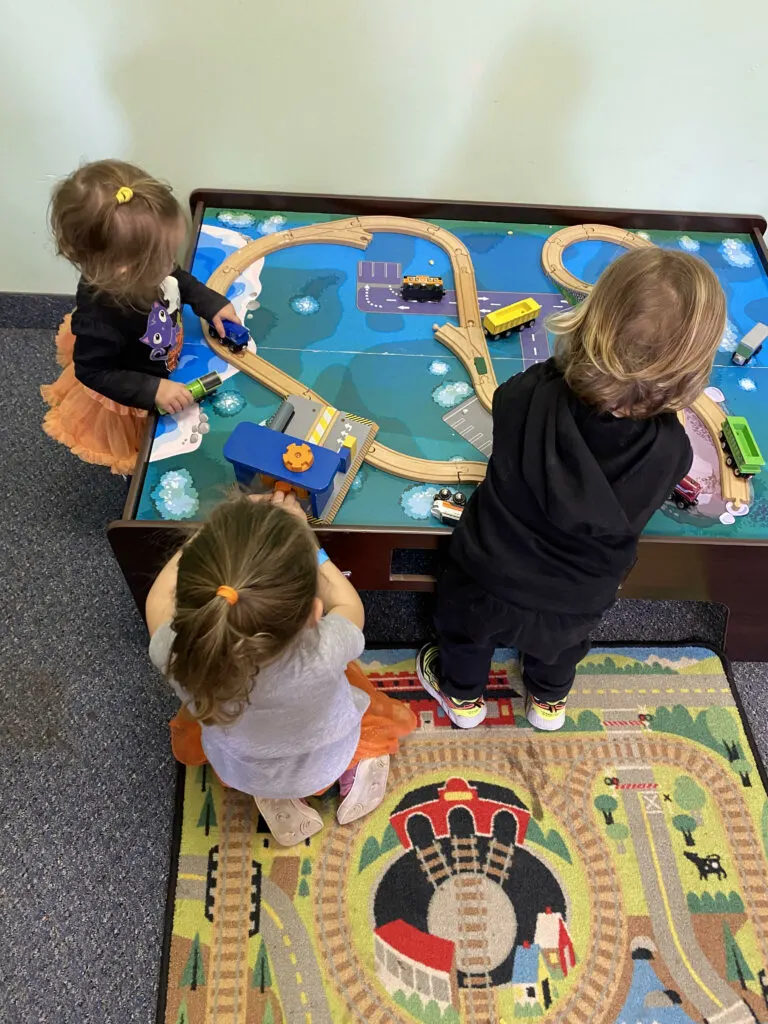 (This post contains affiliate links. Purchasing from these links costs you nothing extra, but helps with our website upkeep.)
Examples:
Three toddlers are playing at a train table. One is building a track, another is driving a train on a track, the third is connecting trains. They may move around each other but are focused on their own train activity.
Two toddlers stand in front of a play kitchen, the older toddler is pretending to cook a meal in a pan, while the younger is placing toy food in a bowl. Both have different intentions and are not interacting with each other.
Why is Parallel Play Important?
Parallel play is the exciting bridge from solitary or onlooker play towards cooperative play.
Allowing peers in their space is a huge milestone for toddlers. Although it may not look like it, parallel play is a step toward socialization and a toddler's way to make friends.
It may appear they are immersed in their own activity, but they are still absorbing what the nearby child is doing as well. Dr. Montessori wrote in her book "The Absorbent Mind," that children are unconscious absorbers during this stage.
They are unconsciously picking up things the other child is doing. You may see them imitate the other child in the way they are playing. Or they may even start using new words.
During this stage they learn:
Importance in Adulthood
The New York Times has a really interesting article about the importance of parallel play in adulthood, and how it relates to secure relationships and healthy attachment.
The article ("Let's Ignore Each Other in the Same Room") points out that our parallel play skills were put to the test during quarantines and lockdowns. During these times, we were forced to be content in the same space with roommates, partners, etc. for extensive lengths of time, without constantly doing something with them.
Reading on the couch while someone else is watching tv; doing a crossword puzzle while quietly drinking coffee with your spouse; and playing a video game while your roommate writes are all examples of adult parallel "play."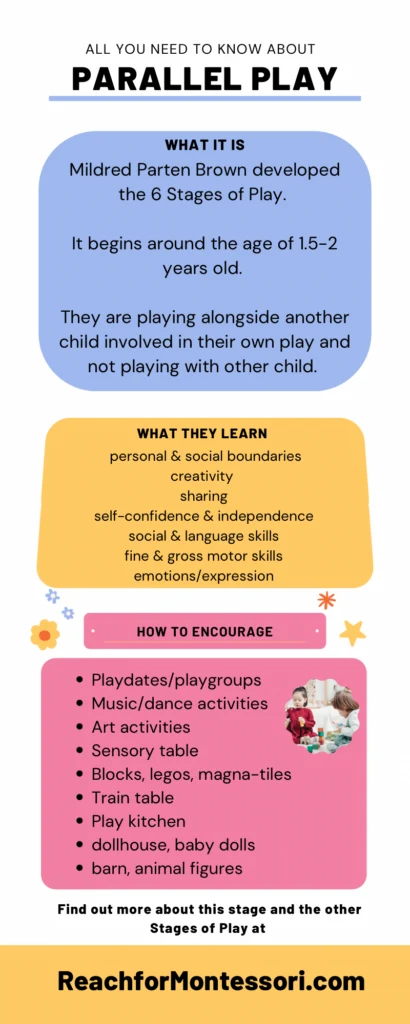 Activities to Support
Getting your child in different social settings offers opportunities for parallel play. Activities that children can do near each other, like music or dance classes, but not necessarily interacting together is also great.
Playdates. Schedule playdates with the same age or slightly older children. Remember, they don't need to be playing with each other to benefit from playdates.
Playgrounds. Playgrounds are a great setting that allows parallel play and gets them around a mixed age of children.
Music/dancing. Music and dancing stimulate the brain, help gross motor skill development, encourages self-expression and builds confidence. Enroll in a Parent & Child music class, or just have a dance party during a playdate.
Art activities. Don't forget, art is considered play! Any individual art activity can be done side by side.
Sensory activities. Sensory activities like playdough, sand or water are fun activities to do side by side. If you have the space and means, I recommend getting a sensory table.
Toys to Support
Make sure to have enough supplies for two or more children to prevent fighting. They may not be ready to share and we want to set up our kids to succeed.
Wooden building blocks are a great open-ended activity for any stage of play. During parallel play, children can build separately, but it also allows for interaction if they are ready to move to the next stage of play.
A train table allows for plenty of space for children who need it. They can move around to another side if they are still not comfortable with another child in their space.
Magna-tiles, just like blocks, are a great open-ended toy to support your child in this stage of play. They also encourage problem-solving, hand-eye coordination, shape recognition, and understanding spatial relationships and 3D shapes.
Legos offer the same benefits of blocks and magna-tiles and are great for older kids as well.
Since there are so many benefits to exposing young children to music and dance, having a variety of small musical instruments available is a great idea for any child. Having multiple pieces supports parallel play since they can play individually.
Pretend play settings, like a play kitchen, is perfect for a child in the parallel play stage as it allows for different types of play in the same area.
A dollhouse or animal barn/habitat is helpful in the same ways as a play kitchen. It supports parallel play and fosters creativity.
Animal figures are great open-ended toys to encourage creativity. My kids love their animal figures, especially the dinosaurs!
Baby dolls are not just for girls! Playing with baby dolls helps develop social and emotional skills, such as empathy and communication, as well as fine motor and self-help skills.
---
In summary, having enough toys or supplies that are available for more than one child but don't require cooperative play is a perfect way to support your child during this stage of play.
As always, respect your child's comfort level. If it seems like they've had enough of someone in their space or are struggling with sharing their toys, then it's time to end the playdate or find another activity.
Remember, play should be FUN and child-led!