Involving kids in cooking activities is so much fun for everyone and it's great for their physical and emotional development. Using a knife, though, is a big no-no for kids – but not in Montessori kitchens.
In Montessori homes, the focus is on real-life activities and a certain level of risk is welcomed. Children in Montessori homes get the opportunity to be involved in almost everything, including cooking.
In this article, you are going to learn a bit about knife usage in Montessori homes and get some great recommendations to help you pick out the perfect Montessori-aligned knife for your child.
An important note before we start the post: Parents who practice Montessori at home do not simply give their children sharps items to use, then walk away and trust the child will use them properly and be safe.
We introduce the items, co-use them, and practice with and alongside the child for weeks, months, or sometimes even years in the form of lessons and informal real-life activities.
Knives should never be used by children without adult assistance and supervision.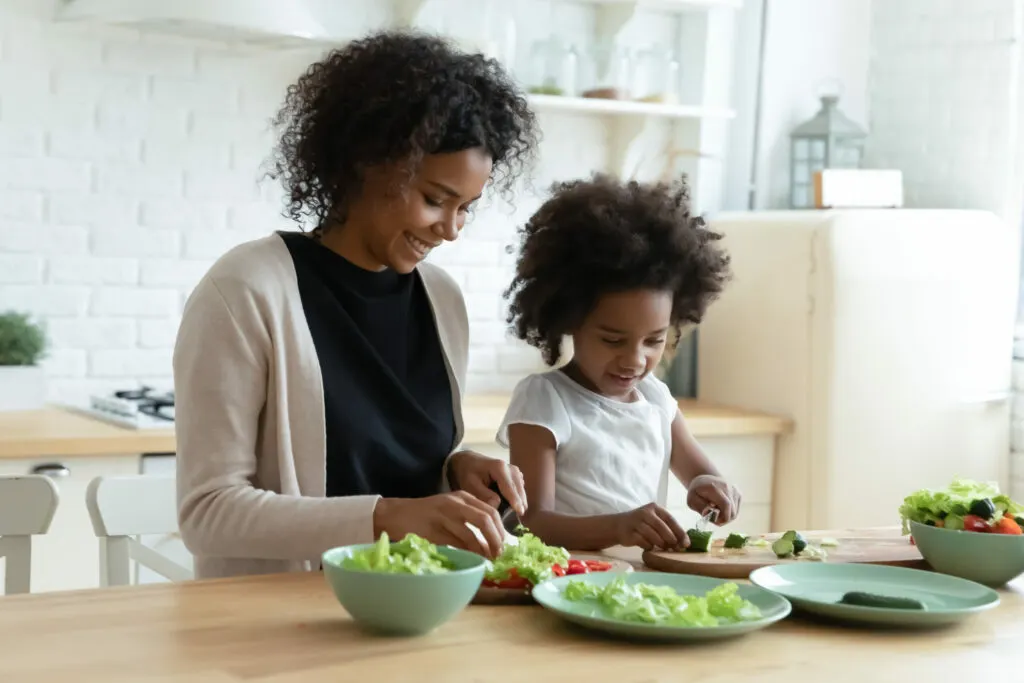 (This post contains affiliate links. Purchasing from these links costs you nothing extra, but helps with our website upkeep.)
What is a Montessori Knife?
A Montessori-aligned knife is one that is sized for a child's small hands. Montessori knives are easy for young children to grasp and they are effective at cutting.
There are several different styles of kid-friendly kitchen knives that I'll go over later in the post.
When should I introduce my toddler to a knife?
Even though a child will not be able to properly use a knife until around the age of 6 or 7, you can introduce child-friendly knives much earlier.
Many caregivers in Montessori homes choose to introduce knives under intense supervision around the age of 18 months, when a child's interest in cooking activities starts to emerge.
Montessori knife safety for kids
Before you get to the enjoyable cooking activities with your child, knife safety must be discussed and practiced.
Cut-resistant kid's gloves can be used, however, they will hamper the child's sense of where their fingers are in relation to the blade. It's really a personal preference when it comes to using these gloves.
While safety is paramount when it comes to involving kids in the kitchen, it's important to choose a sharp, effective knife for your child.
It might seem counterintuitive to do so, but choosing a sharp knife for your child may actually be safer than using a dull, plastic play-type knife.
This is because dull knives tend to slip, which can actually increase the chance of injury. It's also incredibly frustrating for kids – they want to be successful and they should be given that chance.
This is why, in Montessori, we allow children to work with the tools of real-life – just smaller versions.
Below are some tips for introducing a knife to your child. It is very important to watch the video I've included and practice how to properly use a knife yourself and how you will teach your child to use it.
Cutting
Start with easy activities, such as slicing a ripe banana.
Start by holding the knife with your child while you are behind and over them.
Introduce using the knife as its own activity, not as part of an involved cooking project.
Make sure the surface is stable, with a damp paper towel beneath the cutting board to prevent slipping.
Carrying
Show the child how to carry a knife as its own activity.
Introduce carrying a knife when the child is older and has improved balance and coordination.
6 great Montessori knife options
A crinkle cutter, also called a "wavy chopper", is a popular cutting tool in Montessori homes. This kitchen cutting tool is easy for toddlers to grasp and cut soft and semi-soft foods.
Crinkle Cutter Stainless Steel Potato…
【Anti-Rust Material】: Made of 430 stainless steel and ABS,…
【Dimensions】: Length 4.25 inch, width 3.7 inches. The…
【Sharp Crinkle Knife】: Sharpen the sharp edge, you can cut…
Before we implemented Montessori in our home, the idea of a wooden knife had not crossed my mind. These do actually work, however.
This is a great option for introducing toddlers to cutting soft and semi-soft food.
Piccalio is a great company that makes plenty of other Montessori products, as well.
They're featured in my Pikler Triangle post, Balance Board, and Kitchen Helper posts, as well.
If you are interested in an option that's both sustainably sourced and personalized, this wooden handled knife from Daze Custom is for you.
Designed and produced by an early child development expert, this knife is customizable, as is the 14" x 8" cutting board that it comes with.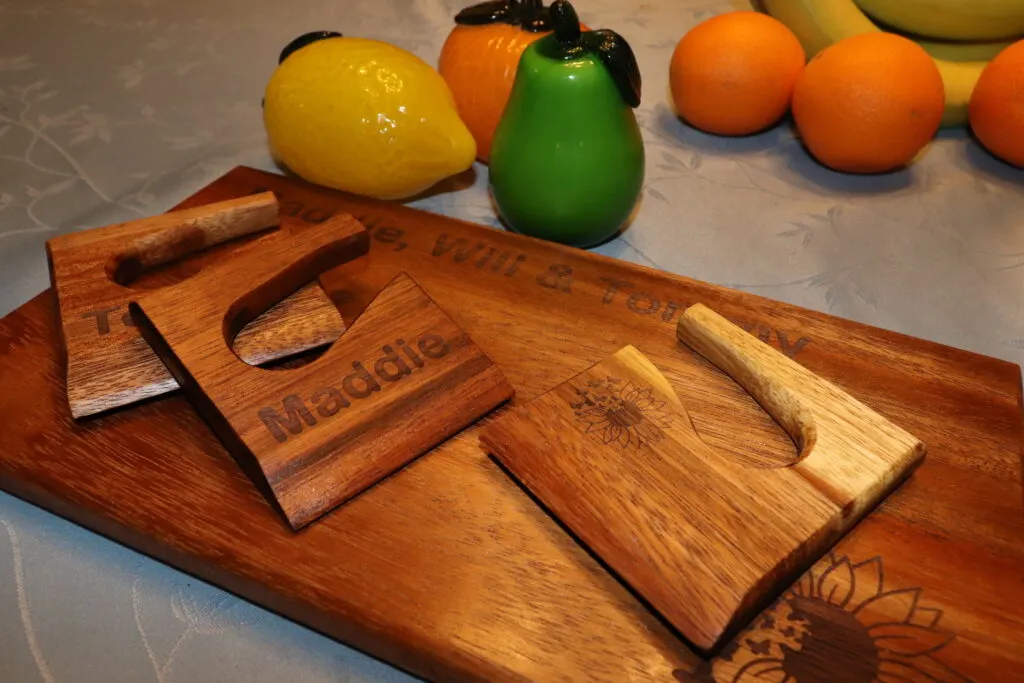 This nylon knife set is great because it's great to have knives of different sizes for different toddler kitchen projects.
These knives are sharp and do cut, so you should be aware of that. The grip on the handles is great, though, because little hands won't lose control of the knives.
The Curious Chef is a trusted brand of Montessori-aligned knives and they have lots of other kids' tools. You should definitely check them out.
Sale
Curious Chef 3-Piece Nylon Knife Set for…
PLAYFUL DESIGNS, REAL TOOLS: This knife set is designed to spark…
KID-FRIENDLY DESIGN – This Nylon serrated blade is the ideal tool…
INCLUDED IN THE SET: This 3-piece knife set includes a large…
This Montessori knife is a bit of a cross between a crinkle cutter and a wooden knife. It's very small in size and very safe, as well.
This knife is not super sharp (although it can be sharpened with sandpaper), which makes it great for independent fruit-cutting activities.
This specific knife is customizable, as well, which is a special touch that can get a child excited about cooking.
If you want to involve your little one in cooking activities, but you don't want to risk any cut fingers, this set of plastic kids' knives is perfect for you.
The smallest of the knives in the set is well-suited for toddlers and your child can upgrade to a larger knife as they grow.
Emual Kids Kitchen Knife 3 Piece Safe…
PERFECT COOKING KNIVES FOR KIDS – Will allow your children to get…
NOT ONLY FOR KIDS – Superior quality versatile rigid reinforced…
KIDS-SAFE – The nylon knives have safe serrated cutting edges,…
This wooden knife has the aesthetic of a regular steel knife, but without much of the risk of injury.
Another nice thing about this kid's knife is that it cuts relatively easily, so kids don't have to use a lot of pressure, which further reduces the risk of injury.
Unlike the plastic and nylon options on this list, this knife can be sharpened when it gets dull.
Enjoy whichever Montessori knife you choose for your child and remember – enjoy the experience of cooking with your young child, but always put safety first.
These knives are the safest options for kids, but you should always supervise, and never allow your child to use cutting tools if you are unsure about your ability to navigate the potential mishaps.
Cheers and don't forget to subscribe!