Geography is one of the most fascinating subjects for young children. Remembering the names of the 7 continents is one of the early challenges for young learners – and that's where the Montessori Continent Song comes in.
This song is a lot of fun for kids to sing and in Montessori classrooms, it is often a music and movement activity performed during circle time, incorporating a large map rug.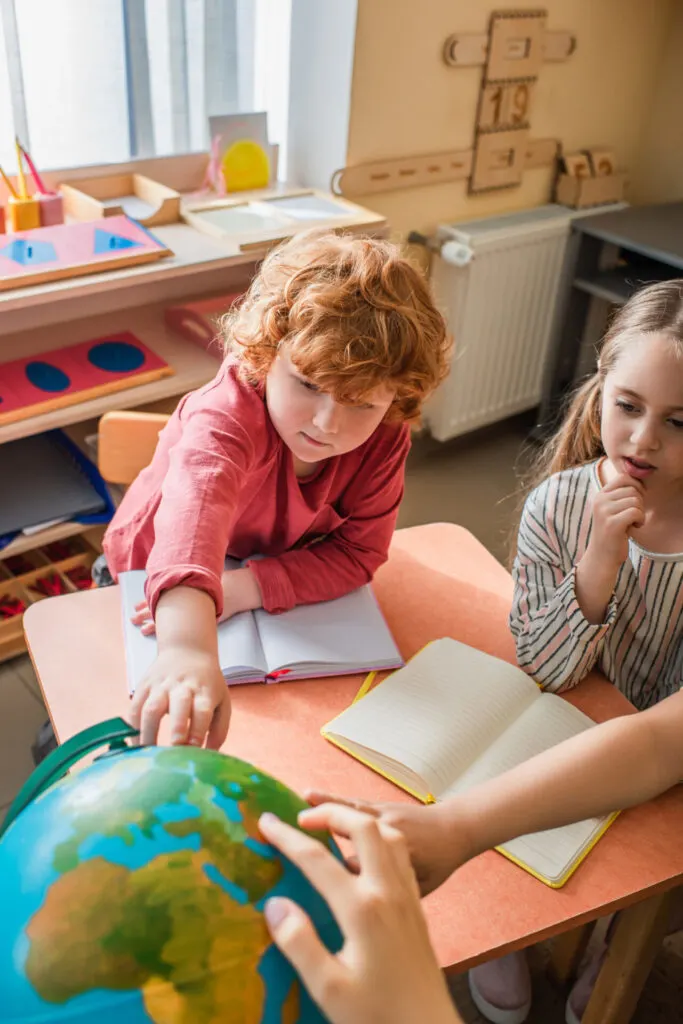 (This post contains affiliate links. Purchasing from these links costs you nothing extra, but helps with our website upkeep.)
How are the continents introduced in Montessori?
In a Montessori classroom, continents are first introduced conceptually with the Sandpaper Globe and the Colored Continents Globe.
Through these lessons, children gain an understanding of how the earth is made up of both land and water.
Children are also introduced to the vocabulary, "continent" and "ocean" during these lessons.
When children work with the Puzzle Map of the World, toward the end of their first year of primary, they learn the names of the 7 continents.
The Continent Song is often sung along with an activity wherein a child jumps from one continent to another, along with the lyrics.
The Montessori Continent Song Lyrics
Tell me the continents, Tell me the continents,
Tell me if you can –
There's North America, South America, Europe, Asia, and Africa.
Don't forget Australia; Don't forget Antarctica.
Tell me the continents, Tell me the Continents, Tell me if you can.
---
The author of the song is unknown, but it has been used in heavy rotation in Montessori schools for quite some time.
So long that many people call it the Montessori Continent Song instead of simply the Continent Song. (There's nothing specific to Montessori about the lyrics.)
Below is a video of the Montessori Continent Song and the accompanying activity.
The rug being used for the activity is called the Hands Around the World Area Rug and is made by Joy Carpets. (Pictured below)
I hope you enjoy this musical geography activity in your home or classroom!
Cheers and don't forget to subscribe!