Nature tables, nature sensory bins, and nature trays are a wonderful way to bring outdoor inspiration and exploration inside. They are easy and inexpensive to put together and young children have a great time exploring them.
These nature activities are a joy from start to finish. Collecting the items can be done beforehand, by a caregiver, or the child can help gather items for exploration.
These bins and trays are wonderful ways for children to learn about the natural world. There are many other benefits to nature sensory bins and trays, as well.
Here are just a few: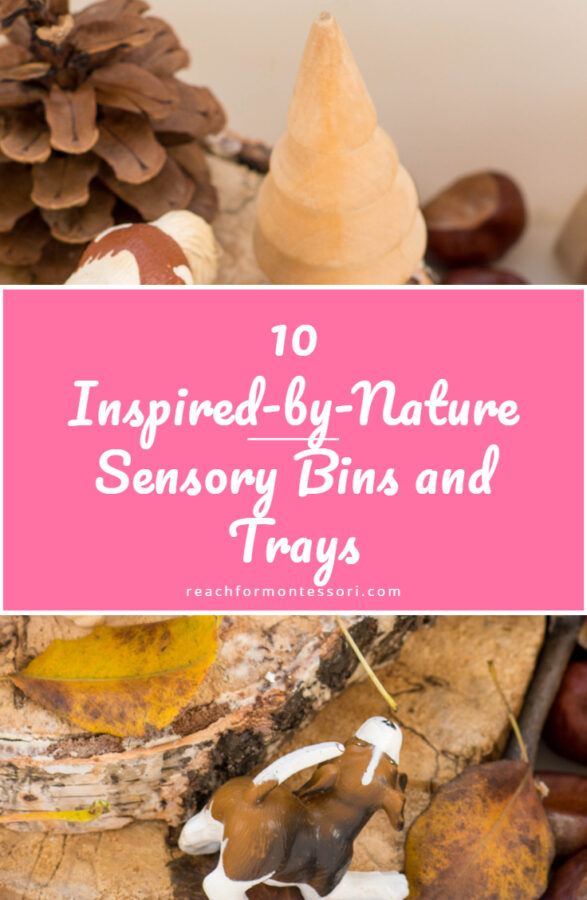 Inspired-by-nature sensory bins and tray ideas
1. Changing Leaves Activities
Adorable changing leave activities for toddler and kids. Let's learn about nature and explore leaves.
2. A simple Nature Sensory Bin
3. Pumpkin activities for Toddlers
Make a fall sensory bin and let your toddler learn about the different textures and shapes of autumn.
5. Fresh Grass Sensory Bin with Farm Theme
6. Farmhouse-inspired sensory bins
Let your kids imaginations run wild with this farmhouse-inspired sensory bin! These sensory bins, filled with dried beans, chicks, eggs, nests, baby farm animals and more, are the perfect hands-on activity for promoting hours of independent play.
10. Flower tinker trays
Make flower tinker trays with your kids! Get 3 fun ways to challenge your children to create their own flowers and gardens.
I hope you enjoy these inspired-by-nature sensory bin and tray ideas!
Does your child enjoy nature inspired sensory play? In what ways do you bring the beauty of the outdoors into your child's indoor play?
Cheers and don't forget to subscribe!